Welcome to Ivy Hall, the friendly neighborhood dispensary that brings you an unparalleled retail cannabis experience. We achieve this not just through our unique, end-to-end "sensory dispensary" model but by working with suppliers who resonate with our unique vision and principles. With this in mind, we are pleased to talk up our partners at Ascend Cannabis with this brand feature.
Ascend is not just another retail cannabis brand looking for a slice of a booming market – it's the embodiment of a holistic philosophy. The folks at Ascend truly believe in the transformative power of cannabis and the positive force it can represent within our culture. Fortunately, we do, too.
In much the same way that Ascend is more than just another cannabis brand, Ivy Hall is more than just another retail cannabis outlet. We're a haven, a safe space for exploration, a great place to ask questions and an arena in which the full potential of cannabis can unfold in a collaborative, community environment. Together, Ascend Cannabis and Ivy Hall Dispensaries can guide you through a sensory experience like no other.
Ascending to the Peak of the Cannabis Industry
Ascend stands as a beacon of modern, sustainable, justice-focused cannabis. This is a company rooted in innovation and inclusivity. Much like Ivy Hall, Ascend strives to become an integral fixture in the various communities they work within across the United States, helping to foster real human connections while giving the public access to cannabis products of the highest quality. From ultra-potent dab wax to convenient edibles and pre-rolls stuffed with high-test flower, you'll find products of all kinds available in a variety of your favorite strains – in addition to some forward-thinking signature Ascend hybrids.
Ascend, or Ascend Wellness Holdings (AWH), operates cutting-edge cultivation facilities and greenhouse grows in several states across the Midwest and east coast, complete with on-site testing labs and processing operations to ensure products of the highest quality. Ascend's renowned cannabis cultivation program is a testament to excellence, with expert horticulturists nurturing plants from the clone stage through harvest, constantly making the necessary adjustments to nutrients and climate conditions to ensure optimal growth and, in turn, the best possible bud.
At the end of this industry-leading process, the flowers are lovingly hand-harvested to preserve their quality. From there, it's on to hand-trimming and a rigorous testing and tracking system that ensures maximum potency and compliance with all regulations. While Ascend's commitment to sustainability and community shines through its use of low-energy lighting and all-natural grow mediums, the end result is not just a better way of doing business; it's also an unparalleled cannabis product.
Ivy Hall curates a menu of only the best products from the most reputable producers. That way, you can be sure that your cannabis journey is in good hands when you visit your nearest Ivy Hall location to choose an Ascend product.
About Ascend Cannabis Brands
As with many top producers, there are several different brands and product lines available under the Ascend Wellness Holdings umbrella, each with its own special charms. Still, it's important to know that they're all lovingly crafted to elevate the senses and provide a top-notch cannabis experience.
The staff at Ivy Hall Dispensaries is excited to introduce you to this wide array of exceptional cannabis products. The dedication to quality mutually shared by Ivy Hall and Ascend is evident in each of these product lines, and you can experience it for yourself by visiting your local Ivy Hall Dispensary. Whether you're a budget-oriented shopper or looking for that top-shelf experience, Ivy Hall and Ascend Cannabis have you covered.
Simply Herb: Accessible Excellence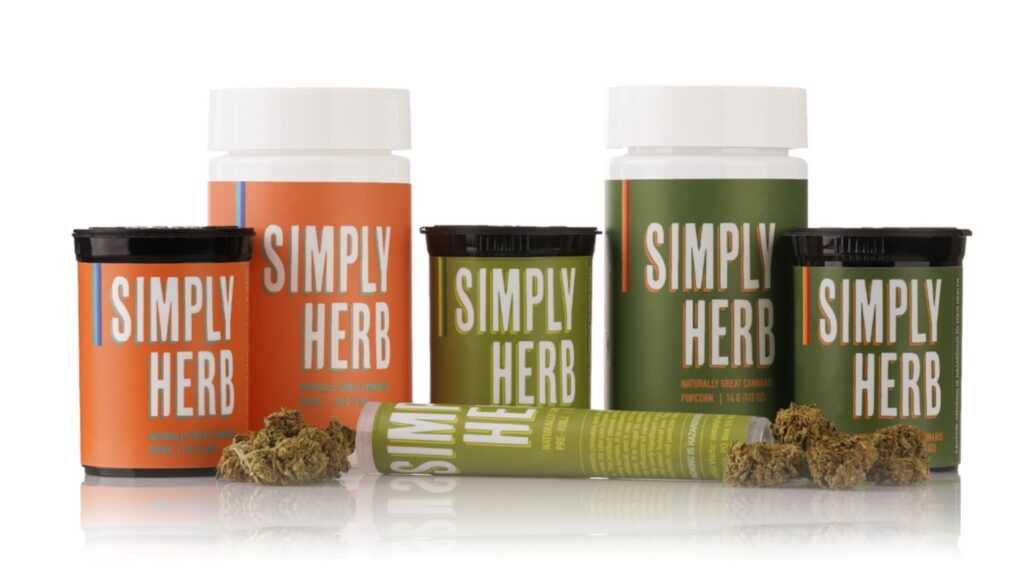 Simply Herb is exactly what it sounds like – a no-nonsense, flower-forward cannabis brand. It also proves a good time doesn't need to be attached to a hefty price tag. Affordable, in this case, doesn't mean low-end, however. Cultivated with pride and care in Ascend's state-of-the-art grow facilities, Simply Herb is a showcase of consistency and quality that provides an awesome introduction to Ascend's offerings. At Ivy Hall and Ascend, we all agree that great cannabis should be accessible to everyone who needs it, and the Simply Herb line embodies this commitment.
Simply Herb Flower Products
Simply Herb Flower
Flower is the very essence of what Simply Herb promises, and its selection of superior flower really delivers. You'll find much-coveted cultivars like SFV OG here at Ivy Hall, all of which come in full-sized, densely packed buds. Get yours in a convenient 3.5g container.
Simply Herb Popcorn Buds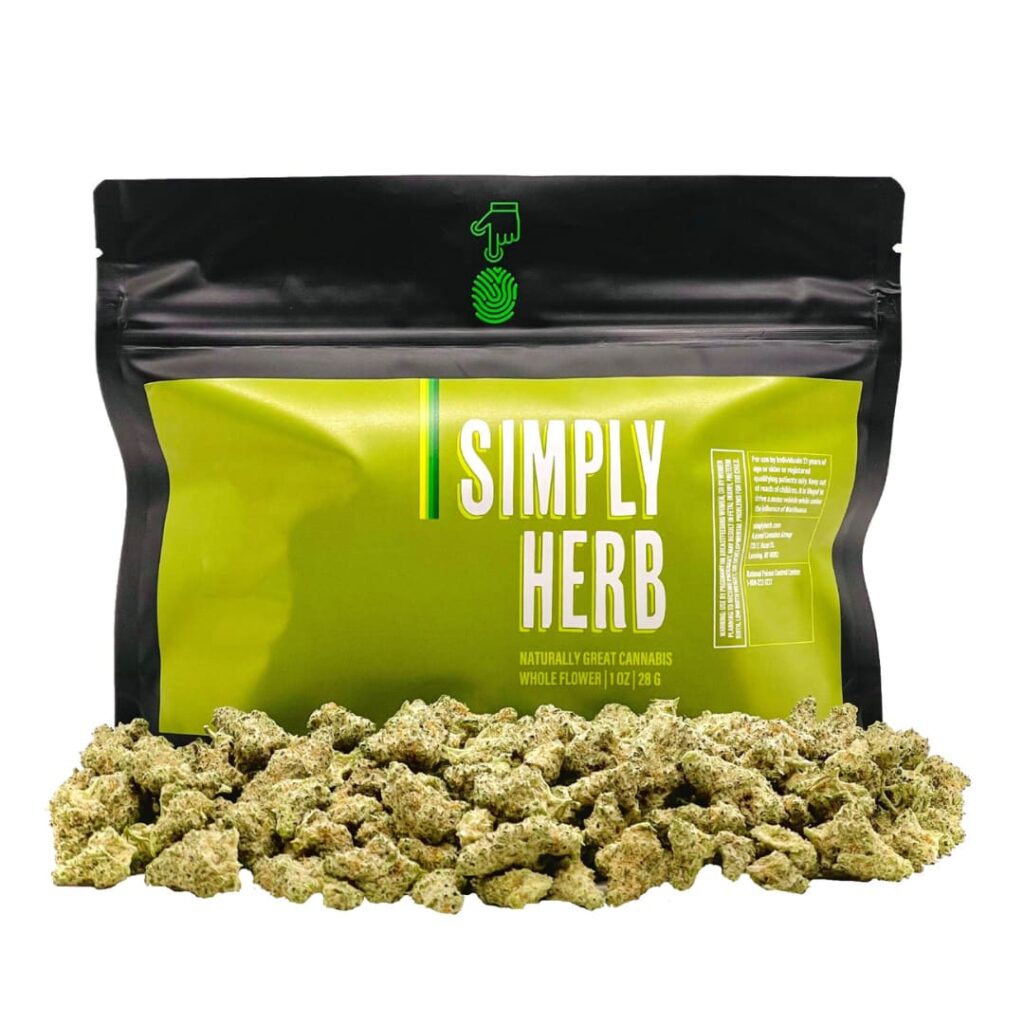 To keep the party going all night without breaking the bank, consider a 28-gram bag of Simply Herb popcorn buds. With a very decent price point and heavy-hitting strains like Bubba's Gift and Wedding Crasher, it's time to sit back and get your popcorn ready. You can also find 7-gram and 14-gram bags here at Ivy Hall.
Simply Herb Shake
This isn't the shake you're used to finding at the average dispensary. While shake consists of the best pieces that fall off trimmed buds, Simply Herb goes out of its way to select only the most potent plant parts to ensure a premium product for an affordable price. Look for favorite strains like Apple Fritter and Banana Daddy in 3.5- 14- and 28-gram containers.
Simply Herb Infused Shake
Usually, when cannabis lovers think about buying shake and trim (the leftover bits of leaf, flower, and plant particulate from trimming and transporting bud), they're looking at it as a budget-conscious way to roll joints or make cannabutter. Simply Herb is changing the way we look at this flower with infused shake in awesome flavors like Lime Sorbet and Radical Raspberry. The already-potent shake is infused with high-quality distillate to up its potency, as well as terpenes to give it a blast of flavor.
Simply Herb Vapes
Simply Herb 1g Vape Carts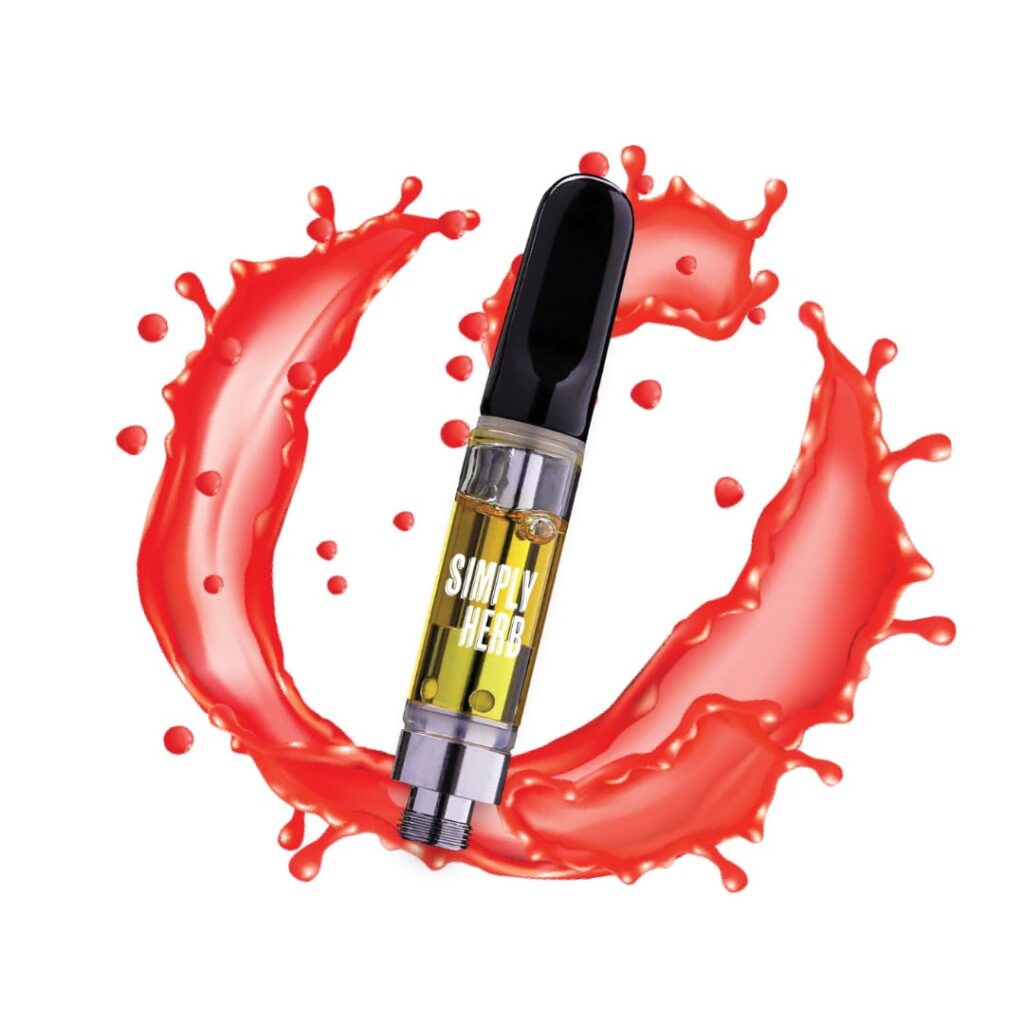 If you're a pen battery user looking for a high-quality, easy-to-use 510 vape cartridge that can elevate your day without blowing your budget, Simply Herb has you covered. With a full gram of high-quality distillate in each easy-hitting cart, you're getting a great bang for your buck. You can choose from mouth-watering preparations like Doublemint, Lime Sorbet, Mango Tango, and Sweet Cherry.
Ozone: Artisanal Selections for Every Palate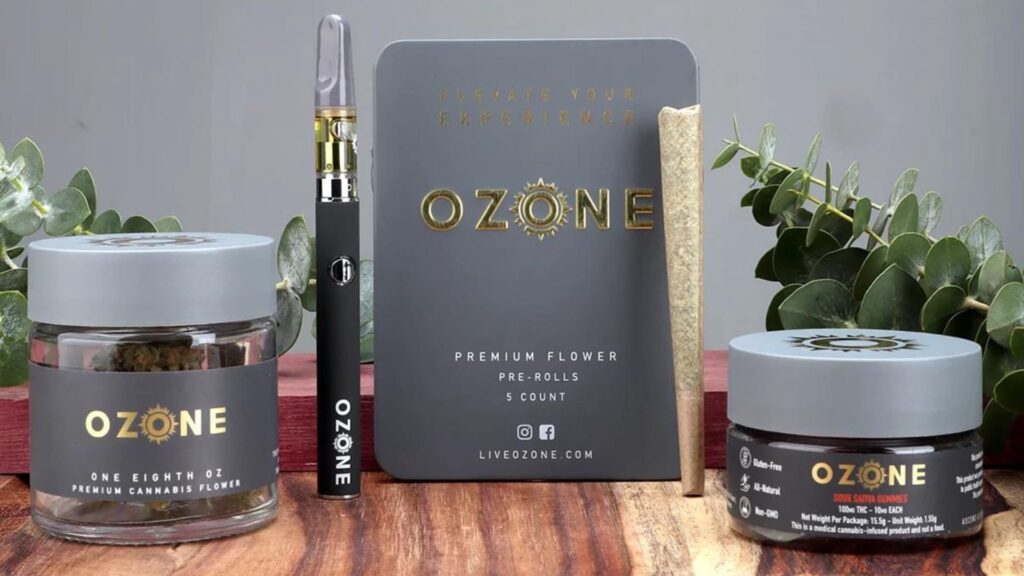 Ascend's Ozone brand showcases a spectrum of high-quality cannabis products, featuring unique strains that have been meticulously "pheno-hunted" and grown with the utmost attention to detail. Whether you need a flavor-packed vape cart, a delectable chewable cannabis edible, or some great flower, Ozone can deliver. Whether you're a seasoned cannabis connoisseur or totally new to the world of cannabis, Ascend's Ozone line is ready to take you higher.
Ozone Flower Products
Ozone Flower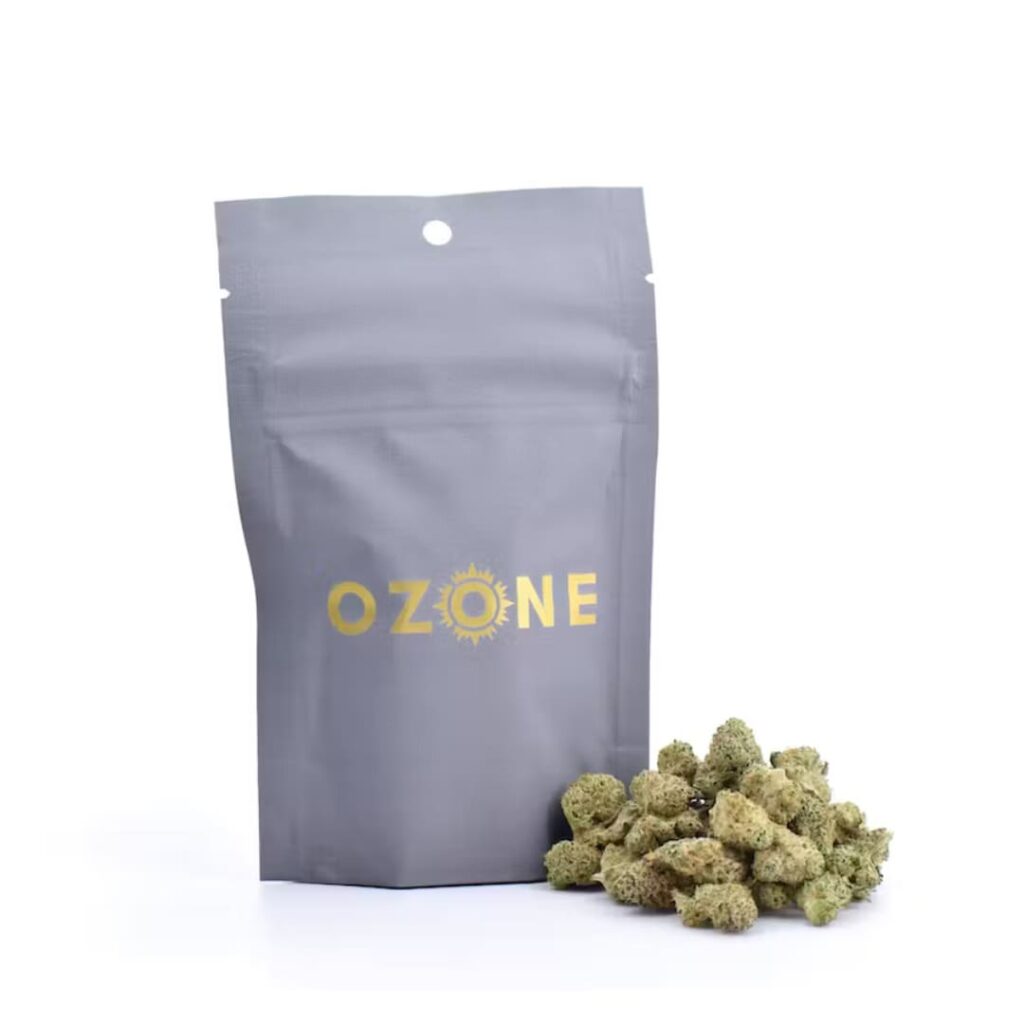 Sealed for freshness and consistency, Ozone offers its high-quality flower in 3.5- and 7-gram quantities. For example, you can try a 7-gram bag of Wedding Cake buds or a 3.5-gram jar of Banana Daddy whole flower. Other great Ascend Ozone strains to check out include Cinnamon Buddha and Apples & Bananas.
Ozone Popcorn
Just like the dense, sticky, full-size Ozone nugs – but conveniently sized for easy grinding and packing. You can get perfect popcorn buds in all your favorite Ozone strains, like Butterstuff, Animal Cake, and more. Look for both 3.5- and 7-gram jars.
Ozone Shake
Same great quality, affordable Ozone price. If you're looking to stock up on your favorite Ozone strain, check out the brand's line of premium shake. Available in Wedding Cake, Butterstuff, Mandarin Zkittles, and many more, you can find Ozone shake in freshness-sealed jars and bags in three convenient sizes.
Ozone Gummy Products
Ozone Classic Gummies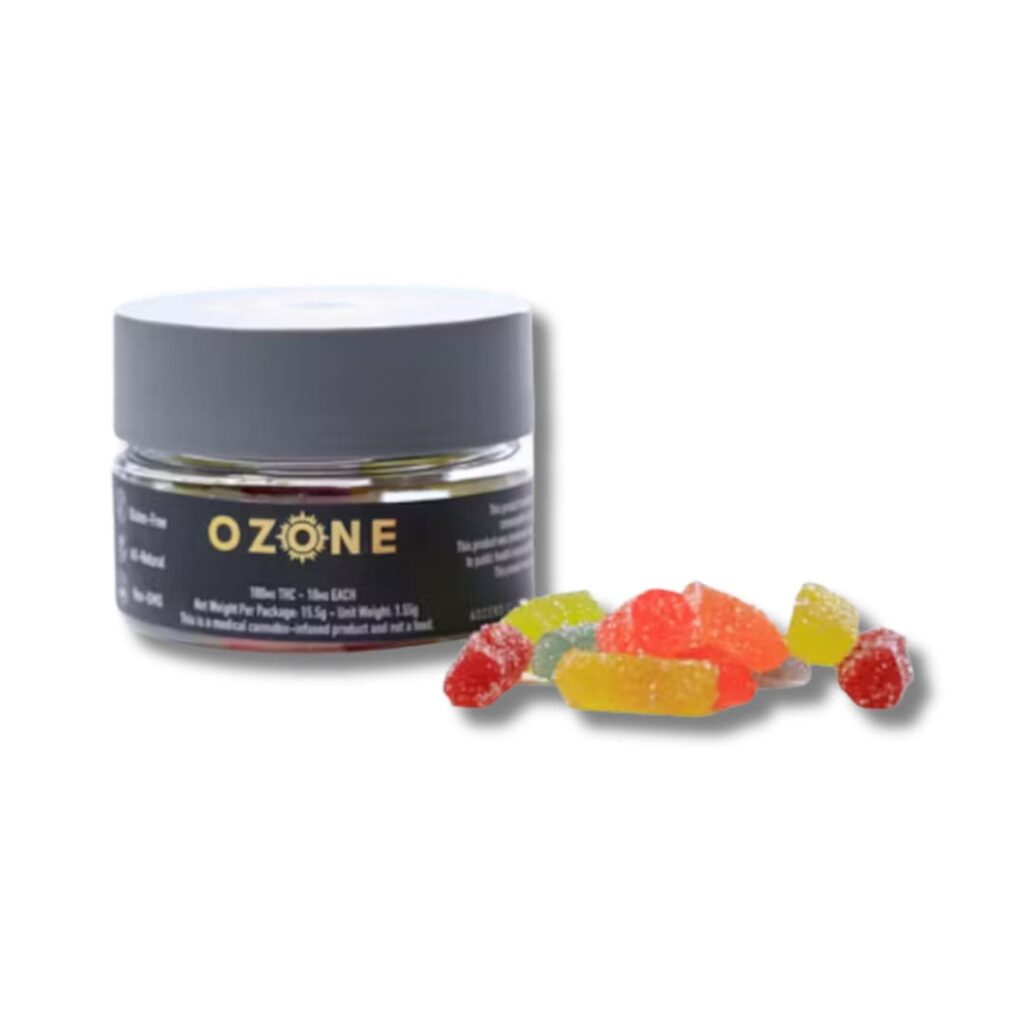 While most cannabis chewable products come in a bag featuring ten or so gummies of the same flavor, Ozone offers an assorted 10 pack, with 100 total mg of high-quality cannabis per package. Gelatin-based Ozone gummies offer a discreet and flavorful way to dose, paired with a fast activation time. The sativa-leaning Ascend strains used to create Sour Sativas offer an energetic vibe that won't keep you locked into the couch. Meanwhile, the indica-forward strains used to create Sweet Indica are capable of creating a more relaxed vibe.
Ozone Premium Gummies
If you're looking for a more sophisticated edibles experience, Ozone Premium gummies are just the ticket. These pectin gummies are not only flavor-packed little bites of awesome, but they're also vegan and gluten-free and 10 mg each (100 mg per package).
Ozone Pre-Rolls and Chillums
Ozone Chillum
This unique glass chillum pipe comes pre-loaded with 3.5 grams of quality Ozone flower, already ground to perfection and available in a host of strains. All you need to do is unwrap, light, and enjoy. Best of all, you can take this conveniently-sized chillum anywhere, and simply repack when you're ready for another round.
Ozone Pre-Rolls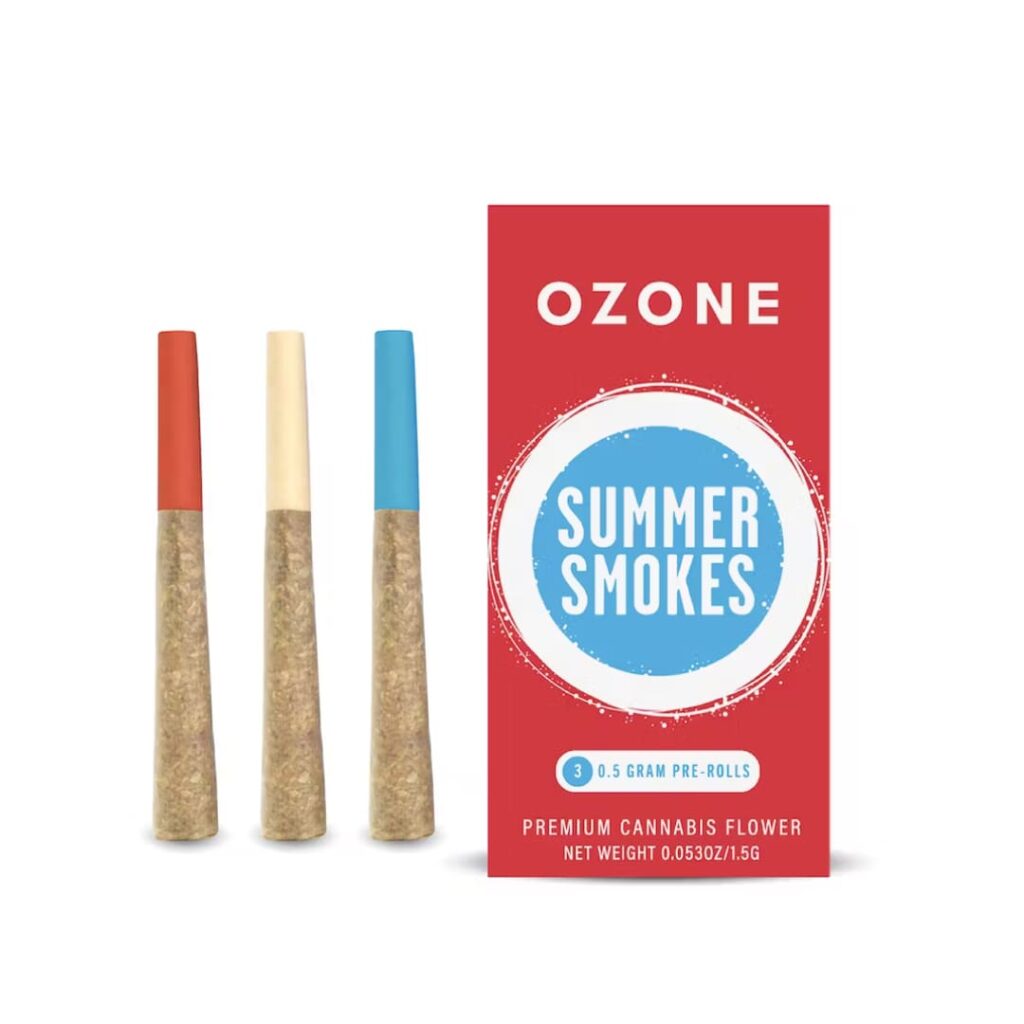 Ozone pre-rolls are precision-filled and rolled with premium flower and quality paper to ensure a smooth, even burn. You'll find a variety of strains in 1-gram singles and 0.5-gram two- three- and five-packs. For a limited time only, you can enhance the summer fun with a three pack of red, white, and blue half-gram pre-rolls (1.5 total grams per package) made with Ascend's beloved Animal Cake flower, which tests at a very nice 21.36% THC.
Ozone Vape Products
Ozone Distillate Vape Carts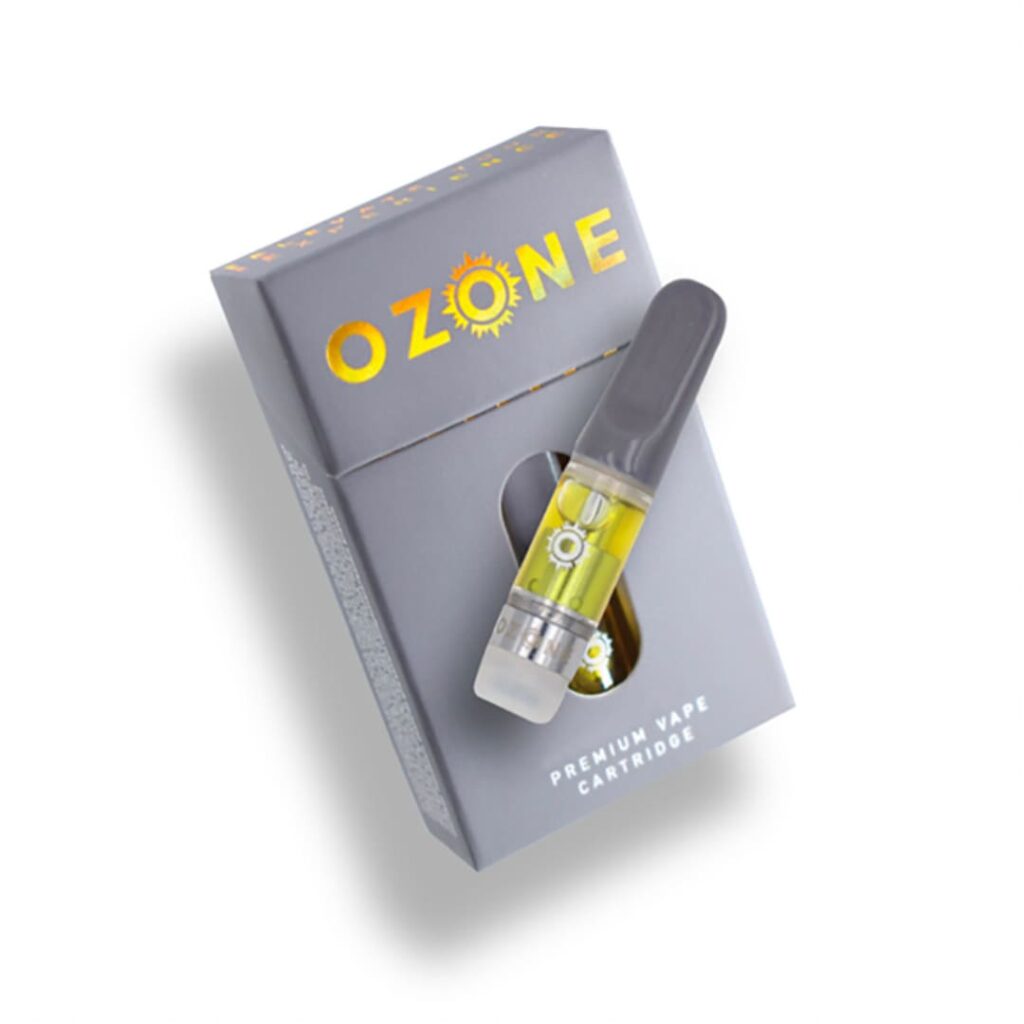 Many of the iconic strains Ascend grows and markets under their Ozone line are also available as high-quality distillate vape cartridges for use with standard 510-threaded pen batteries. These premium vapes are crafted with pure distillate and natural terpenes with zero additives or fillers. Some of our favorite Ascend strains to vape include Lemonade Kush, Strawberry Fields, Blue Widow, and Golden Pineapple.
Ozone BOMA Microvape Pen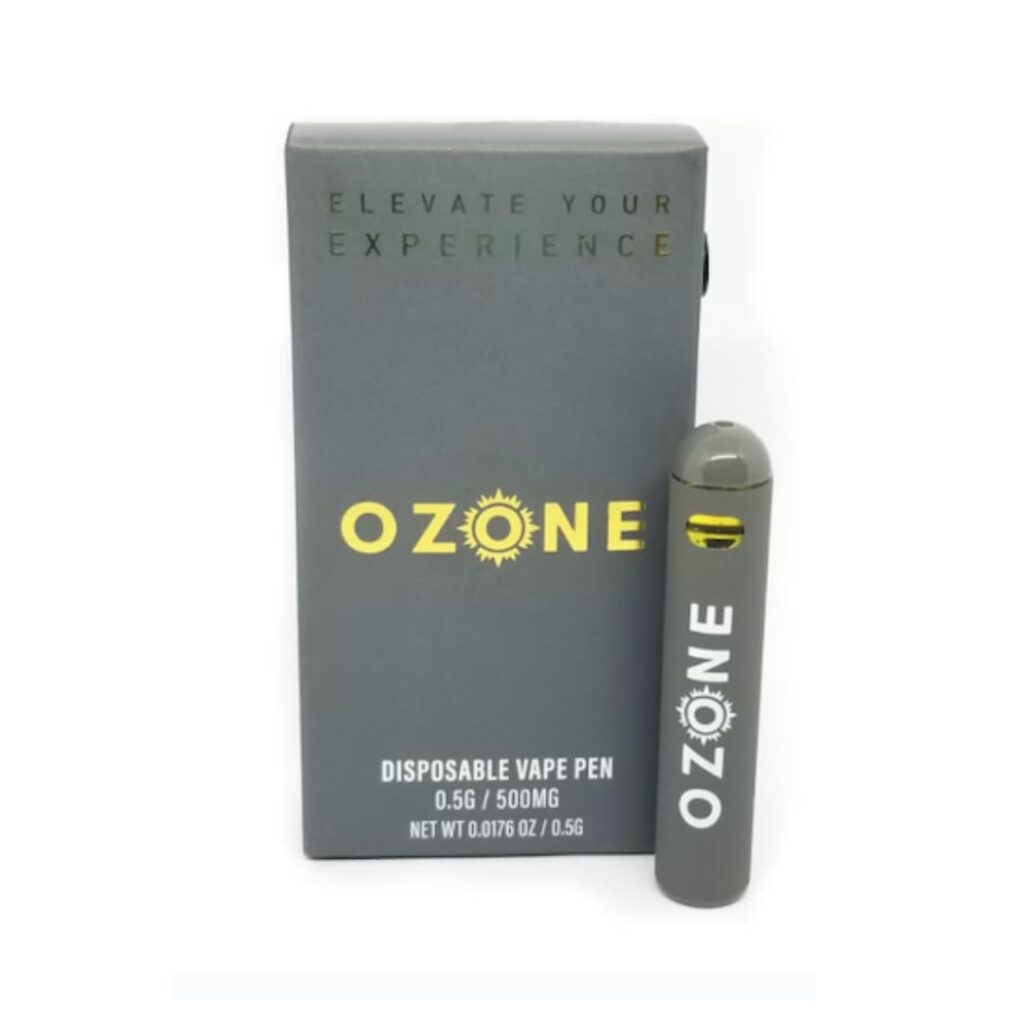 In many situations, the phrases "top-shelf cannabis" and "disposable vape pen" just do not go together. Ascend's Ozone brand is throwing that paradigm directly in the trash by unleashing its high-end BOMA Microvape Pen, an all-in-one vaping unit loaded up with 500 mg of the highest-quality live resin. Might we recommend the Garlic and Bananas strain? Trust us when we tell you this cross of Garlic Juice and Frozen Banana is much more delicious than it sounds. Depending on the experience you're looking for, BOMA Microvape pens are also available in the premium Ozone Reserve line.
Ozone Onyx Disposable Vape
Just like Ozone's Distillate Vape Carts, Onyx Disposable Vapes are made from premium, pure distillates with zero additives, fillers, or flavorings. We think you'll find this 300-mg traveler is the perfect size for your pocket or purse and delivers a fresh, clean hit each and every time with no mess.
Ozone Secret Agent All-in-One Disposable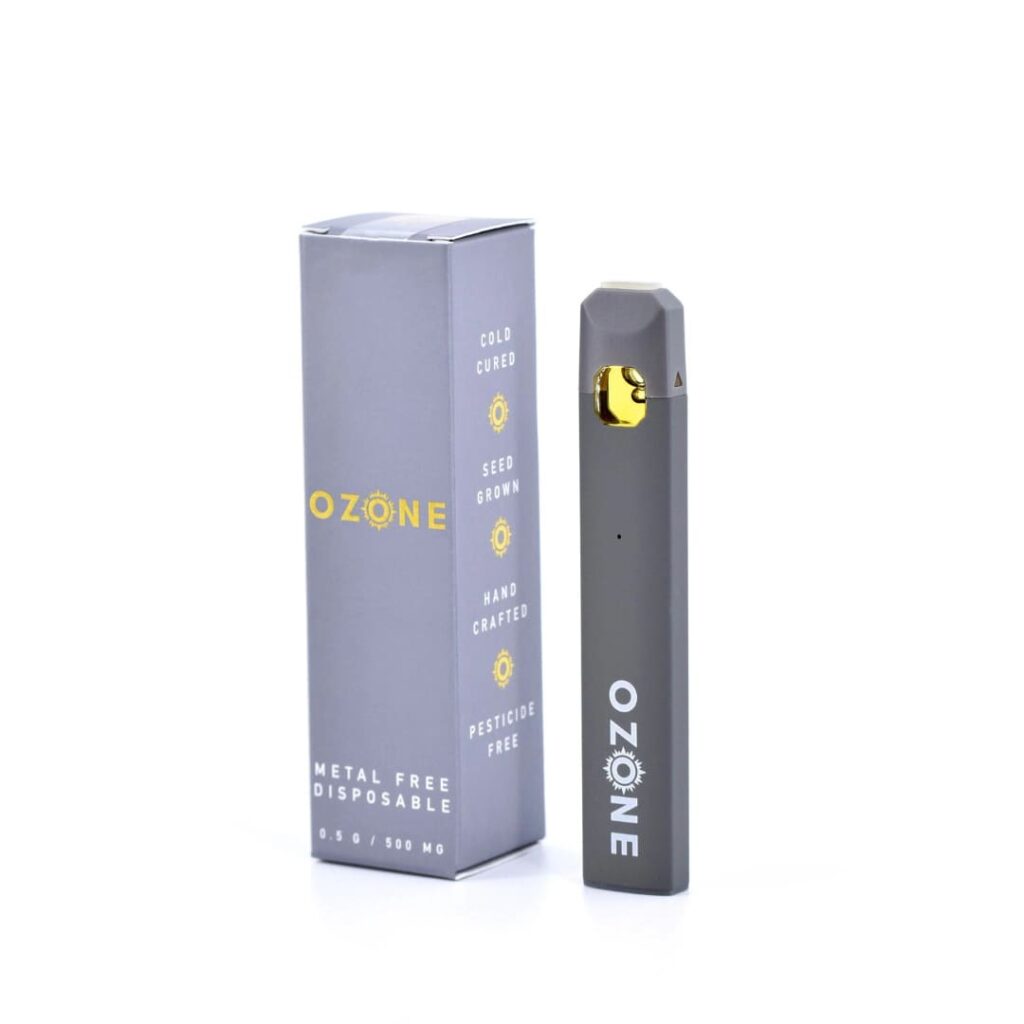 The Ozone Secret Agent from Ascend Cannabis is a discreet, all-in-one vaporizer unit pre-loaded with 300 milligrams of potent distillate oil with no additives whatsoever. You'll find no extra terpenes, no artificial flavors, and the least possible odor for the most incognito vaping experience available. If ascending with discretion is your goal, get ready to fly below the radar with a Secret Agent disposable pen.
Ozone Reserve: Uncompromising Excellence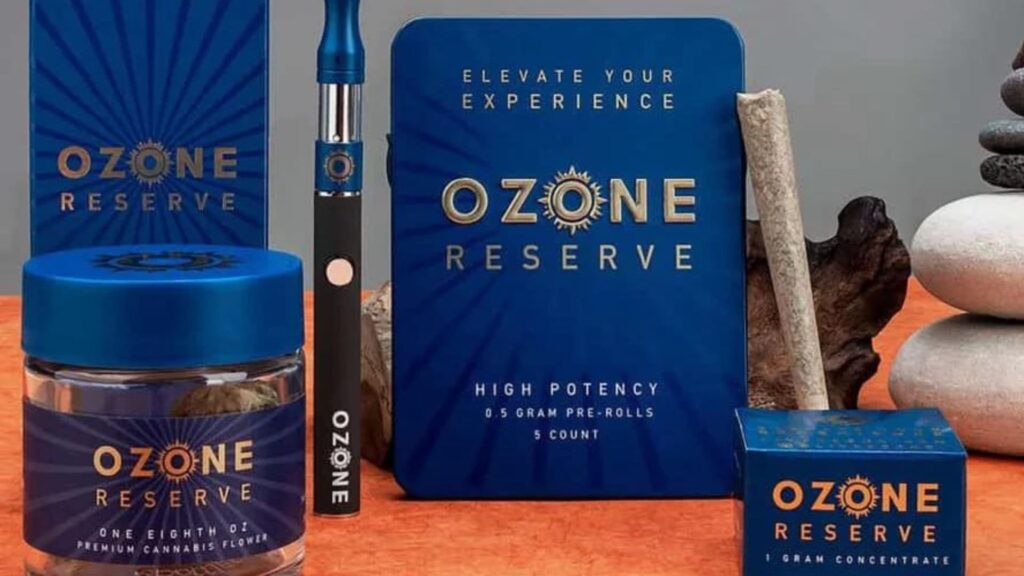 For visitors seeking the pinnacle of cannabis quality, look no further than Ascend's Ozone Reserve line. Ozone Reserve was developed exclusively for the cannabis connoisseur in pursuit of the finest and most exotic flowers or highly pure oils and resins. For cannabis lovers who live without any room for compromise, rest assured Ozone Reserve encapsulates the very essence of excellence that is the hallmark of Ascend's best products.
Ozone Reserve Flower Products
Ozone Reserve Flower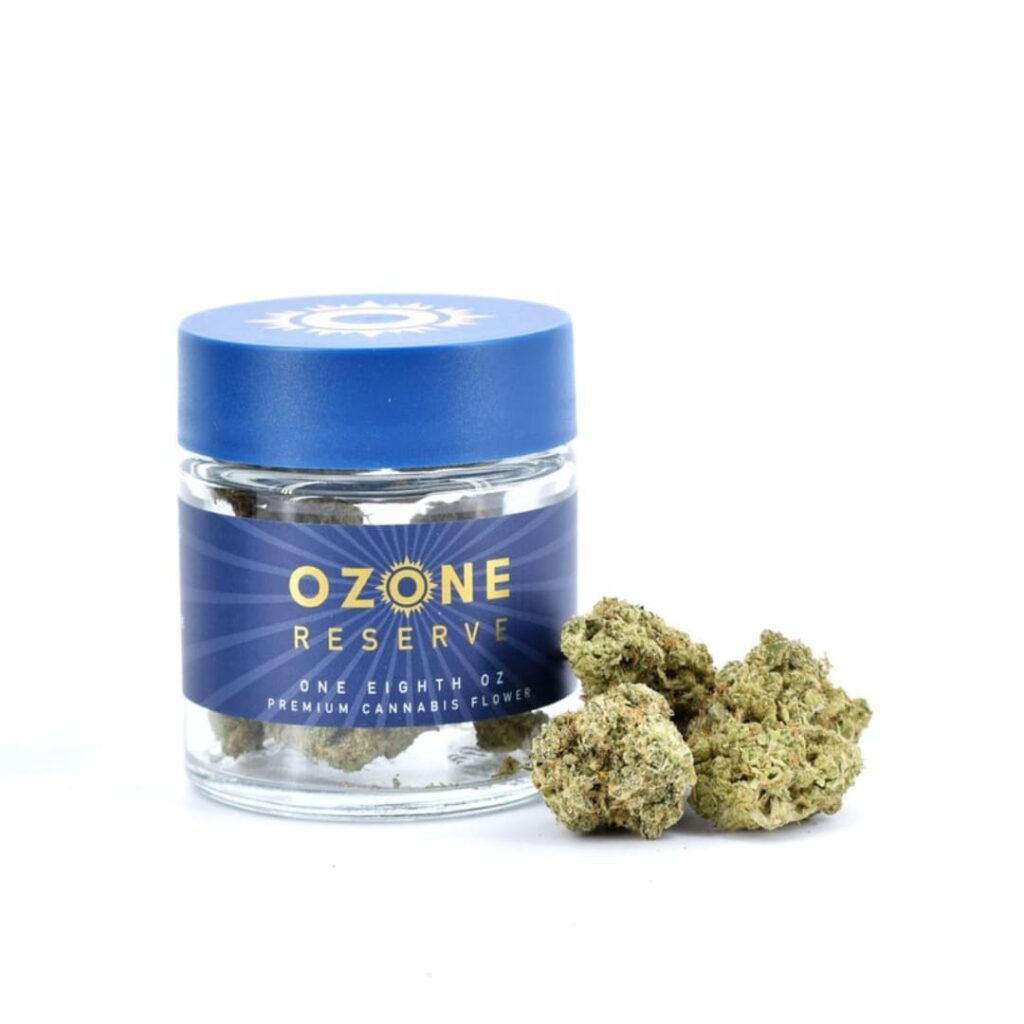 Shopping for cannabis doesn't need to be a major production. Sometimes you just want to pick up a little of your favorite flower to bring home for a smoke. Ozone's prepackaged 3.5-gram jars of bud are available in many enticing modern strains, guaranteed 28.5% THC or higher, including Mandarin Zkittles, Banana Daddy, Pastries #34, and Cherry Lime Runtz.
Ozone Reserve Infused Pre-Rolls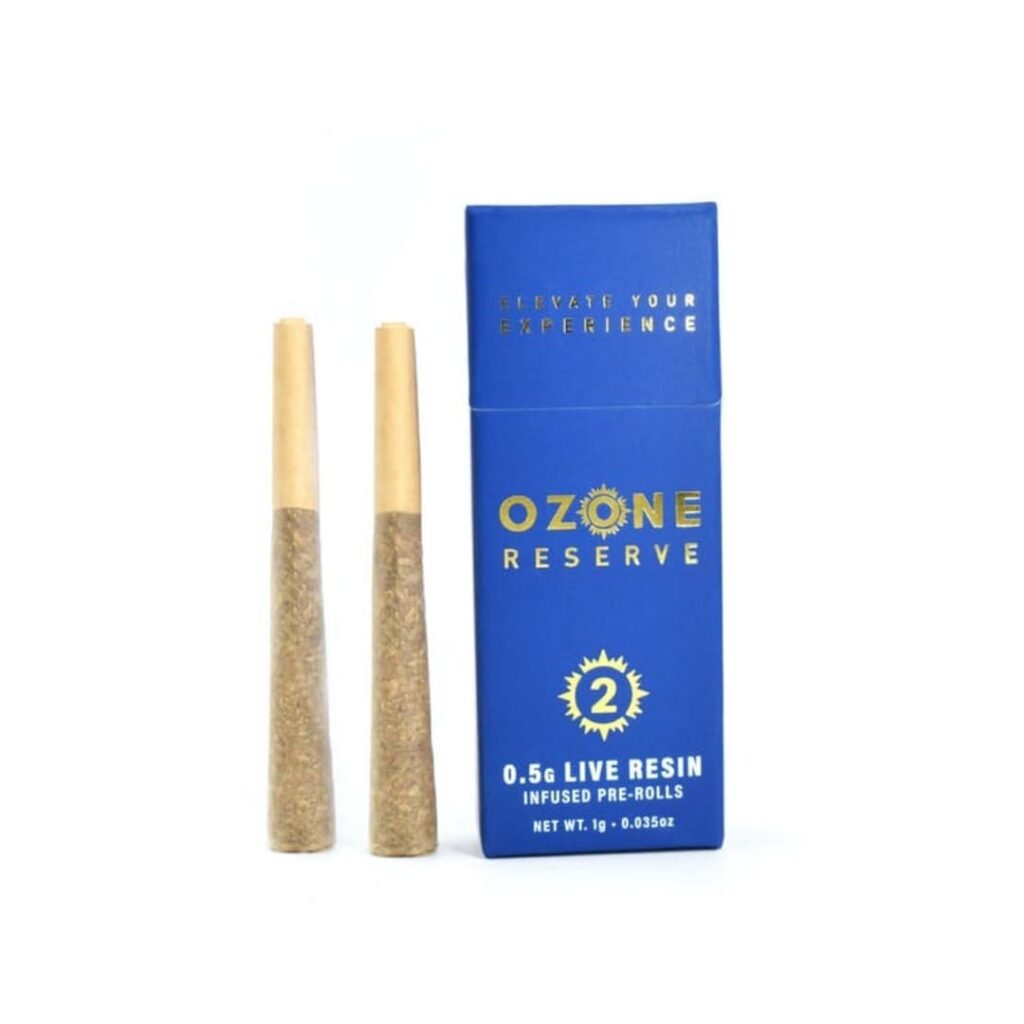 Sometimes you just need a single pre-roll to take on your afternoon hike, share with a friend before dinner, or kick back to watch a movie on Friday night. When that's the case, you can't do any better than an Ozone infused pre-roll, each loaded with a full gram of Ascend's industry-leading flower and infused with Ozone's signature live resin. Some of our favorite strains to get rolled up include Blockberry and Georgia Pie.
Ozone Reserve Vapes
Ozone Reserve Live Resin Cartridges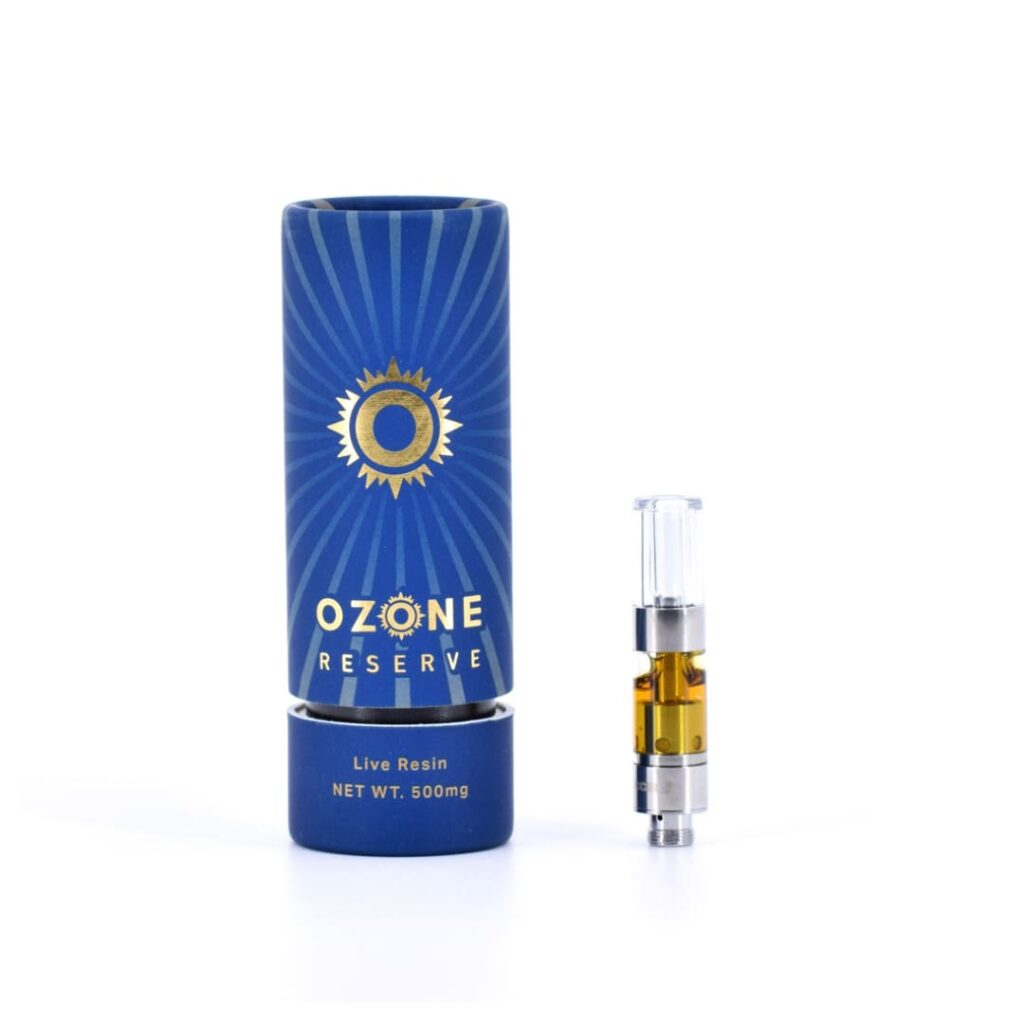 Ozone's live resin cartridges are the closest you'll get to Ozone Reserve whole flower without actually smoking flower. Each cart is filled with carefully extracted signature concentrates, produced at low temperatures from premium Ozone strains. You'll experience full enjoyment of each and every terpene you've come to know and love from your favorite strains, as care is taken to preserve the maximum terpene profile of the original single-source bud.
Onyx Live Resin Vape
Just like Ozone's classic Onyx Vape, the reserve version is stylish, compact, disposable, and supremely convenient. However, this unique disposable is filled to the brim with Ozone live resin to preserve as much of the original terpene profile as possible. Purity is king with this traveler, which has zero additives or flavorings.
Ozone Reserve Premium Concentrates
Ozone Reserve Live Budder
Ozone premium concentrates like live budder are potent, pungent, and ideal for dabbing. This whipped concoction is created from fresh cannabis plants, so it boasts all the terpene and cannabinoid content of Ozone's reserve flower packaged in 1-gram jars for your pleasure. You'll find a host of your favorite Ozone reserve strains, so ask your Ivy Hall budtender today.
Ozone Reserve Live Diamonds and Sauce
One of our favorite concentrate products, live diamonds and sauce are aptly named due to their unique presentation. You'll find crystallized "diamonds" of THC-a encased in a terpene-rich "sauce-" a perfect marriage of potent cannabinoid content and flavorful terpene profiles. Look for 1-gram jars of your favorite cultivar at Ivy Hall.
Ozone Reserve Live Sugar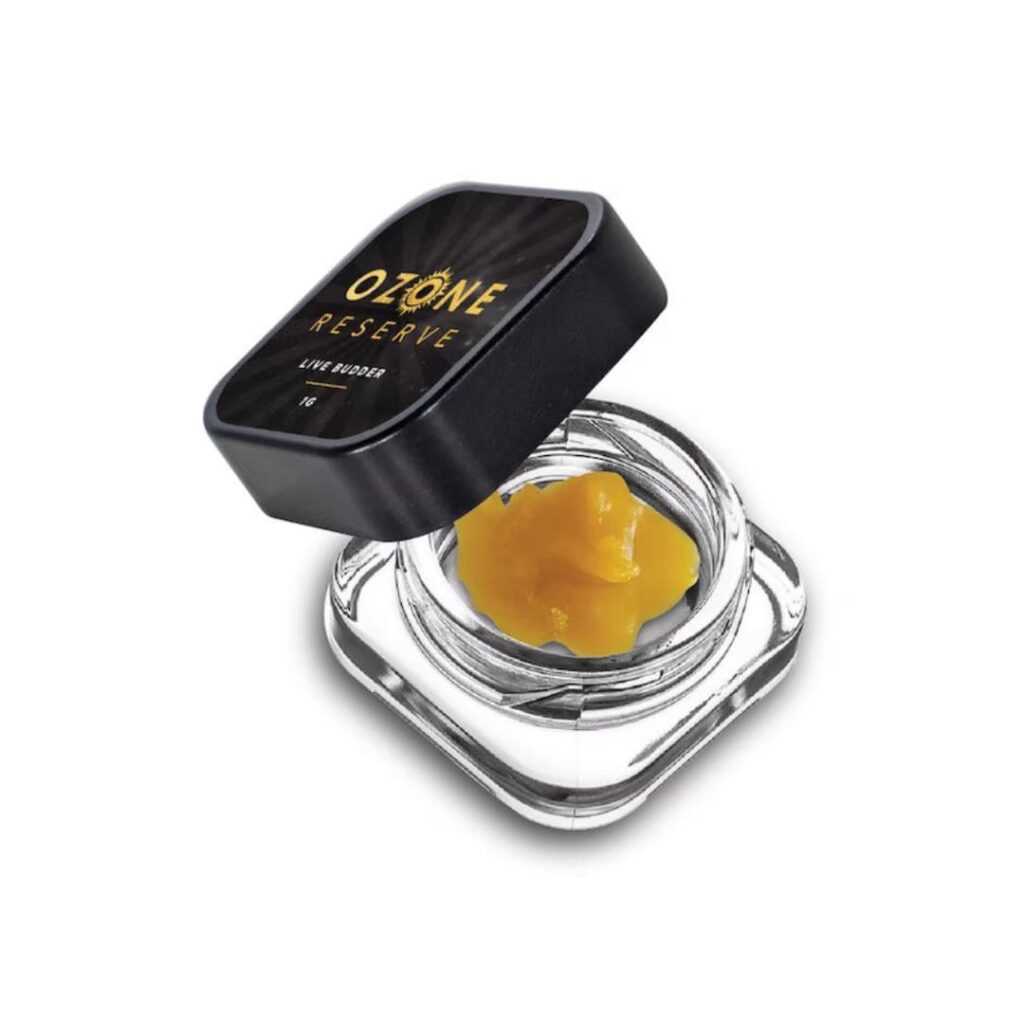 Like one of Ozone's other live concentrates, sugar is extracted from live (uncured) plants and manipulated to create intense crystals of cannabinoids. The texture is slightly different than that of live diamonds and sauce, in that sugar, unsurprisingly, has the texture of wet brown sugar and is extremely easy to handle. This product is available in 1-gram jars in a variety of strains.
Discover Cannabis Harmony with Ivy Hall and Ascend Cannabis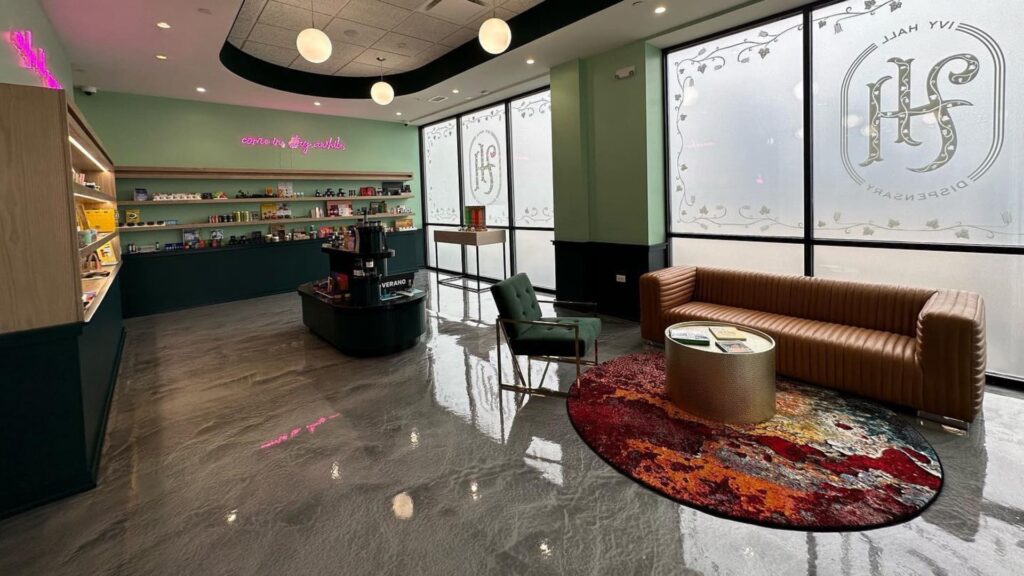 At Ivy Hall Dispensaries, we're proud to join forces with the folks at Ascend as part of our commitment to bringing you an unrivaled cannabis experience through our unique sensory dispensary model. Our shared commitment to quality, accessibility, and community-first values makes this partnership a natural fit and allows us to bring you more great cannabis products than ever before.
Step into one of our Chicagoland sensory dispensaries, where every product has been carefully curated to reflect the excellence that Ivy Hall strives for. As part of this collection, you'll surely want to peruse the world of Ascend's heavy-hitting in-house brands, including the accessible pleasure of Simply Herb, the consistent quality of Ozone, and the uncompromising excellence of Ozone Reserve. Whether you're looking for pre-rolled joints, bulk flower, something infused, a new vape cart, or a tasty edible, Ivy Hall has the tools you need to Ascend to the next level of your cannabis journey.
Ivy Hall's dedication to providing the community with top-notch cannabis and a space to learn about and appreciate it aligns seamlessly with Ascend's hometown ethos. Together, we stand as a beacon above the crowded retail cannabis market, offering a high-end opportunity for newcomers and cannabis connoisseurs alike. Whether you're seeking a value-oriented experience, bulk cannabis for your daily ritual, or the finest hand-crafted products, Ascend Cannabis at Ivy Hall Dispensaries can deliver. Visit your nearest Ivy Hall location today or browse our online menu to find Ascend products currently in stock.
We firmly stand behind our "no question is a dumb question" philosophy. Contact us with any questions you have, and our knowledgeable staff can address your concerns with care.