The word "savvy" can be defined as being knowledgeable or having the ability to make good judgments. It doesn't take a lot of imagination to see how these concepts apply to shoppers in the saturated world of retail cannabis, with its myriad products and price points. Now, there is a cannabis brand on the scene that makes it easy for you to shop savvy, whether you're a longtime cannabis lover or a total beginner. Better yet, you don't need any special knowledge at all – just look for the Savvy label.
Why Savvy?
In the ever-evolving landscape of retail cannabis, discerning cannabis lovers deserve a brand that delivers quality and style without breaking the bank. Welcome to the world of Savvy, where size, substance, and flavor come together in every awesome but affordable cannabis product. The Savvy cannabis brand is a quickly growing name produced by one of Ivy Hall's most reputable suppliers, Verano Cannabis.
Savvy's strain-specific flower and vape products embrace portability and convenience as much as they do affordability and quality, making them perfect for cannabis connoisseurs who want to embrace every moment without suffering buyer's remorse when the haze clears. Choose from a diverse range of strains that captivate the mind and soothe the body; then, you can delight in the fantastic price point of Savvy's quarter- and half-ounce bags or embrace the portability of their one-gram vape cartridges and all-in-one disposable pens. For cannabis lovers with a sweet tooth, Savvy's super popular line of Guap Gummies will be just the thing.
Here at Ivy Hall, we're excited to help get our customers into a Savvy state of mind. Whether you're looking for the best deals on bulk cannabis or just need a new flavor of chewable gummies to try, we can help you get a little more Savvy.
Make Cannabis Savvy at Ivy Hall
Verano's cutting-edge Savvy brand offers a compelling intersection of cannabis and culture that is sure to resonate with customers who have come to love Ivy Hall's neighborhood atmosphere and sensory dispensary vibe. By embracing the future of cannabis with open arms, this expansive and innovative product line reflects the ever-evolving landscape of retail cannabis. Savvy is a celebration of bold choices and boundless exploration in addition to a supremely relatable statement: Great cannabis doesn't have to be prohibitively expensive for everyday people.
Here are a few of the things we here at Ivy Hall love most about the Savvy product line:
Embracing Change – If there's something new and innovative going on in the retail cannabis space, there's a good chance you'll find it under the Savvy line.
Terrific Values – Savvy's parent company, Verano, touts the brand as being designed for cannabis lovers "who want more for less," and honestly, who doesn't?
Vape by Vibes – Instead of being named after the same old botanical terpene flavors, you can buy Savvy vape distillate carts and all-in-one pens named for the vibe they'll provide, e.g., Happy Hour, Vacay, Kick Back, or Sleepover. (Rest assured, they're all delicious and are melon, pineapple mimosa, berry, and cherry sorbet, respectively.)
Flavorful and Fun – Savvy has a range of unique strains, delightful vape formulations, and delicious edibles for an enjoyable experience that meshes well with Ivy Hall's focus on a feast for all the senses.
Getting to Know the Savvy Product Line
There is a range of premium cannabis products available under the Savvy brand, from high-quality, affordable bud to great vapes and tasty chewables.
Savvy Bulk Flower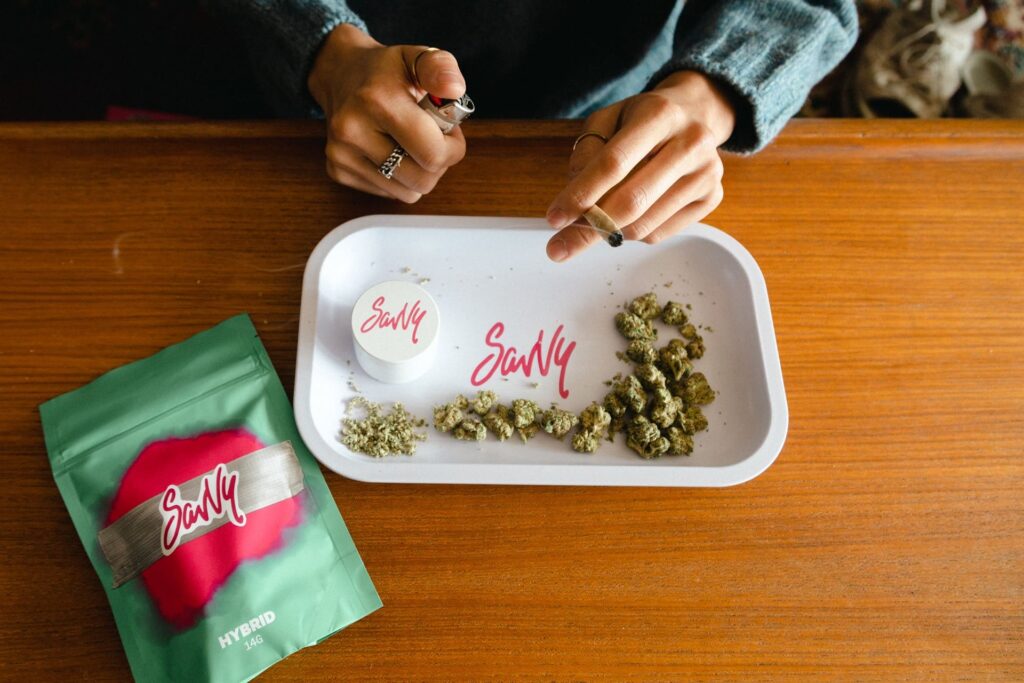 Savvy's bulk flower comes in no-nonsense 7- and 14-gram bags. This translates to roughly one-quarter and one-half ounce, respectively. Depending on current availability, you can find shake and trim specials, popcorn bud bags, or small to medium buds.
Savvy Shake and Trim specials are bags of loose, quality cannabis. Shake is arguably our favorite of the two, as it is made up of tiny bud pieces, sugar leaves, calyxes, and more, just like your favorite buds after they're ground. Shake is often higher in cannabinoids and terpenes as those plant parts boast more trichomes (the glands that make cannabinoids). Trim is typically more affordable than shake, as it contains premium trimmings made up of mostly leaves and stems.
Meanwhile, both buds and popcorn buds are actual cannabis flower buds and boast the most trichomes of any plant part. While popcorn buds are conveniently sized (like popcorn), small and medium buds are a bit larger.
Some of our favorite Savvy bulk strains include:
Rocky Road – This is a potent modern hybrid with a perfect balance of euphoria and relaxation carried upon a complex terpene wave that implies a subtle hint of cocoa.
Watermelon Burst – As the name suggests, this indica dominant strain has a sweet, mouth-watering terpene profile and is well known for its sedative effects.
Glazed Donut – The sweet and doughy aroma of this powerful Indica strain pairs nicely with its euphoric and relaxing effects – and with actual donuts if you should succumb to the munchies.
Grape Punch – This solid utilitarian hybrid is well-loved for the blast of grape flavor offered by its punchy but highly accessible terpene profile.
Orange Pound Cake – Treat yourself to the delicious combination of citrus and sweet notes of Orange Pound Cake. This sativa leaning strain offers a nice burst of creative energy that falls away to deep and peaceful relaxation.
Sunshine OG – This iconic strain lives up to its name with a full spectrum of bright and uplifting effects to rival any other sativa on the market.
Berry Biscotti – Another delectable, terpene-forward strain, Berry Biscotti is known not just for its great flavor and aroma but for its tranquil vibes as well.
State of Mind Savvy Vape Products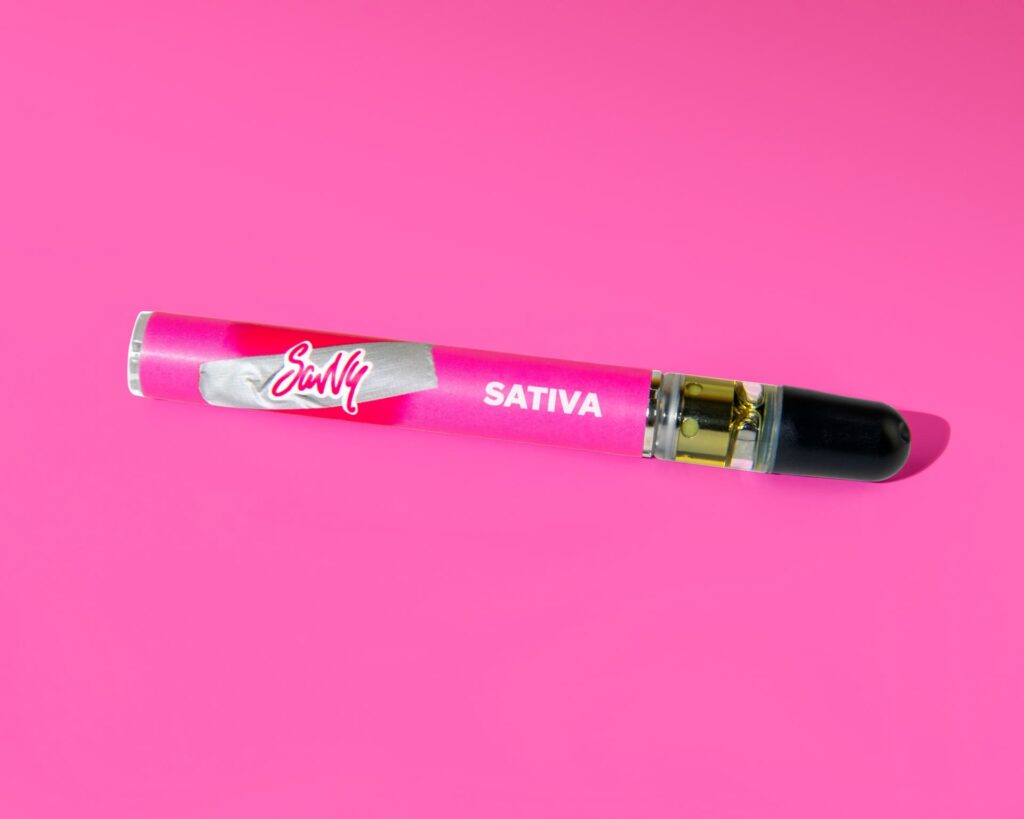 As mentioned above, Savvy also produces a fun line of vapes that allows you to shop and choose by the vibe you're seeking rather than just the flavor or the strain. Decide which Savvy State of Mind you're trying to get yourself into:
Happy Hour – An uplifting sativa-based THC distillate infused with a fresh summer melon essence, Savvy's Happy Hour vapes are great for socializing and sharing.
Vaycay – Try this pineapple mimosa-flavored vape with the right balance of daytime energy and relaxing vibes for a most versatile vape.
Kick Back – This mixed-berry flavor vape is perfect for when you've had a berry long day.
Sleepover – When it's time to wind things down for the evening, treat yourself to this cherry sorbet vape for a bedtime snack. Sleepover pairs high-test THC with the cannabinoid CBN (Cannabinol) for maximum insomnia-fighting and anti-inflammatory powers.
Savvy's innovative (and delicious) line of State of Mind vapes are available in two different, convenient forms:
1-gram carts – Savvy 1-gram vape distillate carts can be easily used with any standard 510 threaded pen battery.
300mg all-in-one pens – Savvy's all-in-one pens offer one-third the amount of distillate in a super convenient, pre-charged, "traveler" format for those who are traveling or otherwise without their vape battery.
Uncensored Flower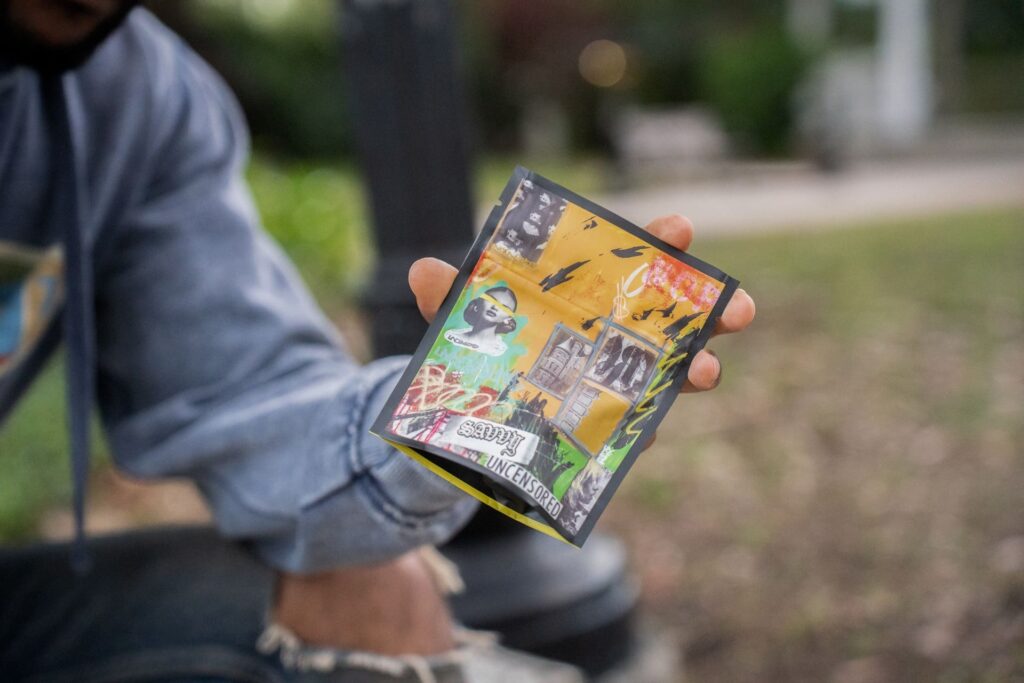 When you cross small, roughly trimmed buds with epic Verano cannabis strains, you get an incredible deal on great cannabis. You can find exactly that at Ivy Hall, sold under Savvy's "Uncensored" line in convenient, freshness-sealed 3.5-gram bags (with other sizes occasionally available).
Now you can check out these amazing strains at an impressive price point whenever you're ready to get loud and uncensored:
Sweet Apple Crumble Pie – A blend of rich terpenes that hint at apple and cinnamon underpins this strain, which is remarkably uplifting for an indica-leaning flower.
Pomelo Diesel – Tangy citrus fruit and dank diesel fuel ignite your senses; high-test THC does the rest.
Punch Cookies – An iconic knockout strain with a flavor both sweet and earthy; well loved by creatives and those in search of a little bliss.
Orange Pound Cake – A zesty burst of citrus and sweet vanilla notes define this beloved terpene showcase; the sativa dominant heritage brings both energy and tranquility.
Ice Cream Candy – A euphoric hybrid with a creamy taste and mouthfeel that live up to the name.
Cherry Punch – This fruity terpene powerhouse combines notes of cherry and grape; it's perfect for unwinding and lifting your spirits.
Grape Bubblegum – A nostalgic wave of grape and bubblegum is the calling card of this indica-dominant hybrid.
Brownie Batter – A unique indica treat with a rich chocolatey aroma and a euphoric, balanced high: indulgent relaxation at its finest.
Guap Gummies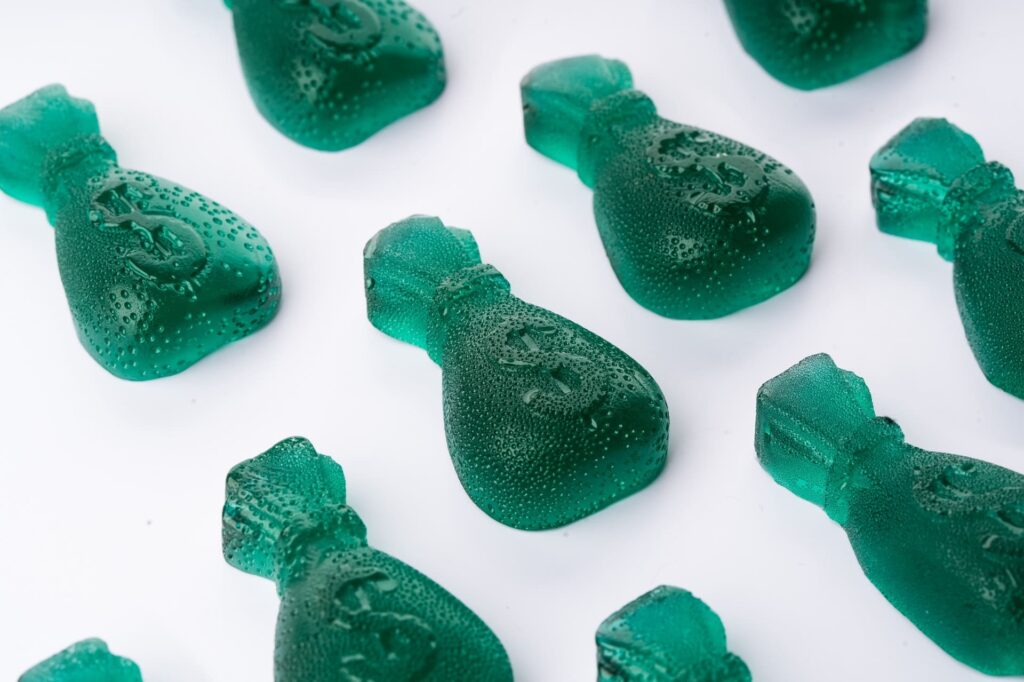 If smoking and vaping aren't your thing, you can still get Savvy with Guap Gummies. These delightful, moneybag-shaped chewables are loaded with either 25 or 50 mg of THC in each bite-sized piece. You'll experience a powerful edible high best suited for those already fluent in cannabis use.
Savvy's Guap Gummies are currently available in the following flavors:
Jungle Juice (green fruit punch) 50 mg single dose gummy
Blue Magic (blue raspberry) 25 mg single dose gummy
Savvy's Guap line is currently only launched in the State of Illinois, the home of Ivy Hall's many locations. Be sure to keep an eye out for special Guap Gummies packaging cooked up by some of the hottest cannabis-positive artists on the scene.
Savvy Threads
Savvy's deep connection to cannabis culture and art goes beyond their cool, street-smart packaging designs. If you want to represent your favorite brand when you're out and about, you can also shop online for Savvy-branded merchandise featuring designs from a variety of creators. Current offerings include:
T-shirts
Long sleeved t-shirts
Hooded sweatshirts
Bucket hats
Shorts
About Verano: Savvy's Parent Company
Savvy isn't just another small brand trying to get in on the retail cannabis boom. This line of hard-hitting but affordable products is produced by Verano Cannabis, one of the most reputable and successful growers currently operating in the United States. It's no coincidence that they're also one of Ivy Hall's most trusted suppliers of cannabis products that are safe, reliable, consistent, and produced to the highest possible quality standards. That means you can rest assured that every new, exciting, and affordable Savvy product is underpinned by Verano's reputation as a world-class cannabis operation. Pair this with Ivy Hall's commitment to a positive and holistic cannabis experience for every visitor, and you have a combination that's hard to beat.
Verano developed their Savvy line in an effort to make great cannabis accessible and exciting to more people than ever before. The products that make up the Savvy line are designed to appeal to both discerning cannabis connoisseurs and newcomers who want to enter the game with a top-quality product at a price point that makes exploring great cannabis easy on the wallet. Crafted with care in Verano's state-of-the-art indoor facilities, every Savvy product represents Verano's signature excellence repackaged into a culture-forward, budget-friendly unit. From half-ounce bags of bulk flower to discreet 300 mg vape pens, these unique market offerings are helping Verano and their retail partners here at Ivy Hall make quality cannabis accessible to everyone.
By embracing the spirit of inclusivity embodied by Ivy Hall's neighborhood dispensary model, Savvy says "yes!" to everyone, no matter your budget or cannabis use preferences. This positive attitude shared by Ivy Hall and Savvy is reflected by our mission to provide relief, relaxation, creativity, and an end-to-end sensory dispensary experience featuring only curated cannabis products of the very highest regard. Savvy's innovative products and large-format bud bags represent a new era of cannabis, one that appeals to both cannabis culture aficionados and casual shoppers looking to maximize value and stretch a limited budget.
In this world of fillers and facades, Savvy stays authentic. This is a brand shaped by passion, culture, and the courage to embrace change, reinforced by Verano's unshakable commitment to great cannabis. Thanks to Savvy and Verano, you can now experience cannabis in even more ways and at an even lower price point on your next visit to Ivy Hall.
Get Savvy About Your Cannabis Purchases at Ivy Hall Dispensaries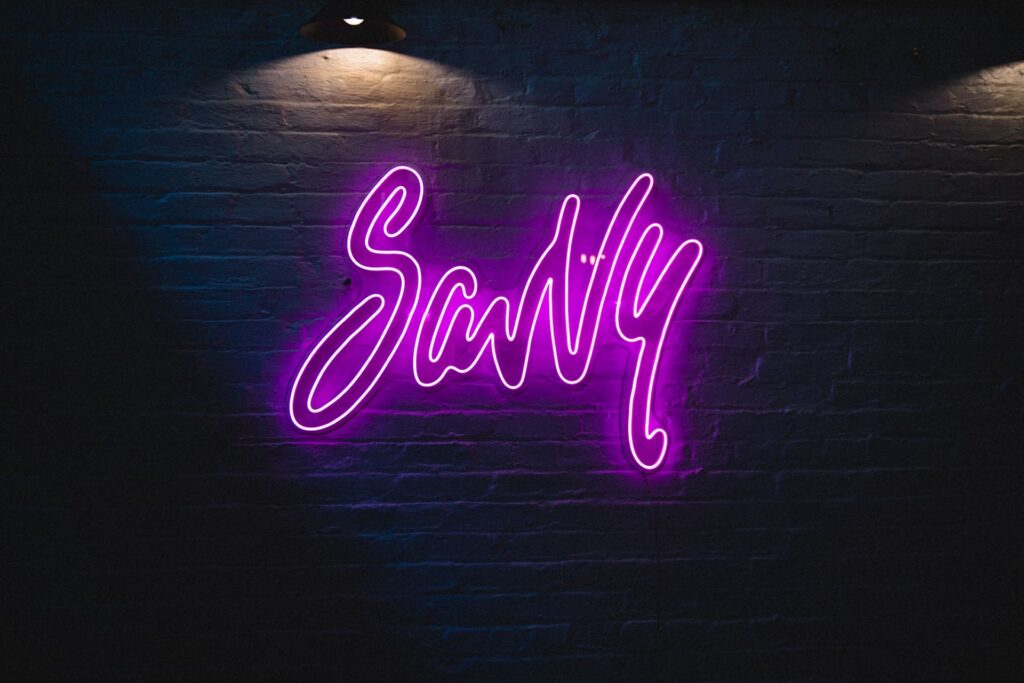 Smarten up your cannabis shopping choices with Savvy's diverse range of products designed to cater to every budget and every cannabis lover's unique tastes and preferences. Indulge in the wallet-friendly excellence of Savvy bulk or Uncensored flower, with each strain-specific package delivering a unique and satisfying blend of flavorful terpenes and high-test cannabinoids.
You can also explore the world of Savvy vapes to get yourself into a signature Savvy state of mind. Try Vaycay, Happy Hour, Kick Back, or Sleepover, each carefully crafted to pair mood with flavor for a vibe-based vape session that no other brand can offer. Those looking for an edible cannabis experience are invited to dive into the Savvy Guap line of potent single-dose gummies in enticing preparations like Jungle Juice and Blue Magic.
Visit your favorite Ivy Hall Dispensary location today, or look over our online menu to see what Savvy products we currently have on hand. You're sure to feel a lot more savvy when you walk out of Ivy Hall with an armful of uncensored flower, top-quality vape carts, and delicious edibles, all without blowing your bankroll. Order online for maximum convenience, or stop in and let our friendly and knowledgeable Ivy Hall staff help you choose the perfect Savvy product to meet your cannabis use goals.