Ivy Hall, the friendly neighborhood dispensary building a loyal following throughout Chicagoland, is proud to be the first adult-use cannabis dispensary serving the far west suburb of Glendale Heights. That's right, when we learned there were no marijuana dispensaries operating in Glendale Heights, IL, Ivy Hall stepped in with our unique, community-first "sensory dispensary."
As the first dispensary to venture into the neighborhood, we couldn't be more proud to become members of this wonderful community. We look forward to collaborating, giving back, and making sure everyone in Glendale Heights has access to the most cutting-edge, highest-quality cannabis products out there.
We partner with top growers and trusted brands like Verano, Cresco, Ozone, and many others to bring you a carefully curated cannabis menu that is capable of impressing even highly tolerant daily cannabis lovers. If you're a fresh-faced cannabis newbie, that is even better yet. Our friendly and knowledgeable staff would love to get to know you and help guide you to a great first cannabis experience free of complicated lingo or condescending attitudes. Whether you know exactly what you need or don't know where to start, take your cannabis shopping needs to Ivy Hall of Glendale Heights for a one-of-a-kind experience.
Ivy Hall Cannabis: The Premiere Glendale Heights, IL Cannabis Dispensary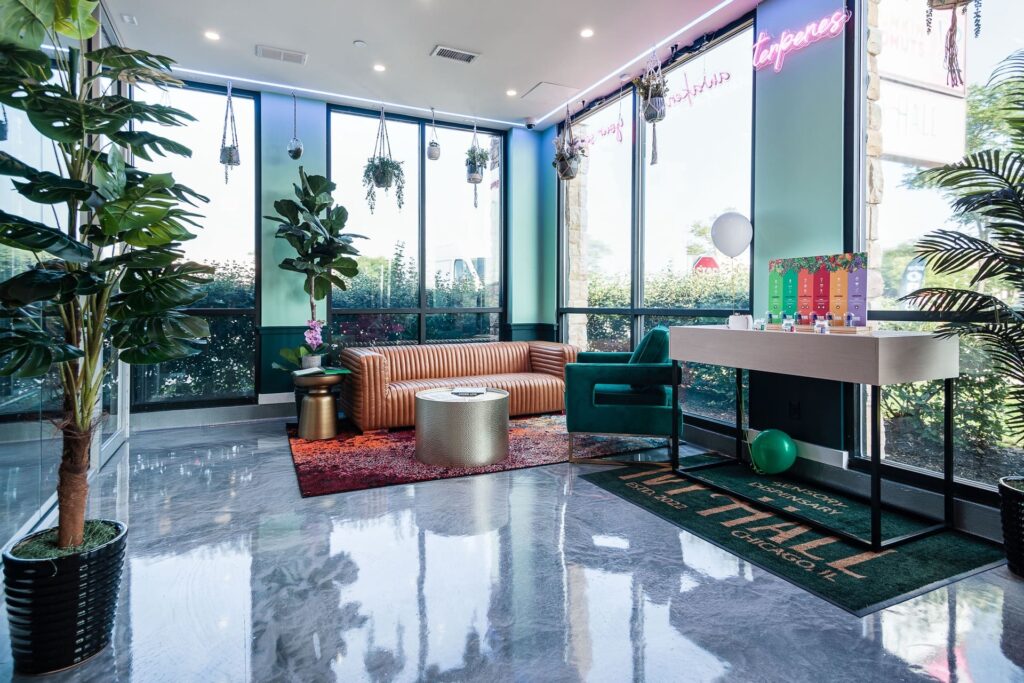 Glendale Heights, IL, residents looking to purchase legal adult-use cannabis products previously had to plan a trip to a different neighborhood, but Ivy Hall of Glendale Heights is here to change all of that. We opened the doors of our convenient Bloomingdale Road location on the morning of August 5, 2023, welcoming our new neighbors with door-buster specials, free swag, and even delicious, freshly baked treats from our friends at Hanna's Bakery. Best of all, they got a firsthand look (plus a feel, taste, and smell) at the epic, end-to-end "sensory dispensary" that makes Ivy Hall different from competing Chicago dispensaries.
Our Glendale Heights, IL, cannabis dispensary is currently open from 9 AM to 9 PM Mondays through Thursdays, with extended hours until 10 PM on Fridays and Saturdays. We're also open from 10 AM to 6 PM every Sunday.
What Makes Ivy Hall Special?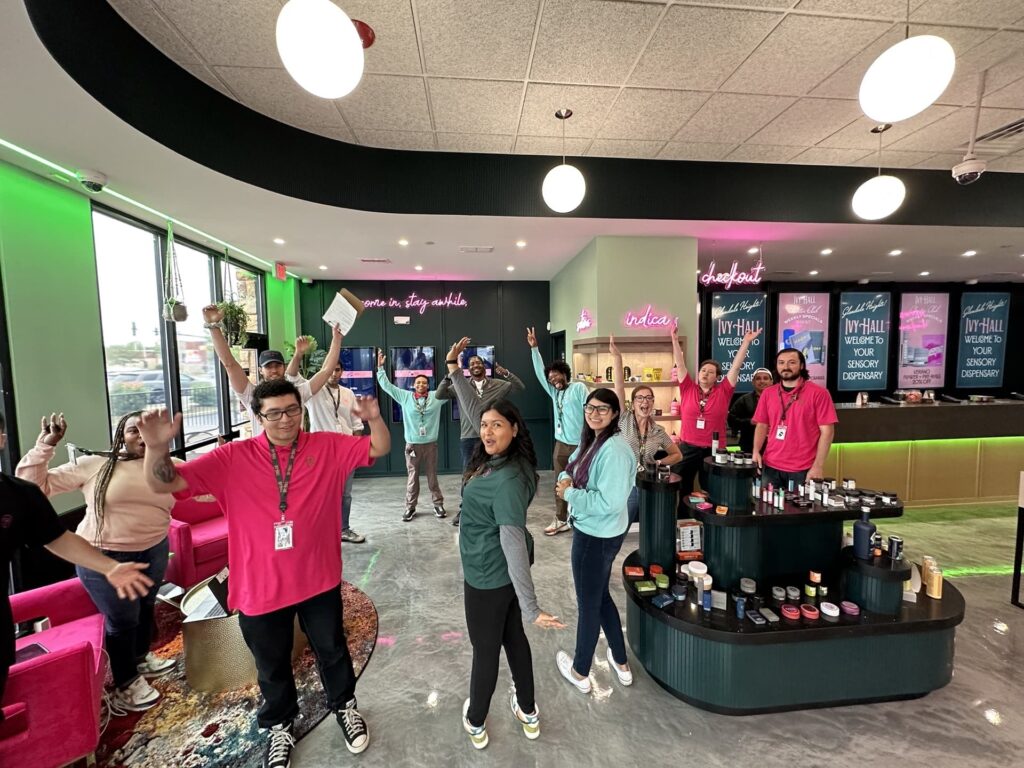 The Ivy Hall Vibe
If you think the vibe at some cannabis dispensaries makes you feel like you're in a hospital pharmacy – or worse, like you're doing something wrong – you're not alone. Ivy Hall's response to this problem is a warm, customer-focused approach that permeates every phase of our business model, from our tasteful and fun interiors to our meticulously curated product selections and our friendly approach to everyday customer service interactions.
Our Holistic Approach
Cannabis shouldn't just be about "feeling it." At Ivy Hall, we believe the experience is about feeling good. That means a holistic approach to retail cannabis that takes into account your mood, your cannabis experience, your usage goals, your set and setting, and all of the other factors necessary to ensure you have a successful and satisfying experience when you get home with your selection from Ivy Hall Glendale Heights.
Our Sensory Dispensaries
Ivy Hall Dispensaries are the pioneers of the cutting-edge "sensory dispensary" model that makes cannabis shoppers feel more welcome and better accommodated. It's all part of our commitment to the holistic, end-to-end experience of cannabis that stands in stark contrast to reducing thousands of years of recreation and sacred rituals to a mere retail transaction. This means we take all of your senses into account with detailed touches like great, vibey music tracks, fragrant but unimposing scented candles, delicious treats, and more.
Our Friendly Neighborhood Staff
We would be remiss if we didn't include our world-class Ivy Hall staff on this list of what makes us special. Our budtenders take our neighborhood-focused approach to retail cannabis to heart. Every member of our Ivy Hall Glendale Heights team will strive to make you feel as welcome as possible, regardless of your cannabis experience level, and will work diligently to earn our place as your trusted neighborhood provider of high-quality cannabis products. We feel fortunate to break ground as the first retail cannabis dispensary in Glendale Heights, IL, but we take nothing for granted, and we look forward to earning the friendship and long-term business of each and every Glendale Heights cannabis shopper. Of course, don't be afraid to stop in if you're visiting from out of town and in need of great product, either. We're always excited to make new friends.
Ivy Hall Glendale Heights: Staff Picks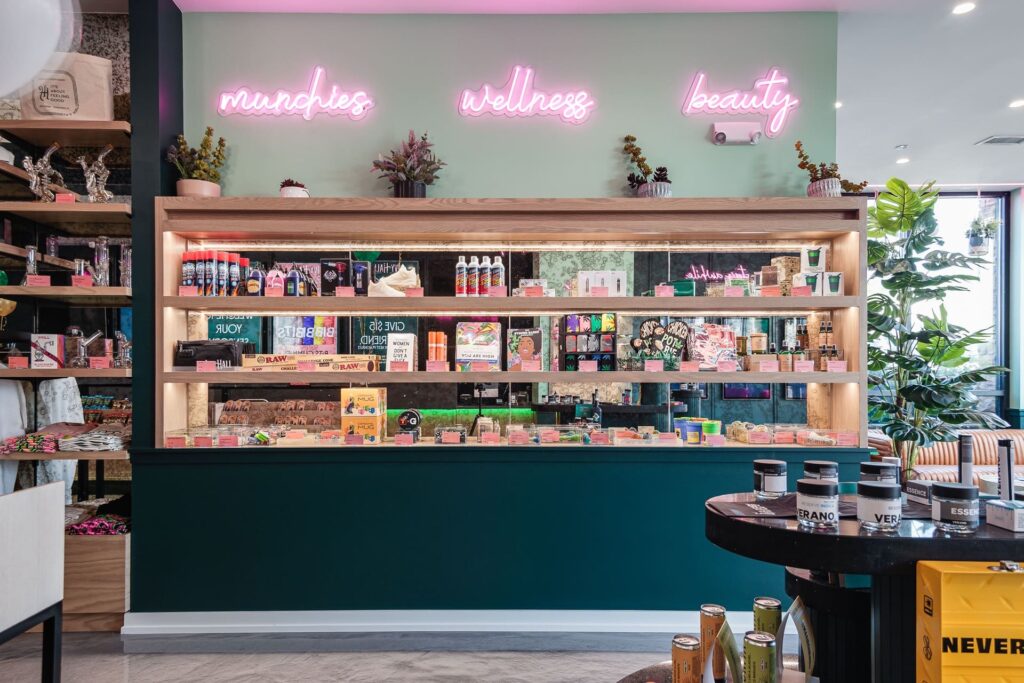 If you're ready to give Ivy Hall Glendale Heights a try but aren't quite sure what you're in the mood for, check out this guide to some of our favorite products. You're sure to find something to spark your interest in the following exploration of products. Be sure to check out our online menu or visit the shop in person for the current availability of these products at Glendale Heights or other Ivy Hall Chicagoland locations.
Flower Options Available at Ivy Hall Glendale Heights
Let's start with some of our favorite raw flower options that we've been known to carry at the Glendale Heights location from time to time. Depending on what's currently in stock, you might pick up a 3.5-gram pre-pack or check out larger bulk amounts available from some of our growing partners. Options in stock can include anything from larger reserve buds to popcorn buds or even shake and trim specials that are great for rolling up all night or making your own cannabutter. Or, if you're just looking to spice up the night, many of our top vendors offer a variety of their best strains in convenient pre-rolled joints.
At Ivy Hall, we make great neighbors, but we do have a few pretty loud buds that come around from time to time:
Ariez MAC 1 – For those who like it sticky, MAC 1 is renowned for its resin production, and its frequent presence in modern crossed strains is a testament to its quality.
Ariez Rainbowz – Immerse yourself in a spectrum of flavors, terpenes, and vibes with this vibrant hybrid strain that lives up to its name.
Aeriz Florida Oranges – This strain is beloved for its terpenes, which offer a fresh, citrussy blast that pairs well with its uplifting qualities.
UpNorth Durban Poison – This legendary sativa strain boasts ancestry that can be traced back centuries and offers an inspiring, clear-headed, and uplifting experience.
UpNorth Wedding Mints – The combined powers of the Kush Mints and Wedding Cake strains, each beloved in their own right, make Wedding Mints a well-balanced strain for any occasion (a lifetime of commitment not required).
Ozone Mandarin Zkittles – Savor the combination of tropical fruits, berries, and candy in the complex and welcoming terpene profile of Mandarin Zkittles.
Ozone Banana Daddy – Creamy banana notes combine well with this hybrid strain's euphoric embrace.
93 Boyz Jet Fuel – Propel yourself into a high-octane cannabis experience with this strain from 93 Boyz that's every bit as gas as the name implies.
Cresco Slurricrasher – This is a top-shelf modern hybrid from one of the top names in growing.
Vape Cartridges Available at Ivy Hall Glendale Heights
If you're into vapes instead of smoking cured flower, we have you covered with more great products from top cannabis growers and producers. Most of the products on this list are for use with a standard 510-threaded pen battery. Some others are convenient all-in-one units that require no additional equipment and can be disposed of or recycled after use.
Verano Essence 1-Gram Distillate Carts – Verano's full-gram distillate carts are one of the best values in vaping, with great flavors like blueberry and strain-specific options like Cantaloupe Haze and Pineapple Express.
93 Boyz 1-Gram Gas Tank Cart – The team at 93 Boyz is partnering with Ivy Hall to make sure Glendale Heights never runs out of gas. The flavors available for their high-quality "Gas Tank" vape cartridges continue to play on the same theme, with offerings such as "Pit Stop," a cross between Gorilla Cookies and Jenny Kush.
Simply Herb 1-Gram Distillate Vape Cartridges – Simply Herb is another excellent retail cannabis brand that offers a high-quality, clean-hitting 510 vape cartridge with a full gram of oil. We also recommend their iconic Mango Tango flavor.
Ozone Half-Gram Reserve Live Resin Carts – For a premium vape cartridge experience, Ozone and some of our other retail partners now produce live resin cartridges that can much more authentically capture the terpene profiles and therapeutic cannabinoid ratios of your favorite strains. Try Ozone's MAC 1 or Animal Cake live resin cartridges to feel (and taste) the difference for yourself.
Ozone Secret Agent 300 mg All-in-One Distillate Vape Pen – When it's time to take your vaping incognito, the professionals at Ozone can equip you with a vape pen worthy of any international man of mystery or the everyday person who just wants a discreet and convenient vaping option. Ozone Secret Agent disposable pens have a very reasonable price point and come pre-loaded with 0.3 grams of top-quality, high-test THC distillate oil.
Verano Essence 300-mg Travelers All-in-One Distillate Vape Pen – Verano also offers a discreet, high-quality, all-in-one disposable vaping unit for maximum convenience. Choose from mouth-watering preparations like Bombsicle and Watermelon.
Cannabis Edibles Available at Ivy Hall Glendale Heights
We couldn't very well call ourselves a "sensory dispensary" if we didn't carry premium products for our neighbors who prefer to consume cannabis orally in the form of a tasty treat. We have curated a menu of delicious edibles from a variety of top brands to give you a wealth of options.
Senorita THC Margaritas – Any margarita lover is sure to be pretty impressed with Senorita's Jalapeno Lime Margarita. This delicious, alcohol-free alternative to your favorite canned margarita drink is a great choice for unwinding without booze at any time of day. Five milligrams of THC lets you vibe with the rest of the party without risking that regrettable hangover. For those who want to party a little harder (while still avoiding alcohol), the mango version has 10 mg of THC instead of 5 in each 12 oz can.
Wyld Gummies – Wyld's line of innovative gummies isn't just known for an incredible array of fruit flavor preparations; it's also special for carefully formulated ratios of cannabinoids that unlock maximum therapeutic potential. For example, their blood orange gummies blend sativa-derived THC with non-psychoactive CBC (Cannabichromene) at a 1:1 ratio for an uplifting boost, the indica-heavy elderberry 1:2 gummy features sleep-enhancing CBN (Cannabinol) with THC, and the Wyld pear gummies have an equal amount of THC and CBG (Cannabigerol) in each dose. Flavors like sour apple and huckleberry offer a more traditional THC-focused chewable experience.
Guap Gummies Jungle Juice – For experienced users, this delicious 50 mg single-serve edible from Verano offers five times the THC of a typical 10 mg edible. In addition to being packed with high-quality THC, it's also gluten and dairy-free.
Boost Tablets – A no-nonsense option for those who prefer to treat their cannabis like any other supplement or medication, Boost tablets offer a pure and convenient dose of THC.
Other Products Available at Ivy Hall Glendale Heights
If the products on this list aren't quite doing it for you, be assured we also carry a full line of high quality:
Waxes and other concentrates for a superior dab experience
Topical ointments and salves
Accessories and merch
Ivy Hall: The First Dispensary in Glendale Heights and the Last One You'll Ever Need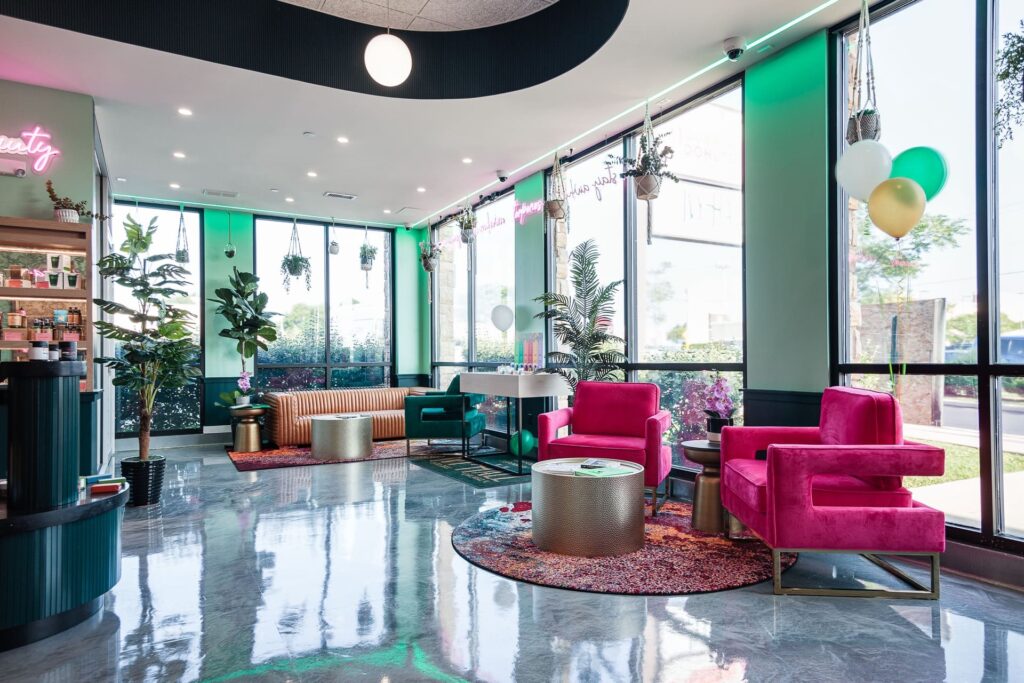 When you're ready to pay us a visit, check out our online menu to start putting together a shopping cart for a pre-order. Or, simply come down to our convenient location on Bloomingdale Road to chat with a member of our staff. Whether you're a daily cannabis enjoyer looking for a high-test wax for your dab rig, a weekend warrior trying to find the best deal on a multi-pack of pre-rolls, a medicinal user looking for a consistent supplement that works, or just a curious first-time shopper who wants to check out the new Ivy Hall Glendale Heights dispensary, we look forward to seeing you soon!