Welcome to Ivy Hall's Montgomery location, the first cannabis dispensary in Montgomery, Illinois and our fourth in the state!
Ivy Hall is proud to take a fresh approach to the cannabis industry. Our mission is to provide personalized guidance to all our customers while fostering a welcoming and inclusive atmosphere. But that's not all! We're also a socially-conscious business, promoting diversity, equity, and inclusion in the cannabis world.
A Unique Approach to Cannabis
At Ivy Hall Montgomery, we believe that cannabis should be fun and accessible to everyone. That's why we've created a welcoming shopping experience that feels more like a boutique than a traditional dispensary. From our colorful decor to our knowledgeable staff, we're here to make your visit enjoyable and enlightening.
A Sensory Dispensary Experience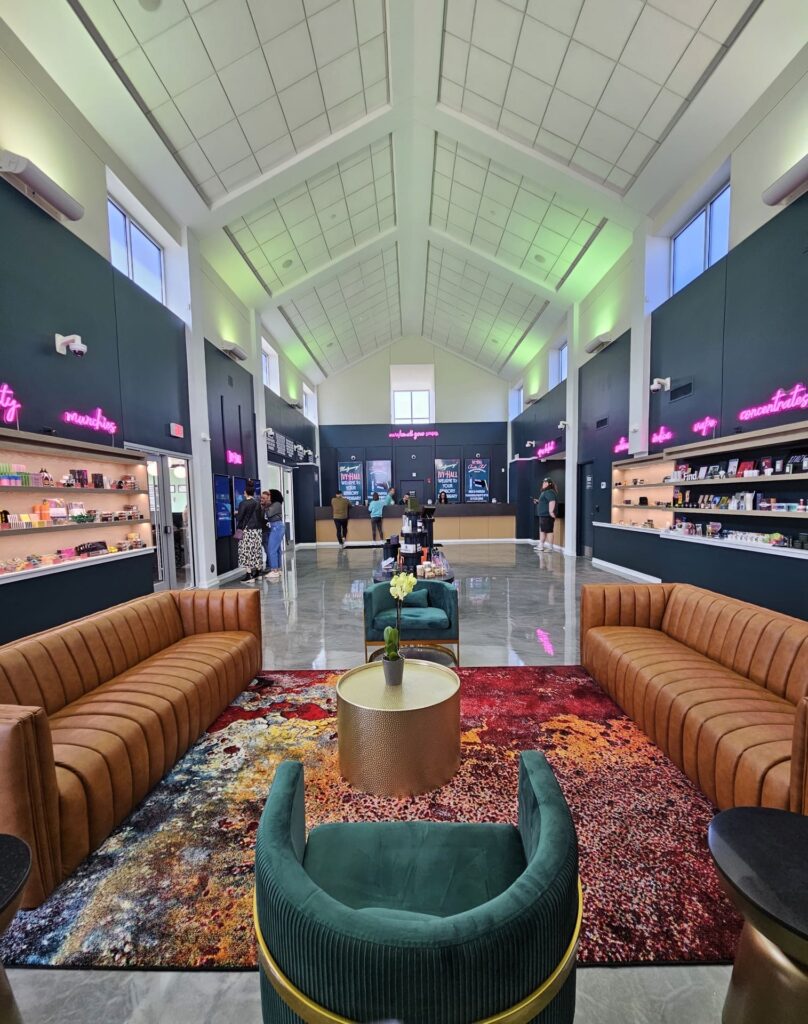 Our company executives describe Ivy Hall as a "sensory dispensary" designed to engage "all the senses to embrace the experience of cannabis." This means that when you step into our Montgomery location, you'll be immersed in an environment that stimulates your senses and enhances your understanding of cannabis products. From the aroma of our flowers to the vibrant visuals of our displays, we've curated every aspect of our dispensary to create a memorable and engaging experience for our customers.
Personalized Guidance for Every Customer
We know that navigating the world of cannabis can be overwhelming, especially for newcomers. That's why our team at Ivy Hall Montgomery is dedicated to providing personalized guidance to help you find the perfect products for your needs. Whether you're a seasoned connoisseur or a curious newbie, our friendly and knowledgeable staff are here to answer your questions and guide you through our extensive selection of Montgomery cannabis products.
Check out the Ivy Hall Montgomery menu and order for pickup online here.
Expert Staff and Ongoing Education
Our team at Ivy Hall Montgomery is passionate about cannabis and committed to staying up-to-date on the latest industry trends, research, and products. This dedication to ongoing education ensures that our staff can provide expert guidance and recommendations tailored to your unique needs and preferences. You can trust our team to help you make informed decisions about your cannabis consumption.
Fostering a Welcoming and Inclusive Atmosphere
At Ivy Hall Montgomery, we believe that everyone should feel welcome and included. We've designed our dispensary to be a safe and comfortable space for people of all backgrounds to explore and learn about cannabis. With our focus on community engagement, we host regular events and workshops to bring people together and foster a sense of belonging within the Montgomery cannabis community.
Championing Diversity, Equity, and Inclusion in the Cannabis Industry
As the first Montgomery dispensary, we're proud to be a trailblazer in promoting diversity, equity, and inclusion in the cannabis industry. We actively seek out partnerships with minority-owned businesses, and our team is committed to creating opportunities for people from underrepresented communities. By supporting these initiatives, we're helping to build a more equitable and inclusive future for the cannabis world.
A Minority-Owned Dispensary Brand
"As a minority-owned cannabis dispensary brand, we approach our role in the state's growing cannabis industry differently, and our results speak for themselves," says Greg Elliott, chief growth officer of Ivy Hall and the majority owner of the Montgomery dispensary. "We thank our state's elected leaders for creating this opportunity to obtain parity and build equity in the state's growing cannabis industry."
Expanding Our Presence in Illinois
The Montgomery location is the company's fourth in Illinois, joining our other dispensaries in Crystal Lake, Waukegan, and Chicago's Bucktown neighborhood. As we continue to grow and expand our footprint in the state, we remain committed to providing the same exceptional customer service, community engagement, and social responsibility that have become synonymous with the Ivy Hall brand.
More About Montgomery, IL and Why We Chose It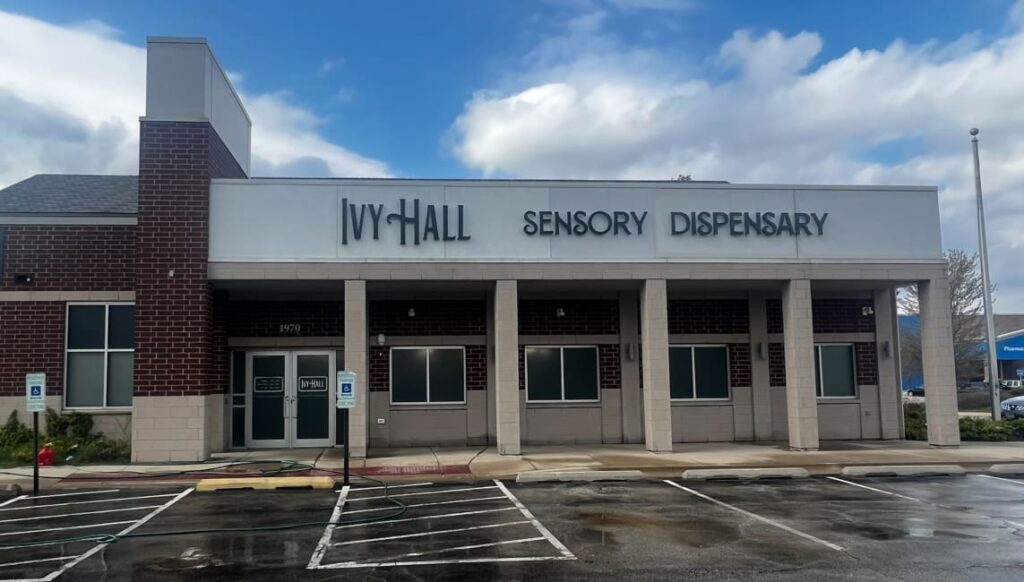 Montgomery, IL, is a vibrant and growing community that perfectly aligns with Ivy Hall's values and vision. With its rich history, strong sense of community, and commitment to progress, Montgomery serves as the ideal backdrop for our innovative and inclusive dispensary. We chose to open the first cannabis dispensary in Montgomery because we believe in supporting and contributing to the local economy, while also providing residents with access to high-quality, personalized cannabis experiences.
Furthermore, Montgomery's diverse demographic and welcoming atmosphere made it a natural fit for our mission to promote diversity, equity, and inclusion within the cannabis industry. We're proud to be part of the Montgomery community and look forward to forging lasting connections with residents and visitors alike.
What Products You Can Expect to Find at Ivy Hall Montgomery
From gummies to vape carts, Ivy Hall Montgomery really has it all. Some store best sellers include:
Raspberry Gummies by Wyld
Put a pep in your step! These are the best-selling cannabis gummies in the US! Made with real fruit, premium cannabis extract, and botanical terpenes, these gummies offer an uplifting, cerebral experience to fuel creativity and productivity.
The Creative Sativa Blend 7
Unleash your creativity! Featuring a 50% Valley Kush and 50% Mandarin Roze mix. Savor the bold citrus and earthy flavors, ideal for daytime adventures or sparking artistic inspiration. These award-winning pre-rolled smokes include matches and a built-in strike pad for easy enjoyment.
Senorita Jalapeno Lime Margarita THC Drink
Savor the refreshing alcohol free Margarita! With 5mg of THC in a 12 oz serving and just 70 calories. Made with no added sugar, this delicious beverage features organic Mexican agave, real lime juice, jalapeno, Himalayan salt, carbonated water, and THC for a guilt-free indulgence.
Essence Cantaloupe Haze Distillate
Uplift your mood! This sativa strain was created by DNA Genetics through the expert crossbreeding of Haze Brothers and Mexican landrace strains. Experience the delightful sweet and sour melon flavor profile of Cannalope Haze, perfect for uplifting your mood and energizing your day.
Butterstuff Shake from Ozone
Get relaxed. This indica flower is a unique cross of Velvet Glove and Peanut Butter Breath strains. Indulge in the delightful flavors of sweet, earthy, and creamy butter cookies on the exhale. This Indica flower is rich in terpenes such as Limonene, Caryophyllene, and Humulene, offering a soothing and relaxing experience.
Ivy Hall Montgomery Reviews
Check out what some of our dope fans our saying about us on Google:
"Loved the vibe of this place! Haven't spent much time in dispensaries, but decided to give this one a try. The place is extremely welcoming with the couches and vaulted ceilings. The displays are awesome and allow you to see what you're getting. Andrew helped me out and was an awesome bud tender! I will definitely be visiting again!"
"It was our first time here and Darrell was just so helpful and very friendly. He showed us what's on sale and made us feel so comfortable. The vibe was also great here and I liked how it was more open. Definitely would come back ❤️"
"Loved the staff here! Everyone was very helpful and the selection was amazing. Unlike other dispensaries, this place felt like a luxury boutique and had very competitive prices. I was very impressed with the whole visit and will definitely be coming back soon!"
"Went to opening day. Beautiful space and excellent atmosphere. Tatiana was so knowledgeable, professional and helpful. She helped me out with everything and even got me a free item. This is the kind of experience that you want as a customer! I'm definitely coming back to see her at Ivy Hall!"
"Great service, better prices than other more established dispensaries. Walked in, placed an order, sat down in the waiting room, and read a cool coffee table book while I waited for my order. Just a superior experience to Verilife. Won my business."
"I love this place! Visited yesterday for my first time, and will definitely be coming back. Everyone was very welcoming and friendly, the little lounge area was really cool, and the displays were on point! Dakota helped me out, and made sure I got signed up for their rewards program, so I'll definitely be a frequent flier 😀"
Convenient Hours at Ivy Hall Montgomery for Your Cannabis Needs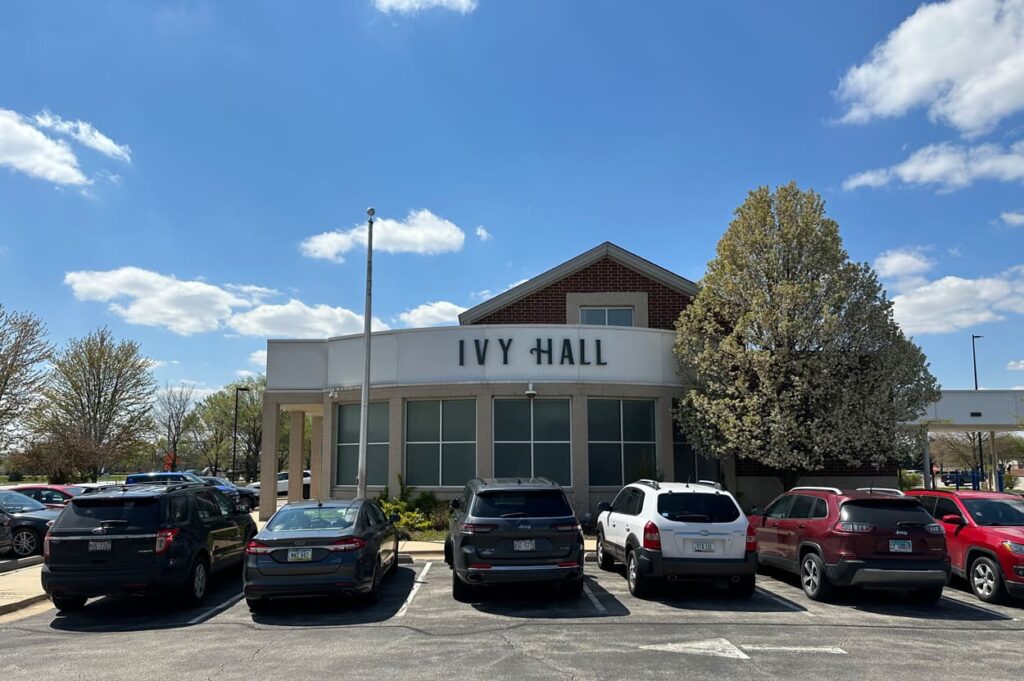 Our dispensary's Montgomery location is open from 9am to 9pm Monday to Thursday, 9am to 10pm Friday and Saturday, and 10am. to 6pm Sunday. With these convenient hours, you can easily find a time to visit us and explore our extensive selection of cannabis products.
In conclusion, Ivy Hall Montgomery is changing the game in the cannabis industry with our unique approach to customer service, community engagement, and social responsibility. If you're looking for a one-of-a-kind experience at a Montgomery dispensary, come visit us today and discover the Ivy Hall difference for yourself!