This past year has been a remarkable journey for both the Ivy Hall Bucktown dispensary and the Ivy Hall brand, and you can rest assured we're just getting the party started. Ivy Hall Bucktown was our first location, and it immediately made waves in the local neighborhood and throughout the cannabis industry since we first opened the doors in November of 2022.
Looking Back: The Grand Opening Buzz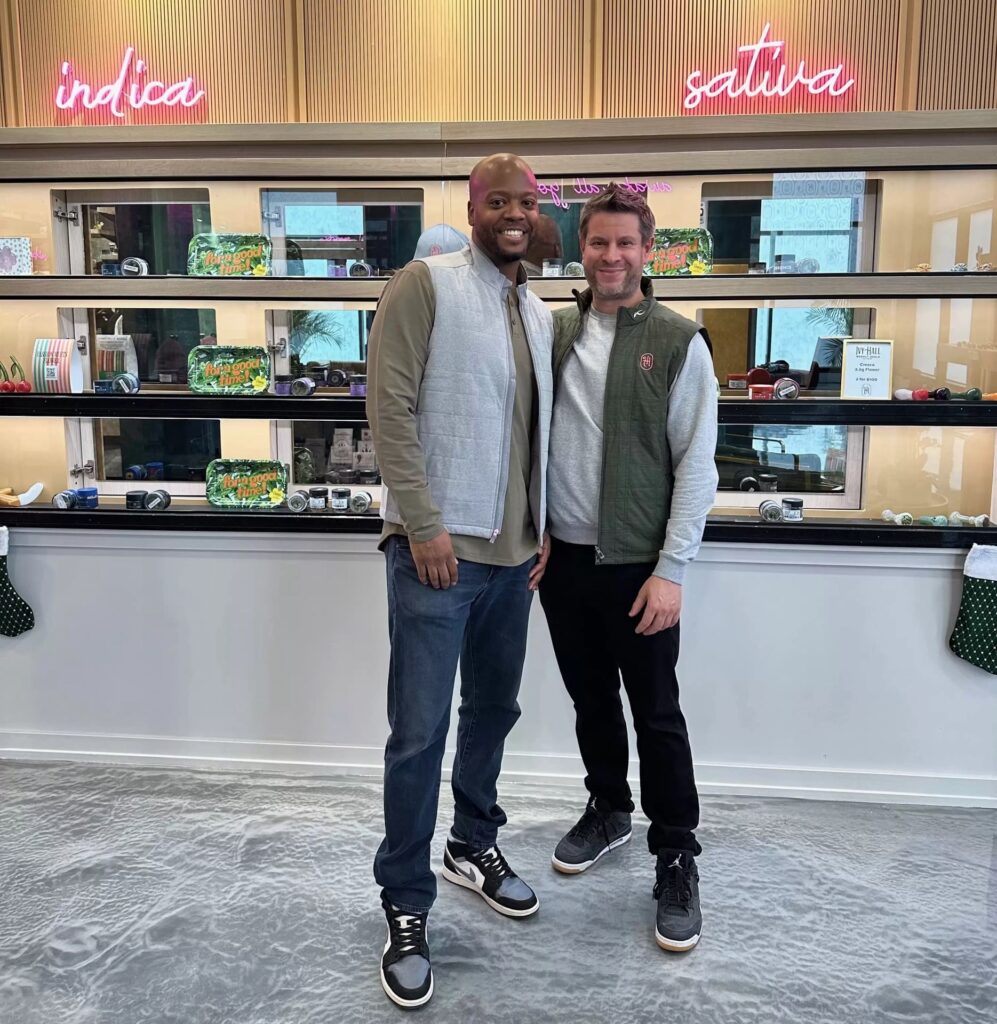 As the founding fathers of legal Bucktown cannabis, we couldn't be completely sure what to expect back in November 2022 when we opened the Ivy Hall Bucktown store (conveniently located at 1720 N. Damen Ave. in the heart of Bucktown). This didn't just mark legal cannabis coming to the ever-charming Bucktown neighborhood; it was also one of the very first cannabis operations to be opened under the State of Illinois's forward-thinking social equity licensing program.
When Ivy Hall Bucktown officially opened for business, the buzz was palpable. As one of the first recreational cannabis dispensaries in the state to come into existence via a social equity license, Ivy Hall Bucktown was more than just an exciting new "sensory dispensary" model of cannabis retailing coming to town; we also represented a beacon of hope for social equity in a cannabis industry that, frankly, still has some work to do in that arena.
The Bucktown community (plus intrigued neighbors from throughout Chicagoland and beyond) embraced us with open arms on day one. Now, we work diligently every day to deserve that place in your hearts and minds with impeccable everyday service, as well as through community outreach and give-back initiatives. We like to believe that our friendly neighborhood dispensary can be more than just another great Bucktown retailer and, in time, will also serve as an iconic neighborhood symbol for togetherness and positive change.
The best thing about our opening day buzz? It never went away. In the past year, the community growing around our Ivy Hall Bucktown dispensary has only expanded and solidified.
The Sensory Dispensary: A Cannabis Shopping Experience Like No Other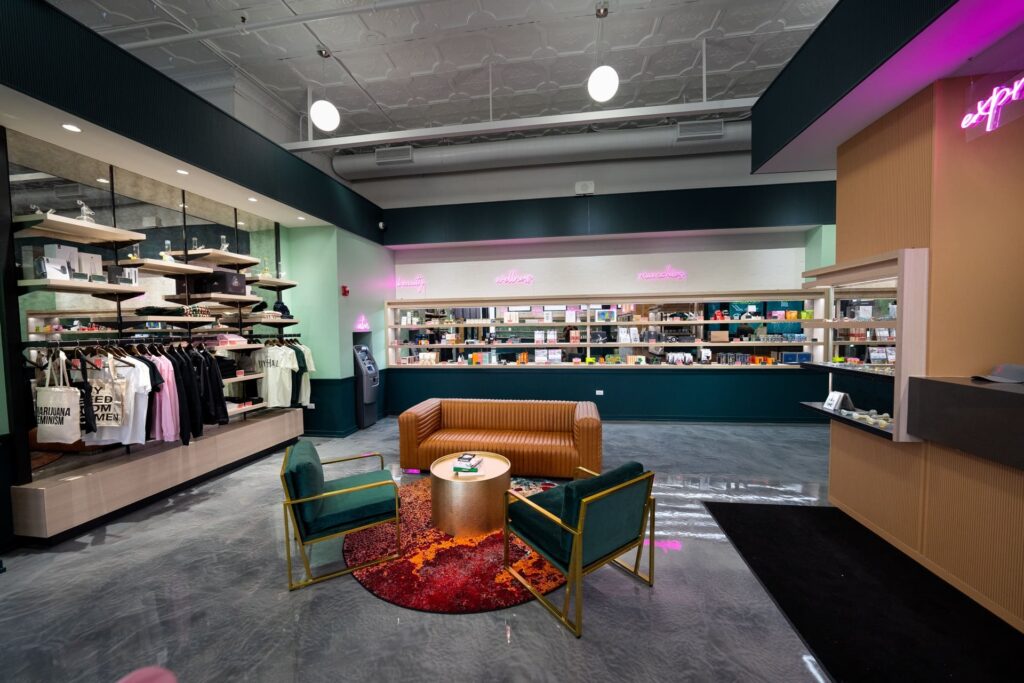 If you've come to see us in the past year, you already know that Ivy Hall Bucktown isn't your average cannabis supplier. The sterile, pharmaceutical aesthetic of other top dispensary brands is replaced with our neighborhood vibes and immersive "sensory dispensary" experience.
Our warm, neighborly environment, designed to make customers feel welcome and at ease, is a natural continuation of our community principles. Meanwhile, our unique sensory dispensary model offers shoppers delights for the eyes and ears while they allow their noses or favorite flavors to guide them to a great purchase.
Representing Bucktown: Community Love
As Ivy Hall Bucktown marks its one-year anniversary, it's worth highlighting our team's dedication to social equity and positive change from end to end of the cannabis supply chain. Sixty-one percent of Ivy Hall is Black-owned. We believe it's an important "put your money where your mouth is" testament to our company's culture of diversity, inclusivity, and equity at all levels of the retail cannabis industry.
Our Ivy Hall Bucktown dispensary and the rest of the Ivy Hall team have consistently championed social equity without ever sacrificing the quality of our world-class cannabis shopping experience. We are proud to set this positive example for other folks throughout Chicagoland and beyond, whether they're other operators in the cannabis industry, young entrepreneurs, or local decision-makers who can help area businesses and institutions get on board the equity and social justice train.
More Than a Business: An Asset for the Entire Community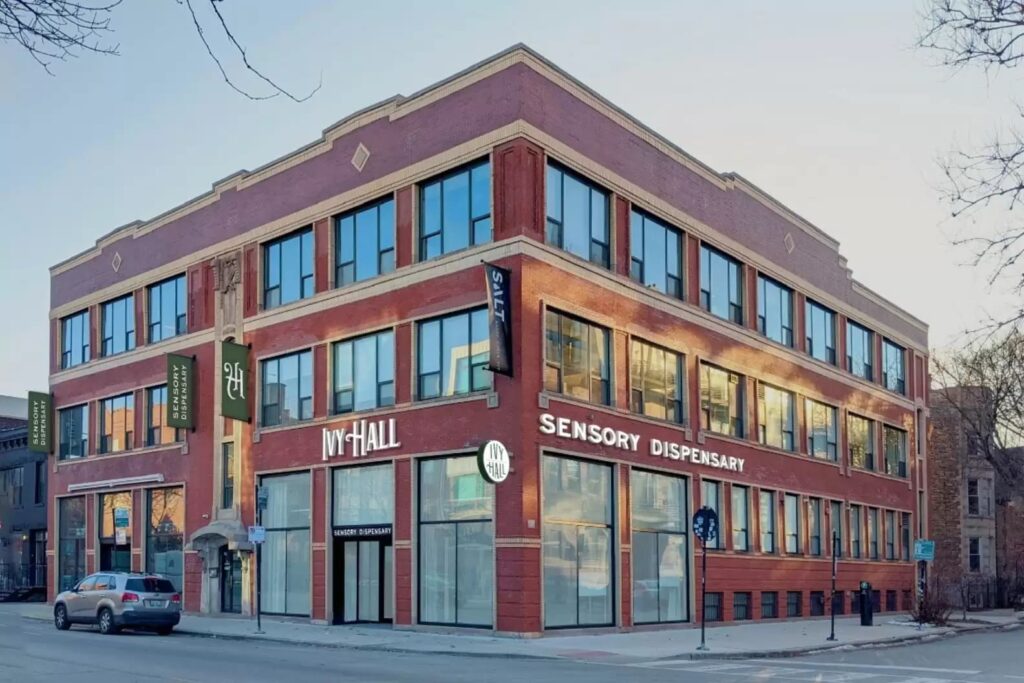 The Bucktown store has already become something of a neighborhood social hub in addition to providing a much-desired service for locals. Our flagship sensory dispensary is a vibrant, positive presence along a stretch of Damen Avenue that has sometimes struggled to retain business in the past, breathing new life into an overlooked area.
Local officials have also noted the importance of Ivy Hall's role in the community as one of the state's first social equity dispensaries and a positive model for other operations. Some have expressed hope that the Bucktown dispensary will serve as a starting point for a new wave of businesses in the neighborhood and become the catalyst for a greater Bucktown economic revitalization. Around the time of last year's grand opening, Deputy Mayor Samir Mayekar noted Ivy Hall's positive role in filling vacant retail space and driving "spillover" foot traffic to neighboring businesses.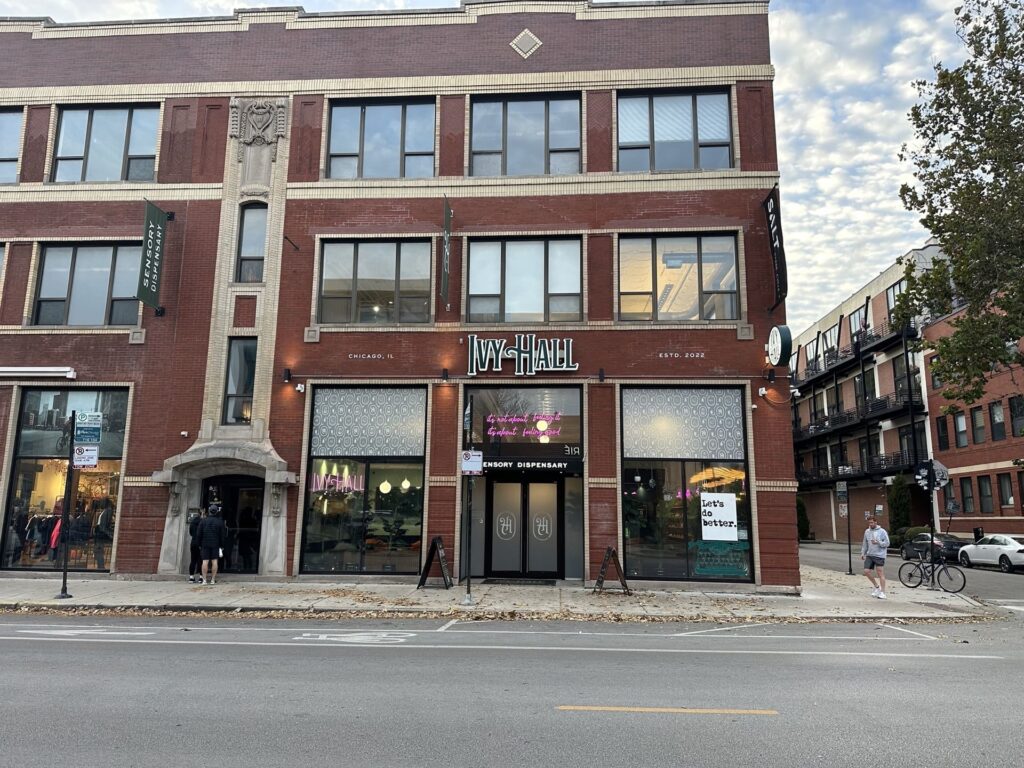 From our velvet-cushioned lounge chairs and our extensive menu to our community outreach programs, the choices we've made in our Bucktown store over the past year have been carefully considered with the best interests of the neighborhood in mind. We have worked tirelessly to craft a cannabis experience that goes well beyond the ordinary and a business model that displays our dedication to supporting the community and driving positive change within the industry. Ivy Hall Bucktown aims to provide a fun, judgment-free zone where everyone, whether a long-time cannabis pro or a curious novice shopper, can feel comfortable and welcome.
The Future of Ivy Hall
Our Bucktown dispensary is located within a unique 1894 storefront that keeps us rooted in the history of the neighborhood, but our sights are set firmly on a future filled with big things. As we mark the end of year one for Ivy Hall Bucktown operations, the excitement levels among our team and customers are reaching new heights.
Our first-year journey, from a successful grand opening to a thriving community hub, has been a beautiful and remarkable one, and it's far from over. This anniversary celebration isn't just about Ivy Hall or even just about cannabis. This one goes out to the entire Bucktown community that has supported us and had our backs along the way.
So, come out and join Ivy Hall Bucktown in celebrating our first anniversary on 11/11/23. It will be a nonstop celebration of community love, social equity, and the bright future that lies ahead for Ivy Hall and the Bucktown neighborhood.
What Bucktown Is Saying About Ivy Hall: Real Reviews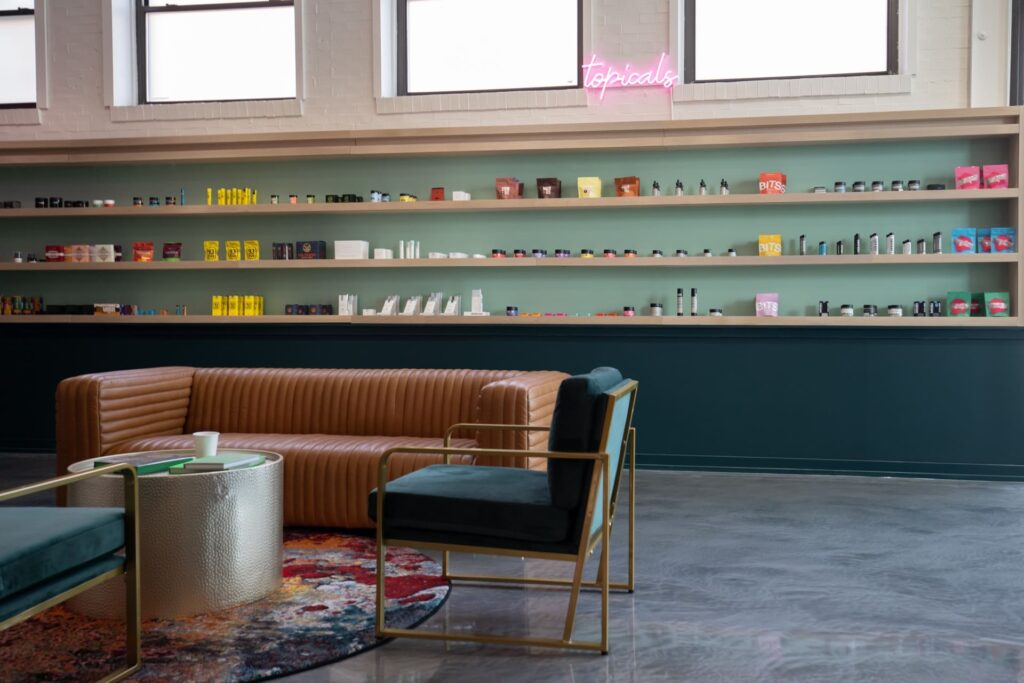 Our anniversary party is on 11/11, but Bucktown has been celebrating Ivy Hall all year long. Here are some of our favorite real reviews by Ivy Hall Bucktown visitors.
"Favorite Chicago Dispensary! Great prices, great service! Friendly and attentive staff."

"Everyone's always so helpful. Great variety and easy to order. Staff is knowledgeable about the products too. Also, super cute merch!"

"They're great! Very helpful and quality goods. All the employees rock!"

"Gorgeous shop, friendly and knowledgeable staff, great sales and stock."

"5 stars, enough said … Not only are they the first black-owned social equity dispensary in Bucktown, Chicago, they also have the most welcoming, kind, helpful, diverse, inclusive, and amazing staff."

"I love this place. I used to go to a dispensary closer to my house but will go the extra mile for the quality of the products as well as the service. The inside looking so warm and inviting is a bonus."

"I use cannabis regularly, and Ivy Hall is my go-to for all of my goodies. Not only is the store clean and aesthetically pleasing, but the staff is also so helpful and kind. I am a regular, and every time I am in, the staff remember me, ask about my life, and truly care about their customers."

"My experience with Ivy Hall was awesome. You're greeted by really nice staff who make you feel welcome and [who are] super knowledgeable … the store has a nice layout … I will for sure be coming back."

"First time going, and [Ivy Hall Bucktown staff] was incredibly helpful."

"This is my happy place. For the occasional cannabis user who maybe still feels a bit of the old stigma, this place manages to take all the anxiety out of visiting a dispensary. The space is inviting, the staff is helpful and informed … I get the impression that the team here really cares."

"This is my go-to store for recreational cannabis. The staff is extremely friendly and knowledgeable. They'll never make you feel stupid, and they all have great advice if you are confused by options. The atmosphere is welcoming and chill."
Celebrating a Great Year of Community and Cannabis in Illinois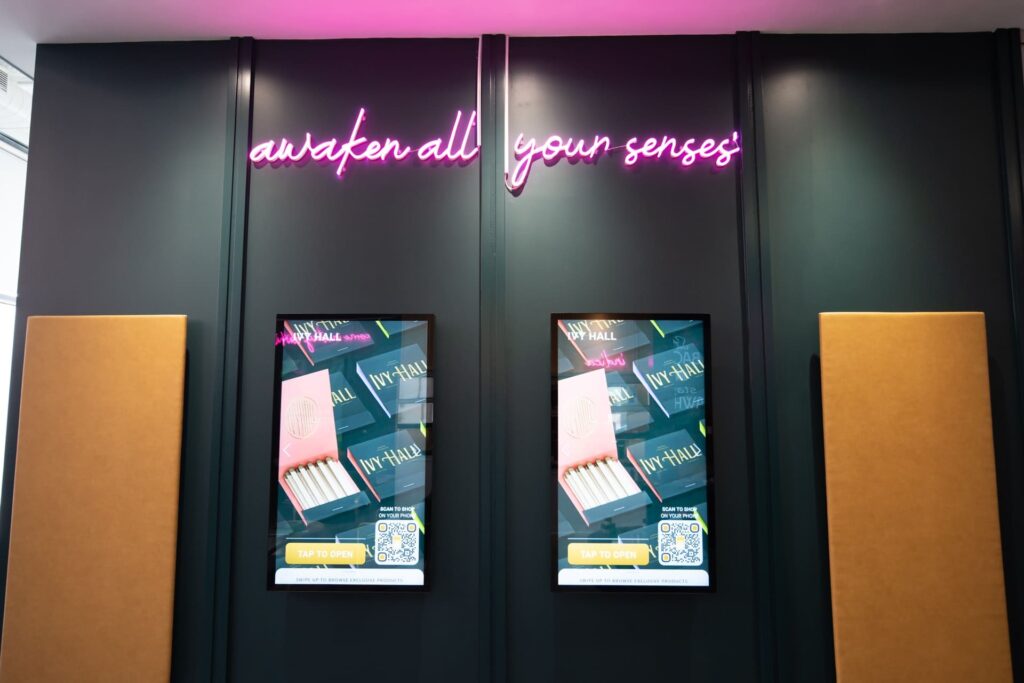 There's a long list of reasons to celebrate with Ivy Hall Bucktown this November:
Community-First Cannabis – Ivy Hall is all about community and social justice, capturing the hearts of cannabis lovers and conscious shoppers alike. Our operation is fully committed to social equity, supporting our fellow local businesses, and promoting social justice throughout the rapidly growing cannabis industry.
Sensory Dispensary Wonderland – Unlike traditional, sterile dispensaries, Ivy Hall provides an end-to-end sensory experience that elevates cannabis consumption. We take you on a sensory journey with curated fragrances, decadent treats, and interactive interior features.
Unique Community Space – Ivy Hall Bucktown offers a warm, human-focused cannabis shopping experience in an atmosphere that is all at once cozy, fun, engaging, and sophisticated. It's the perfect setting for connecting with the culture and history of cannabis.
Friendly and Knowledgeable Staff – Whether you're a novice or a lifelong cannabis connoisseur, Ivy Hall's world-class staff is here to make you feel right at home and provide expert guidance to steer your cannabis journey to a great outcome.
Inclusive and Simple Shopping – Ivy Hall simplifies and streamlines the cannabis shopping experience with smartly organized products, easy online browsing, and helpful staff, making great cannabis more accessible to all.
Join Ivy Hall Bucktown on 11/11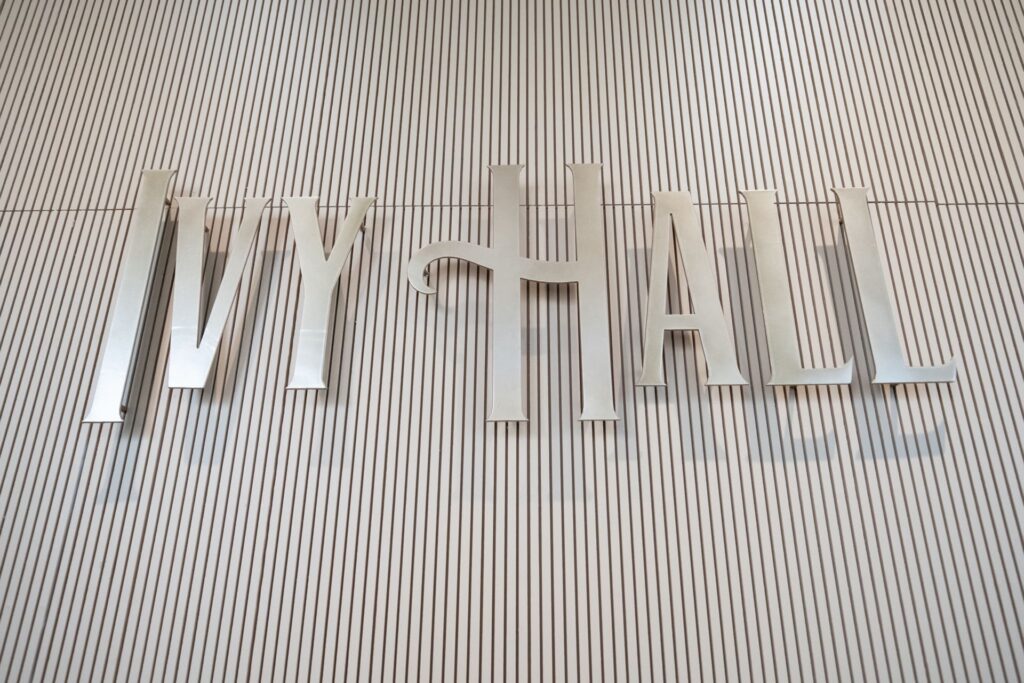 We would love to see all of our neighbors in the store on 11/11 to celebrate this year of success and community together with fantastic specials on all your favorite cannabis projects. We look forward to serving the Bucktown community for many years to come as Ivy Hall continues its journey to become Chicago's most iconic retail cannabis dispensary brand.