Liquor on the rocks is a timeless tradition for those who want to relax; straightforward, pure, and complete, this soothing ritual is perfect as it is with no fancy strings attached. Just like people have chosen these classic beverages time and time again to take the edge off, Verano's On the Rocks cannabis collection is rooted in a timeless, straightforward cannabis tradition. Using ice water extraction to bring you cannabis concentrates free from any solvents, On The Rocks Solventless Cannabis Extracts eliminate useless embellishments and put the focus on the pure, rich expression of the plant, just like your favorite smooth beverage on ice.
Why We Love On The Rocks
Here at Ivy Hall Dispensaries, we've been putting our trust in high-quality cannabis supplier Verano for a long time. In fact, On The Rocks is only one of many innovative brands by Verano that are breaking boundaries to elevate your experience with cannabis. We've come to admire the way the brand has brought to light traditional ways of creating cannabis products while taking the time to harness today's technologies. The result is a series of high-quality products that contemporary consumers like you will delight in.
It's worth mentioning that this is not an easy production process. As a result, we know that every On the Rocks product is made with careful attention to quality – no mass production and careless mistakes on this production line. If you are looking for a hand-crafted, carefully pressed cannabis product without any solvents, one of our many On the Rocks products has your name on it.
Here are a few more reasons we love On The Rocks.
Wide Variety of Products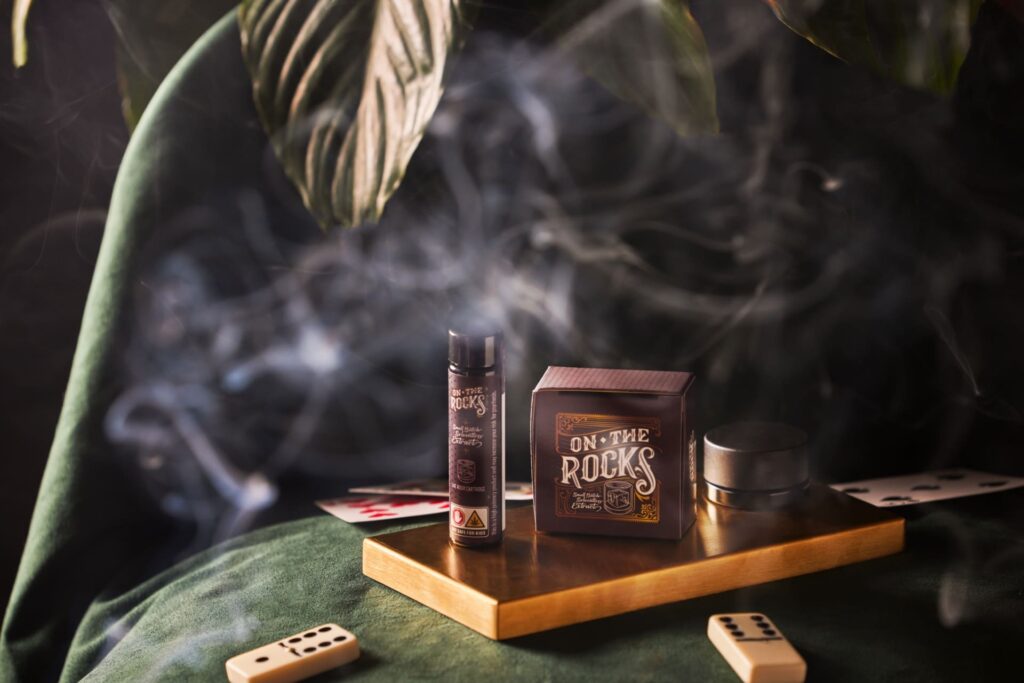 On The Rocks has created an array of quality concentrates and edibles to give your mind and body a wonderful experience – and we say that's reason enough to love them. With a variety of strain-specific products to choose from in several different forms, everyone can find something they love in this brand's selection. Want to chew on a juicy, fruity, flavorful treat to achieve your sensory experience? Try On The Rocks gummies. Want to try a new, purer product that is transforming how we experience cannabis? Try On the Rocks vape cartridges.
Smooth, Solventless Extraction Process
Us cannabis connoisseurs at Ivy Hall can't help but gush over the way On The Rocks has cleared the clouds of solvents like CO2, ethanol, and BHO and embraced the natural heart of the cannabis product. Most methods of extraction utilize solvents like those listed above to strip the cannabinoids and terpenes from cannabis plant material. While this is washed away during the production process, there can be some negative effects that put a damper on your high, such as:
Altering the Flavor – Your final product might taste a bit different and have a slightly different aroma if there are solvents like ethanol used in the extraction process.
Difficulty Preserving Terpenes – Terpenes are quite volatile and delicate. Production with solvents such as ethanol used in the extraction process can be less effective at preserving the terpenes than a solventless product.
Raising Safety Concerns – While it is safe for you to consume the solvents used in the extraction process, there are some concerns about their potential impacts after extensive or regular consumption. With solventless cannabis extracts, you do not need to worry about this at all.
Effects on the Environment – When people use solvents for cannabis extraction, they are posing a greater risk to the environment than those who do not use solvents. Solvent-based methods are more energy intensive, create more waste, and can release volatile organic compounds (VOCs) into the atmosphere, which can contribute to pollution.
Inconsistency – When you reach for a solvent-based product, you should be aware that it might not be the same as one you've previously enjoyed. This is because adding solvents can lead to inconsistency in product quality. With some brands, certain batches might be of higher quality than others, and there is no way to know what exactly you are in for.
Purer Product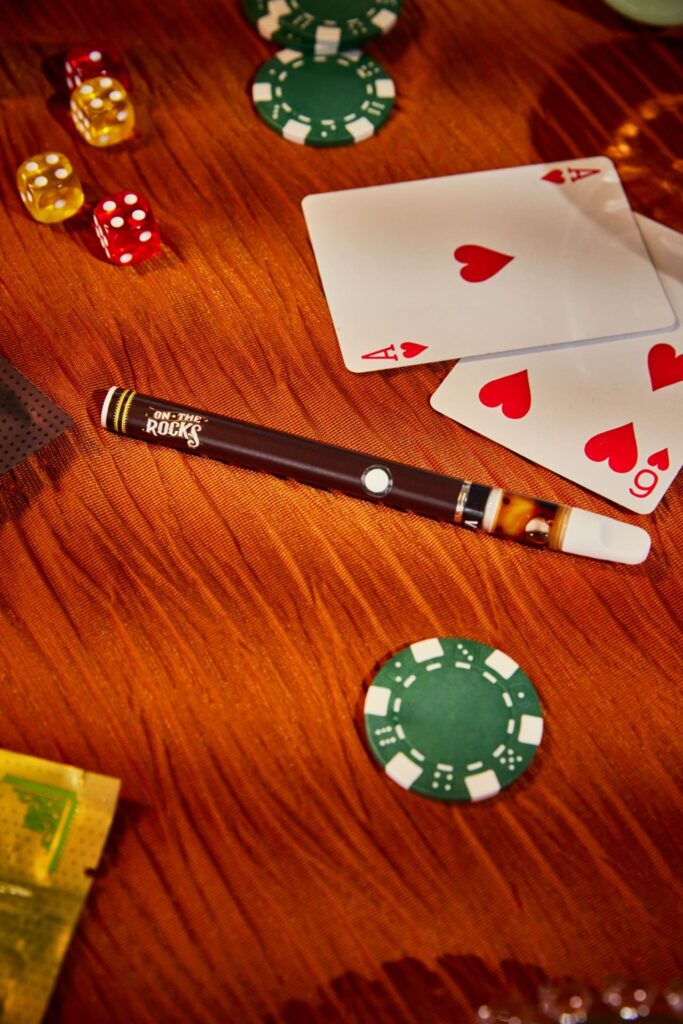 We admire the way On The Rocks reached far back in time to get themselves back to the basics of cannabis extraction. Drawing on traditional forms of cannabis extraction that date back centuries, On The Rocks uses dry sift and ice-water extraction techniques to focus on preserving the natural flavors and aromas.
All On the Rocks products are made carefully by hand, with nothing but old-school heat, pressure, and ice water. First, ice water extraction is used to initiate separation without any solvent chemicals. The cold water softens the cannabis buds, and the ice makes the resin-containing trichomes freeze, enabling them to be seamlessly separated without adding solvents. Next, mesh screens are used to refine the trichomes so that the trichome head remains. This is real artisanal craftsmanship with your health and your experience in mind.
Solvent-free extraction also allows On The Rocks to ensure they produce full spectrum products. These include a variety of cannabinoids and retain a wide array of terpenes, each one with a unique aroma, special flavor, and its own potential for producing calming effects for you to enjoy. Full-spectrum cannabis with a full slate of cannabinoids and terpenes can also produce the entourage effect, which occurs when the synergistic interactions between these beneficial compounds create a more balanced and effective therapeutic experience. On The Rocks' products allow you the opportunity to choose what kind of flavor you want and the therapeutic effect you are searching for without having to sacrifice the purity of your product.
Small Batches Result in a Fresh, High-Quality Product
On the Rocks prides itself on its small batches. This allows the brand to pay explicit attention to detail and prioritize the rigorous quality control that Verano is known for. These small batches also result in supremely fresh products, which ensure you can savor all the sharp and wondrous aromas you seek from a cannabis product. Small, sustainable methods of producing top-notch products like this show that the future of cannabis production can embrace innovative expansion without sacrificing personalization and environmentally friendly practices.
Bridging Trading and Innovation
When you try a solventless extract product, you will find that it merges the best of cannabis history with the most beneficial leaps forward of the future. You will indulge in the authentic essence of cannabis while experiencing both its historical roots and modern techniques harnessed for high-quality, delicious products. You can fully immerse yourself in the product and take advantage of the natural flavors and aromas that the solvents dull in other products. Whether you want to experience the finest aromas and flavors or are seeking a no-nonsense therapeutic product without any frills, On The Rocks is here for you.
Creative Color
As the cannabis industry expands more and more every day, it is always fun to discover a product that puts its own memorable spin on your favorite product subtypes. On The Rocks stands out from the crowd with its golden-brown shades, reminiscent of a strong, smokey glass of whiskey on the rocks that hits right after a long day.
Have One On The Rocks At Ivy Hall
At Ivy Hall Dispensaries, we offer a wide range of solventless cannabis products for you to enjoy. We are proud to offer many products from Verano's On The Rocks, including gummies and vape carts. Whether you are a cannabis connoisseur who is searching to embrace a fine batch of pure products or simply want to experiment with something you are not familiar with, we can help you identify the product that suits your needs and cravings.
Check out some of our favorite On The Rocks solventless products from our menu below, and keep your eyes peeled for new ones!
On The Rocks Live Rosin Gummies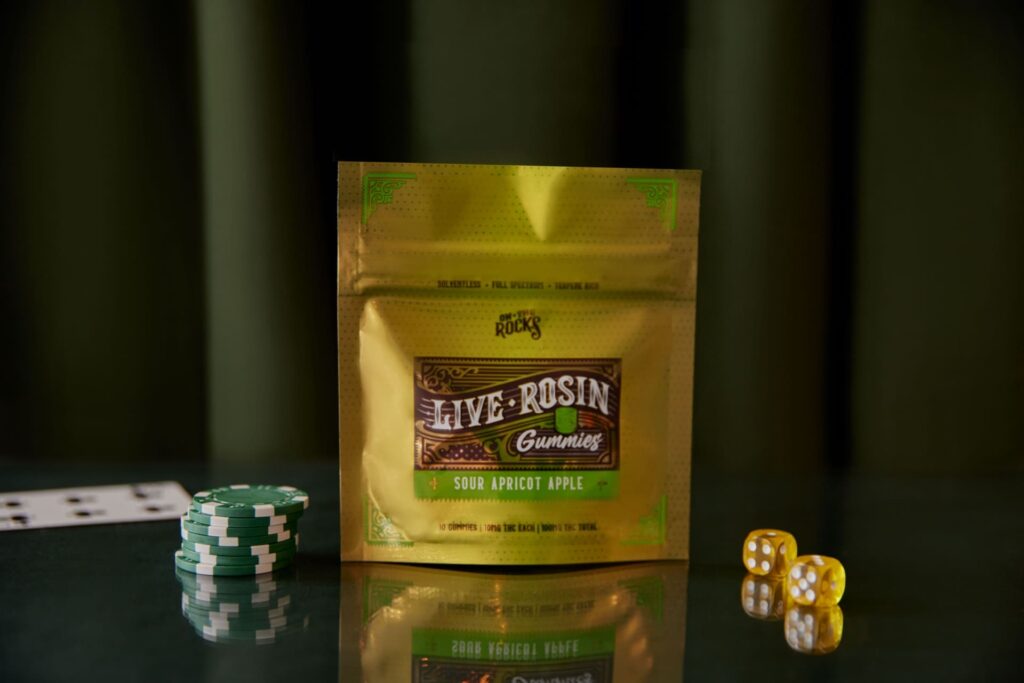 If you are one of the many cannabis lovers who like to take a bite out of their high, you should get your hands on these Live Rosin gummies. These strain-specific little treats, which we offer here at Ivy Hall in two tropical flavors, are sure to provide full spectrum benefits in a tiny, sweet bite:
Sour Apricot Apple Live Rosin Gummy
If you are in search of a hybrid edible that leaves you with the benefits of both sativa and indica-forward cannabis, then you might reach for On The Rock's sour apricot apple live rosin gummy. Another fruity treat, this one is for those who are drawn more to the sour than sweet flavors. Like the rest of On The Rocks' products, the sour apricot apple gummies are also solventless for a pure, healthy cannabis experience.
Sweet Peach Mango Live Rosin Gummy
Do you love a juicy burst of flavor on your tastebuds? One of the many sativa-forward edibles that we offer, these pure peachy mango live rosin gummies from On The Rocks are the perfect bite that will have you savoring a taste of summer any time of the year. When you purchase these gummies, you will take home a package filled with ten full-spectrum edibles, each with 10 mg of THC. Made with live rosin, these fresh, fruity gummies exemplify On The Rocks' ability to create a sweet, soothing product that is free from any solvents.
On The Rocks Live Rosin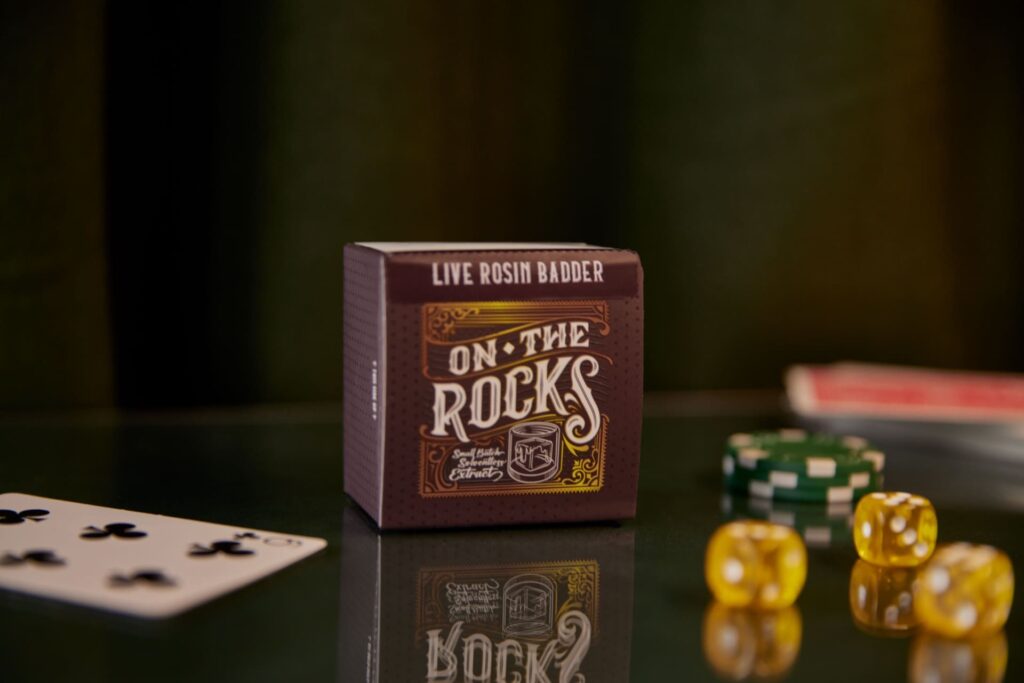 Would you prefer to dab your way to a different state of mind? You are not alone. That is why On The Rocks also used ice water extraction to create live rosin in addition to its scrumptious gummies. Live rosin is a superior cannabis concentrate created with On The Rocks' signature full-melt ice water hash extraction – AKA nothing but pure, clean, powerful cannabis concentrate. You can dab it, use a terp pen to vape, or even add it to bowls and blunts. With a variety of delicious flavors and impacts on your body and mind, you are sure to find the experience you are searching for.
Live Rosin Badder
Fresh Powder Live Rosin Badder is a unique concentrate created from quality On The Rocks rosin. After extraction, sativa-forward Fresh Powder live rosin is strained and whipped to create a glorious batter-like consistency. Badder is typically dabbed, but its unique consistency makes it ideal for spreading over your favorite rolling paper before crafting the perfect, potent joint. Get your 1-g pot from your nearest Ivy Hall location today.
Brownie Batter Live Rosin
If you have a sweet tooth but are not in the mood for an edible, then you should also check out our Brownie Batter On The Rocks live rosin. This is a mix between the Sweet Gelato strain with its bevy of indica and sativa characteristics and Birthday Cake, which is known for its creamy flavors. With the two of them together, you can relish a sweet, creamy experience as you obtain a feeling of relaxation and take some of your stress off your shoulders.
Live Rosin Vape Carts
If you're searching for a purer cannabis experience, you should explore Fresh Powder live rosin vape cartridges. Also made with ice water extraction, this small batch solventless extract features flavor notes, including citrus, diesel, and sour. Each one comes in a 0.5-gram package and features the terpenes limonene, terpinolene, and menthol. The Fresh Powder Live Rosin is a cross between the Amnesia Haze sativa-dominant strain and the indica-leaning Menthol strain.
Elevate Your Cannabis Experience With Ivy Hall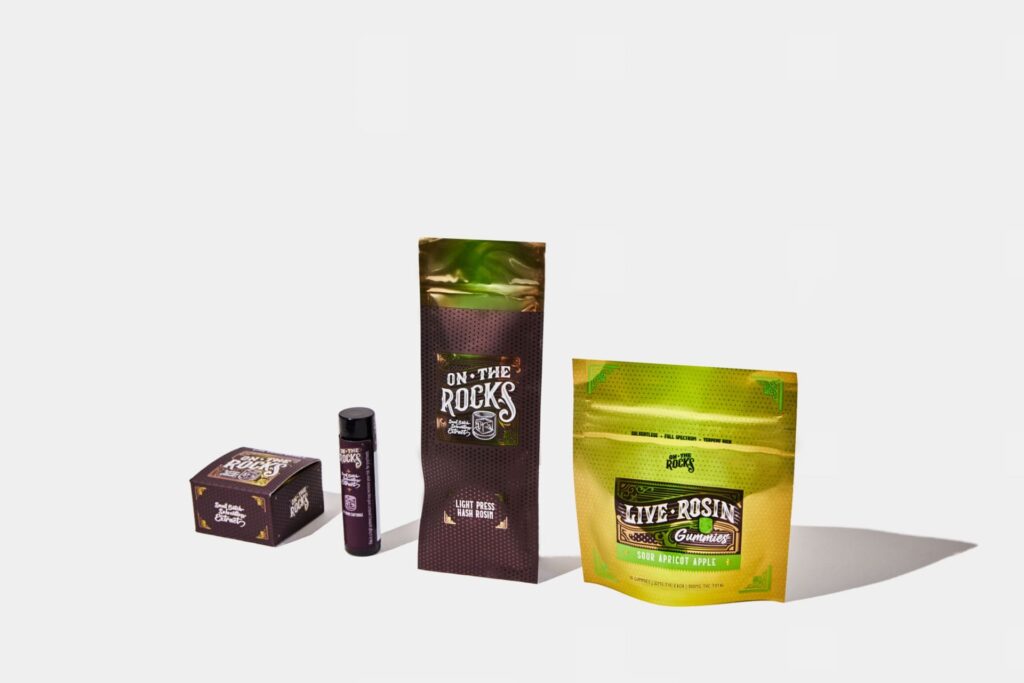 Here at Ivy Hall Dispensaries, we know all too well how easy it can be to get lost in the sea of cannabis products. That's why we've taken care to foster a warm, welcoming cannabis community in the Chicagoland area – and we want to invite you into it. It is our pleasure to welcome you to our carefully curated space, fully stocked with one-of-a-kind cannabis products from On The Rocks, by Verano, and many other quality cannabis brands. Our knowledgeable, friendly staff can help you sort through the noise of this industry and understand what makes each of our products unique.
No matter how much you already know about cannabis products and how much you want to learn, you are sure to find an enticing product on our shelves. If you are seeking the comforting sensory experience offered by solvent-free cannabis, come by one of our Illinois Recreational Dispensaries to select your ideal On The Rocks product.