Welcome to Ivy Hall Bucktown, a community-first recreational cannabis dispensary that has captured the hearts of cannabis connoisseurs and curious shoppers alike. Located in the trendy Bucktown neighborhood, just 5 miles northwest of downtown CHI, Ivy Hall Bucktown is a veritable hub of the local cannabis community.
In fact, many cannabis lovers throughout Illinois and beyond have already shared Ivy Hall's epic "sensory dispensary" model that treats cannabis as the end-to-end experience it should be versus just another product to unload. This is just one of the many reasons Ivy Hall is quickly developing a reputation as the best dispensary in Bucktown.
Each Ivy Hall dispensary is far more than a world-class storefront stocked with a comprehensive assortment of top cannabis products; it's a sensory wonderland where social equity, community, support, and service converge to create a truly peerless cannabis shopping experience. We invite you to join us in Bucktown today and see why Illinois is celebrating Ivy Hall for our commitment to quality, customer service, end-to-end sensory experience, dedication to inclusivity, and high-quality cannabis products.
Ivy Hall: A Different Sort of Cannabis Experience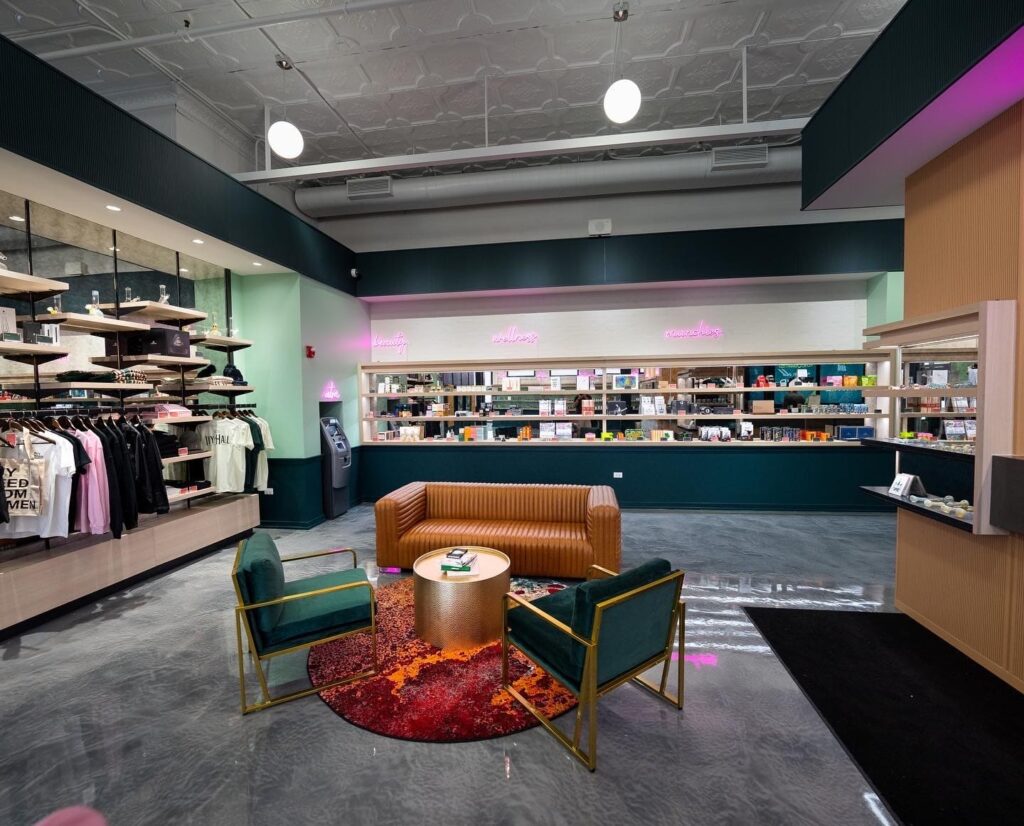 At Ivy Hall, we know that a truly divine cannabis experience means more than just "feeling it." It's about feeling good. When our customers partake – whether they mean to use the latest electronic dab rig, sample a delicious edible, or engage in the centuries-old ritual of cannabis smoking – we want to equip them to feel good in every sense of the word. Put another way, the point of an authentic cannabis experience isn't just to "get high" but to truly get something meaningful and therapeutic out of your cannabis use. It's a concept our ancestors have understood for thousands of years, and we bring it to you right here in Chi-town.
Our Space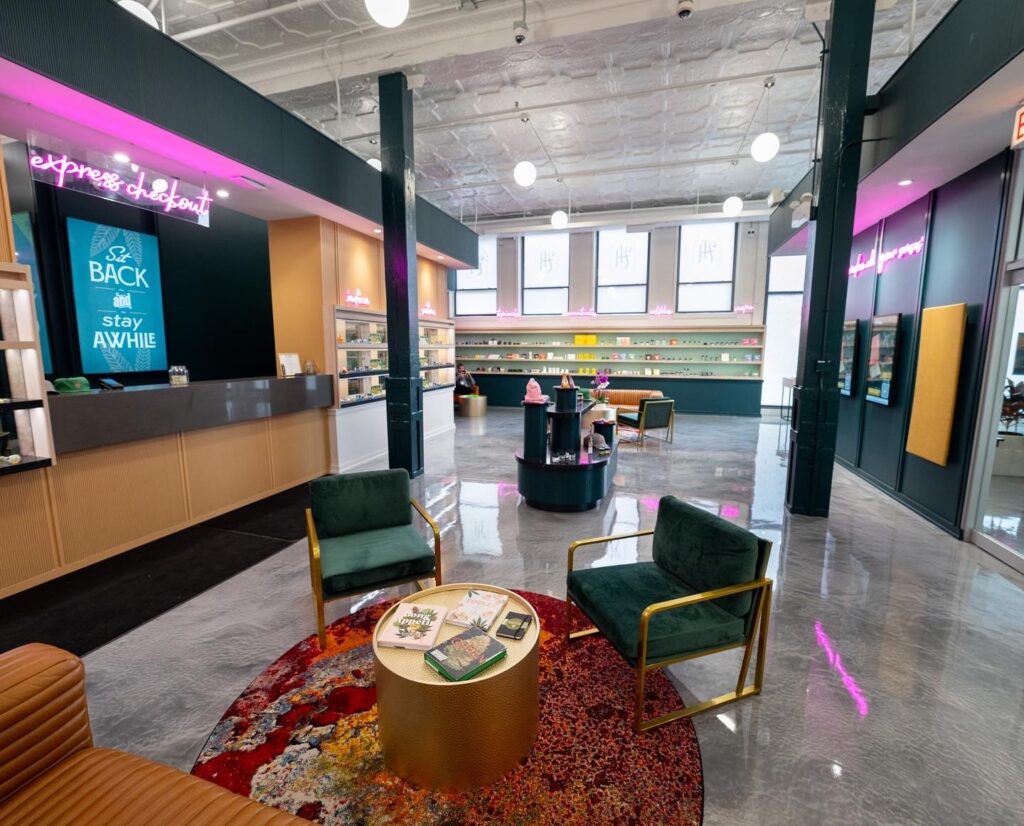 While there's nothing wrong with cleanliness and professionalism, some retail cannabis dispensaries just look and feel a little bit too much like pharmacies (or even a little like the DMV) for our tastes. We're not here to take shots at the competition; some people love a sterile, minimalistic vibe when they shop for their medicine, and there's nothing wrong with that.
Still, for Chicagoans who want a warmer, human-centered cannabis shopping experience that celebrates the culture, history, and mind-body experience of cannabis use, Ivy Hall has come to Bucktown. At Ivy Hal, we believe a dispensary can be clean and professional without having that pharmacy aesthetic.
From the moment you set foot in our space, you'll immediately sense that an extraordinary experience awaits you. The comfy, quirky, yet sophisticated surroundings are meticulously selected to be interesting without being uninviting. That's because the essence of Ivy Hall's mission lies in our dedication to creating a space that truly welcomes everyone.
Our Welcoming Vibe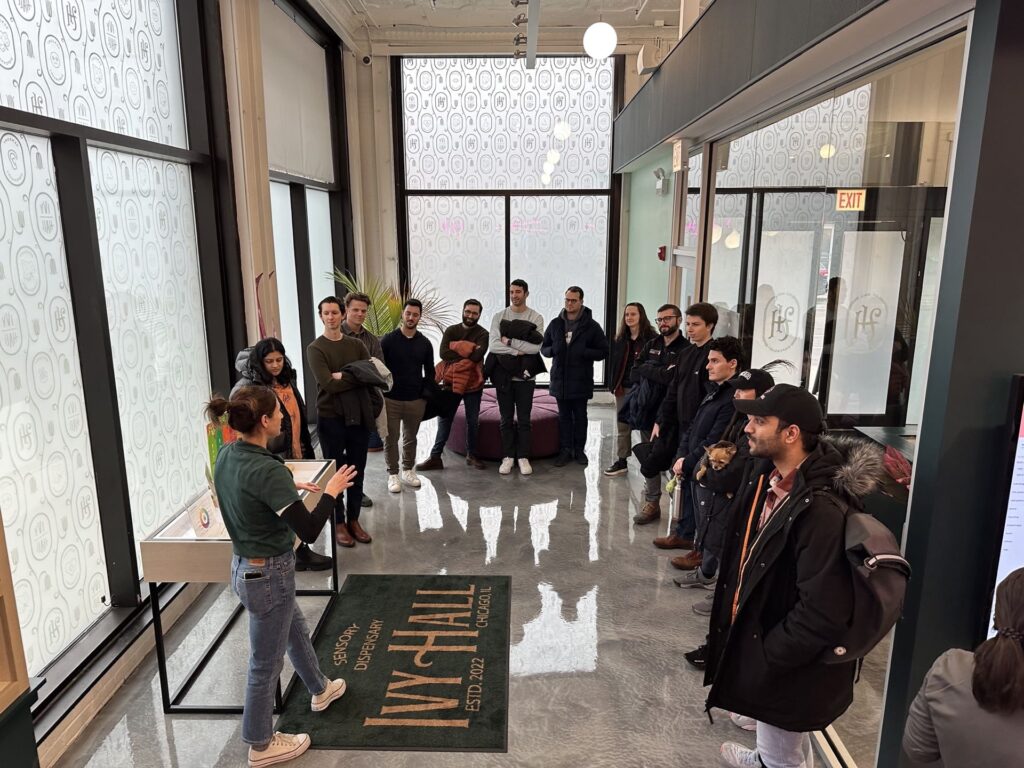 While our interiors are designed to both impress and immerse, this dedication goes far beyond aesthetics. Whether you're a total cannabis newcomer, a weekend warrior type, or a seasoned cannabis connoisseur, our friendly, knowledgeable staff and comprehensive line of excellent cannabis products are here to make you feel welcome and at home. You will see, taste, and smell the difference as Ivy Hall transforms your cannabis use from a fun pastime into a meaningful step on the sacred journey that makes up your life's story.
With markets growing and cannabis research booming throughout the United States, we know that keeping up with the world of retail cannabis can be pretty overwhelming. We've been told even daily users are easily left behind by today's fast-moving world of new cannabis products, preparations, and practices. For that reason, part of our dedication to making you feel welcome and comfortable includes a reassuring presence for those who have questions about our products or about cannabis use in general. If you're unsure about anything at all during your visit, please just ask. There are no stupid questions when it comes to cannabis.
Ivy Hall's customer-focused shopping model is likewise designed with much emphasis on this commitment to inclusivity and fostering a welcoming atmosphere. Do you ever feel like you need to speak an entirely different language to talk about your favorite strains, products, or devices when you visit the dispensary?
The Ivy Hall system endeavors to simplify and humanize the cannabis shopping process by organizing and labeling products in a more thoughtful way – making it simple for anyone to locate outstanding products and understand exactly what they truly are. Once again, if anything remains unclear, our friendly and knowledgeable Ivy Hall staff is more than happy to help steer your cannabis journey in a safe direction with personal recommendations and in-depth product information.
Our Sensory Dispensary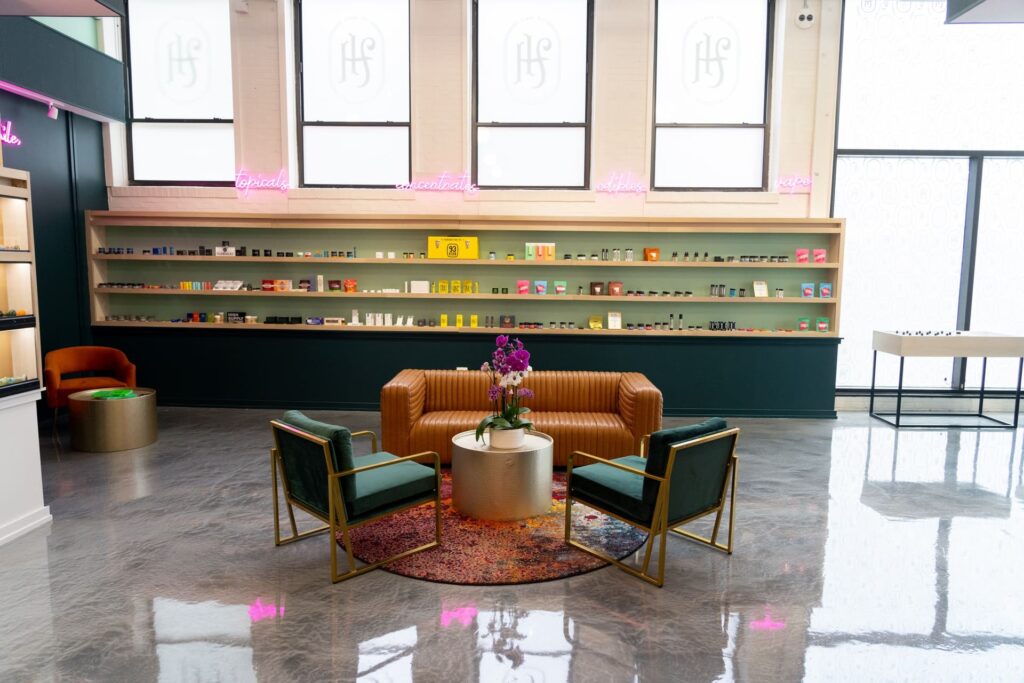 Perhaps the single most significant difference between Ivy Hall and run-of-the-mill retail cannabis dispensaries is the immersive "sensory dispensary" experience, which you must see, hear, feel, smell, and taste for yourself to truly understand. Carefully curated fragrances surround and soothe you while decadent treats are available to satisfy the tastes of even the most discerning foodie. Even the various displays and lush, comfortable environment are an integral and interactive part of the Ivy Hall experience.
When you visit Ivy Hall Bucktown, you'll learn that the Ivy Hall sensory experience goes far beyond making a transaction and heading home to catch a buzz. We're not just here to sell cannabis. We firmly believe that your surroundings and spirit are just as important as choosing a great product, and that's why our locations offer a range of curated "sensory dispensary" installations to enhance both your cannabis shopping and cannabis use experiences.
Our Community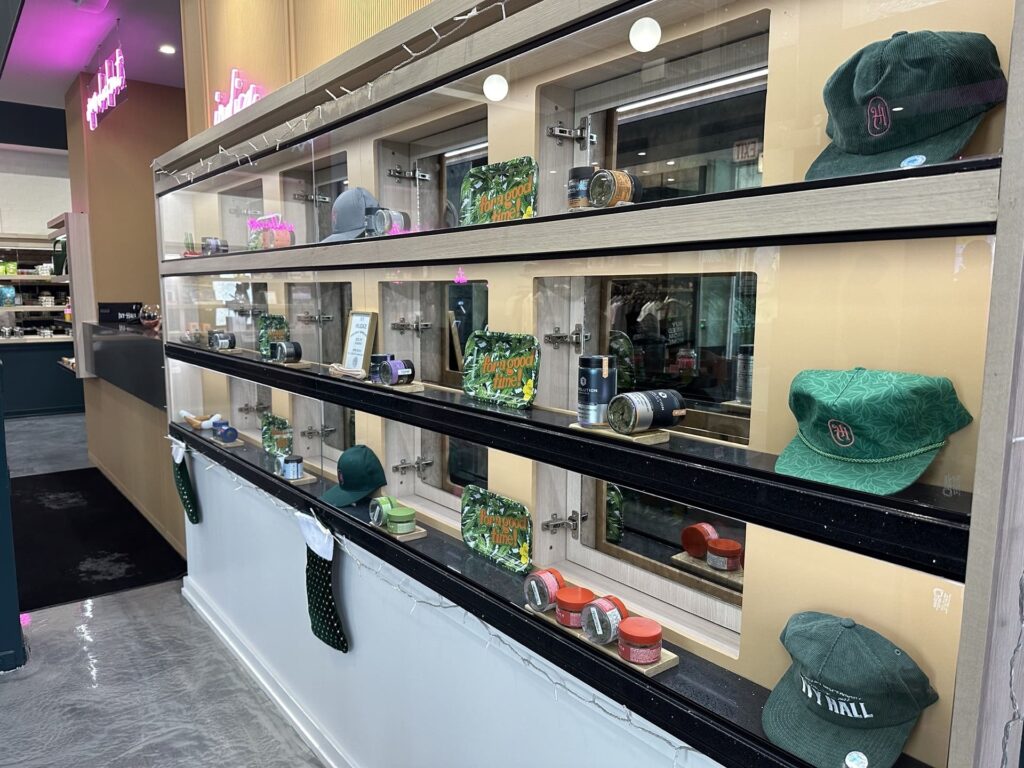 The Ivy Hall difference extends even further, far beyond the walls of our state-of-the-art Bucktown dispensary. We pride ourselves on being an active participant in the local community, standing proudly at the forefront of the national movement to make legalized cannabis a more equitable endeavor. What's more, we unapologetically hold the torch for women- and minority-owned businesses everywhere, especially in the cannabis industry.
If you're a socially conscious consumer who cares about supporting local businesses and operations that give back to the community you call home, you can rest assured your dollars are well spent at Ivy Hall Bucktown. When you shop with your neighbors at Ivy Hall, you're not just indulging in a world-class, one-of-a-kind, full-spectrum sensory delight – you're also contributing directly to an economic cycle that will put Chicago, minority-owned businesses, and social justice at the forefront of the national cannabis discussion. Learn more about our resulting designation as Chicago's first Equity Dispensary coming up.
Suggested Reading: Illinois' First Black-Owned Cannabis Brand
Ivy Hall Bucktown: Chicago's First Equity Dispensary
A focus on equity and social justice is built into our store's foundational DNA. Ivy Hall's Bucktown store is proud to be the first retail cannabis dispensary licensed under the State of Illinois' equity dispensary program. We are humbled and honored to serve as the vanguard for this vital program that will provide more opportunities for minority entrepreneurs in the cannabis space.
The State of Illinois has already joined us in celebrating this milestone at the highest levels, as well as on its official social media accounts. Governor JB Pritzker tweeted an image from our dispensary with the state's Cannabis Regulatory Oversight Officer, Erin Johnson, in 2022.
Ivy Hall Sensory Dispensary of Bucktown (Chicago), IL: Reviews and Testimonials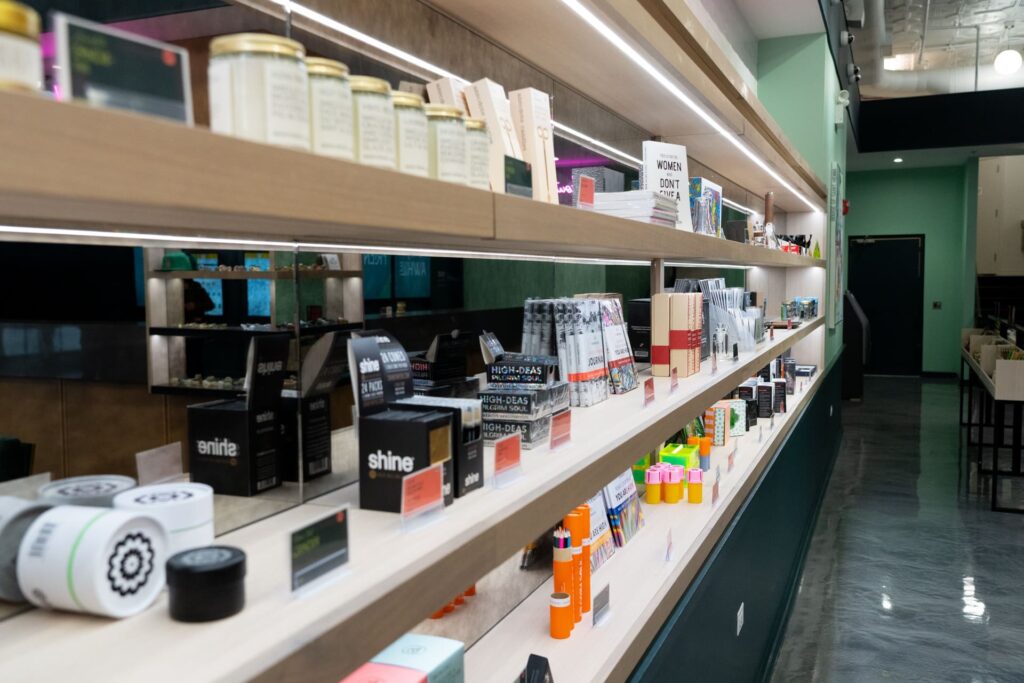 While the Ivy Hall sensory dispensary experience speaks for itself, we know that curious first-timers might need a little more convincing. When you're looking to buy recreational cannabis in Bucktown, you have a range of worthwhile options to consider throughout Chicago. We hope that some of the following real customer reviews sourced from across the world wide web will help establish Ivy Hall Bucktown as your go-to Bucktown dispensary.
Supreme Vibes
"WOW. This place not only has a very helpful and welcoming staff but supreme vibes to match. The store is beautifully decorated with a fun atmosphere. Great selection of products as well."
THE Sensory Dispensary
"THE sensory dispensary! I was blown away by the vibe of this place, not only is the space a carefully crafted environment, every single staff member I interacted with was excited, friendly and knowledgeable! Being able to utilize the life-size tablets to shop their available product made it really helpful to narrow down options out of their amazing selection."
Blown Away
"I recently visited Ivy Hall dispensary in Bucktown for the first time, and I was blown away by the experience! The dispensary is huge and very modern… I was amazed at the selection available, which had something for everyone… What impressed me the most, however, was the exceptional service and friendly staff. Everyone was knowledgeable and willing to help, and I never felt rushed or pressured. It was clear that they were focused on providing a great experience for their customers… I will definitely be returning to Ivy Hall in the future, and I highly recommend this dispensary to anyone looking for a top-notch cannabis shopping experience."
5 Stars: Enough Said
5 stars, Enough Said. Seriously though [my family and I love] Ivy Hall. Not only are they the first black-owned social equity dispensary in Bucktown, Chicago, they also have the most welcoming, kind, helpful, diverse, inclusive, and amazing staff. Everyone we have interacted with has been so cool and non-judgmental. Sometimes it can be intimidating being in a dispensary, but they make it better. I ALSO have to say that their space is beautiful and well used, the ambiance is inviting [and] we are excited for them and look forward to more visits!"
The Spot You're Looking For
"This is the spot you're looking for… Ivy Hall has most everything you'd expect to find in any Chicago dispensary and then some. The list of product offerings runs deep, and the knowledgeable staff gave me great advice on which options to go with. Beyond the products, this place just has a great vibe–comfy seating, spacious rooms, and an open floor plan."
Welcoming and Well Organized
"Great dispensary – excellent selection and very helpful staff. The space is welcoming and well organized."
Gorgeous Shop
"Gorgeous shop. Friendly and knowledgeable staff, great sales and stock, including tons of smoking accessories, from artsy printed rolling papers to coloring books."
Extremely Friendly and Helpful
"Extremely friendly and helpful team… we will be coming back here soon."
Made Me Feel Welcomed and Rewarded
"They've made me feel welcomed and rewarded with cool, friendly customer service! 🤘🏼👌🙏💯 I dare to say the best dispensary in Chicago. [The Ivy Hall staff member] was great at helping me find some good smoke this morning. He humbly dropped some knowledge at the same time."
Clean and Un-intimidating
"Very clean and un-intimidating to use. The staff is super helpful… The check out is also very quick and easy. Would recommend!"
Ivy Hall Bucktown: An Unprecedented Boutique Cannabis Experience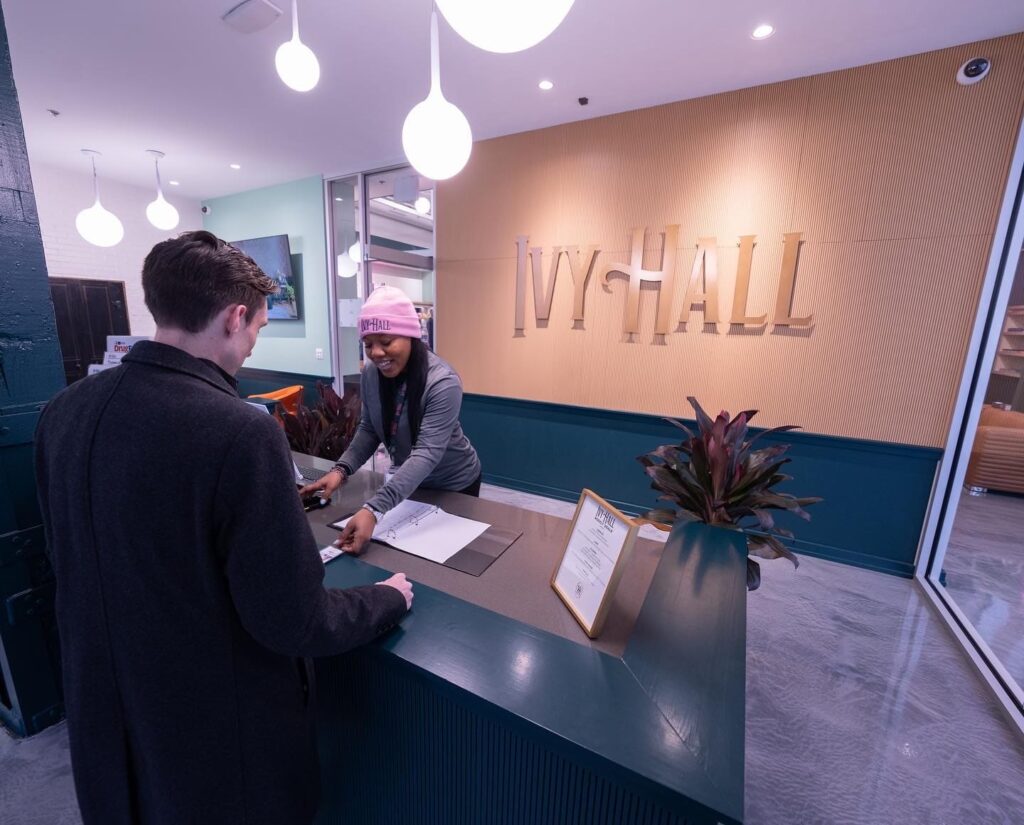 It only takes one visit to Ivy Hall Bucktown, or one of our other Ivy Hall locations, to understand why we're capturing the minds of Chicagoland cannabis lovers, one smoke (or vape, or edible) at a time. From our warm and welcoming atmosphere to the expert guidance offered by our friendly staff, Ivy Hall offers a retail cannabis experience that goes far beyond the ordinary.
As a women-owned and majority black-owned business, as well as the first "equity dispensary" brand operating in Chicago, we proudly pair this focus on the customer with our greater mission statement focused on social equity and empowerment. This means we re-invest in our operation and our community every single day. Together, we can drive the industry toward more ethical and sustainable models that work for everyone. Learn more about our recreational cannabis dispensary in Illinois.
Shop our online Bucktown Cannabis Dispensary menu now and be sure to head on over to our store for the full sensory dispensary experience!