Welcome to Ivy Hall on Bolingbrook, your premier destination for top-shelf cannabis in the southwest Chicago suburbs. You have many choices when shopping for cannabis in Chicago and the surrounding areas, but only Ivy Hall offers you our renowned, end-to-end "sensory dispensary" experience. We pair this with an unshakable commitment to social justice and a mission to build a more equitable future for retail cannabis.
About Ivy Hall, Bolingbrook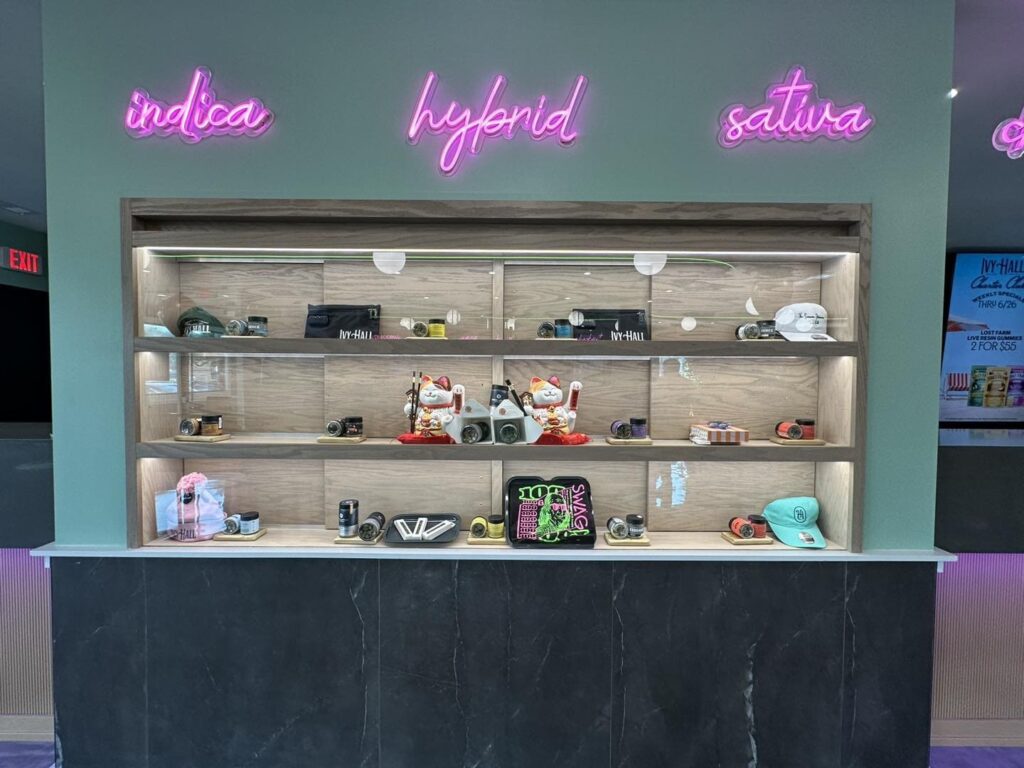 At Ivy Hall, we understand that every customer has different needs and goals when it comes to their overall cannabis experience. At Bolingbrook, just like our other Chicagoland Ivy Hall dispensaries, we meet this diverse variety of needs by organizing and labeling our products in an intuitive, easy-to-navigate way.
If you still find yourself with cannabis questions, simply ask our friendly and knowledgeable staff. Our staff are true cannabis experts and come from a variety of backgrounds to help meet the diverse needs of our community. They help us curate our selection of top-tier cannabis products that cater to a variety of tastes, preferences, and uses.
Whether you enjoy the euphoric rush of hitting a dab rig or are searching for an elegant, discreet, daily medicinal supplement, Ivy Hall has the products you need and staff members who will be happy to chat with you about them. You'll also find plenty of high-quality flower, the purest possible extracts, artisanal edibles, and even some powerfully-infused pre-rolls to unwind after a long day. No matter your needs, we are here for you to help you ensure you achieve your optimal sensory experience.
Suggested Reading: About Ivy Hall Recreational Cannabis Dispensaries
A Brief History of Bolingbrook Ivy Hall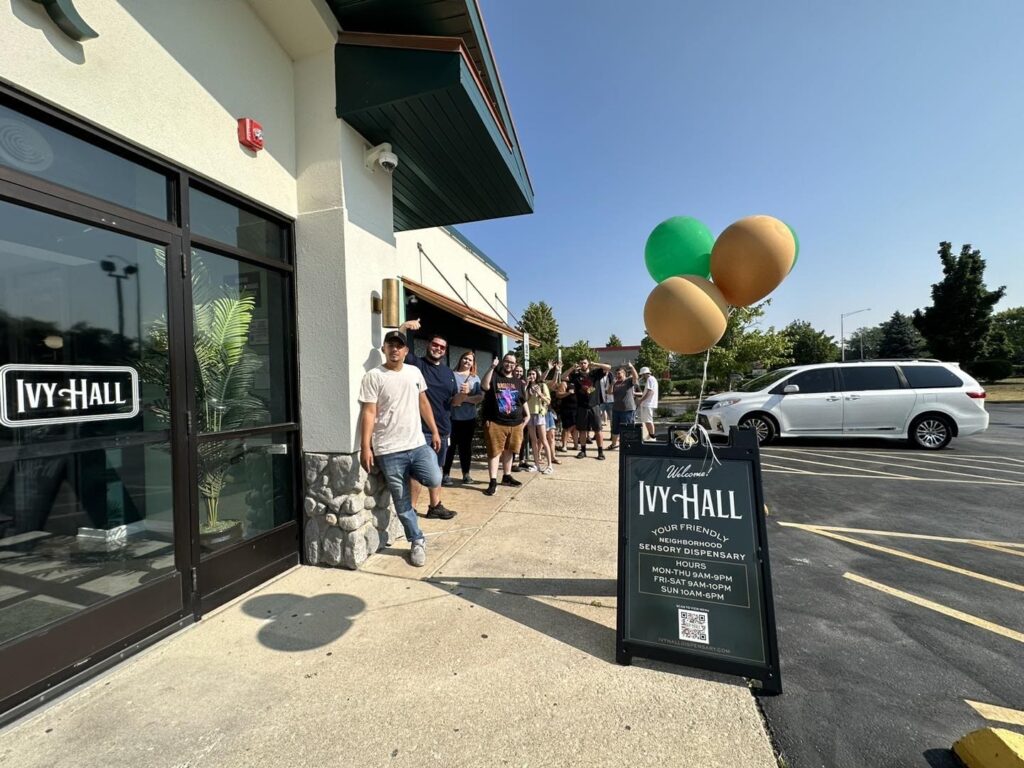 Ivy Hall's long-anticipated friendly cannabis confines opened both our doors and our hearts to the vibrant community of Bolingbrook in June of 2023. The story of our comfortably-appointed Bolingbrook dispensary began the previous year, however, when the Bolingbrook Village Board made the wise decision to approve a special use permit for a new cannabis facility.
Ivy Hall's reputation throughout the Chicago business community, and our dedication to giving back to the neighborhoods in which we operate, likely helped to make this an easy decision. We at Ivy Hall look forward to making the board members who supported our application proud of their decision. As an added thanks, we invited the Bolingbrook community to celebrate our grand opening – and the neighborhood responded with a well-attended ice cream social.
Staff Picks from Ivy Hall's Bolingbrook Dispensary
We're confident that the premiere products featured below will help convince you to our Bolingbrook shop and experience the Ivy Hall magic for yourself. In addition, you're more than welcome to stop by in person for one-on-one assistance if you don't see anything below that ignites your canna-curiosity.
Wyld Gummies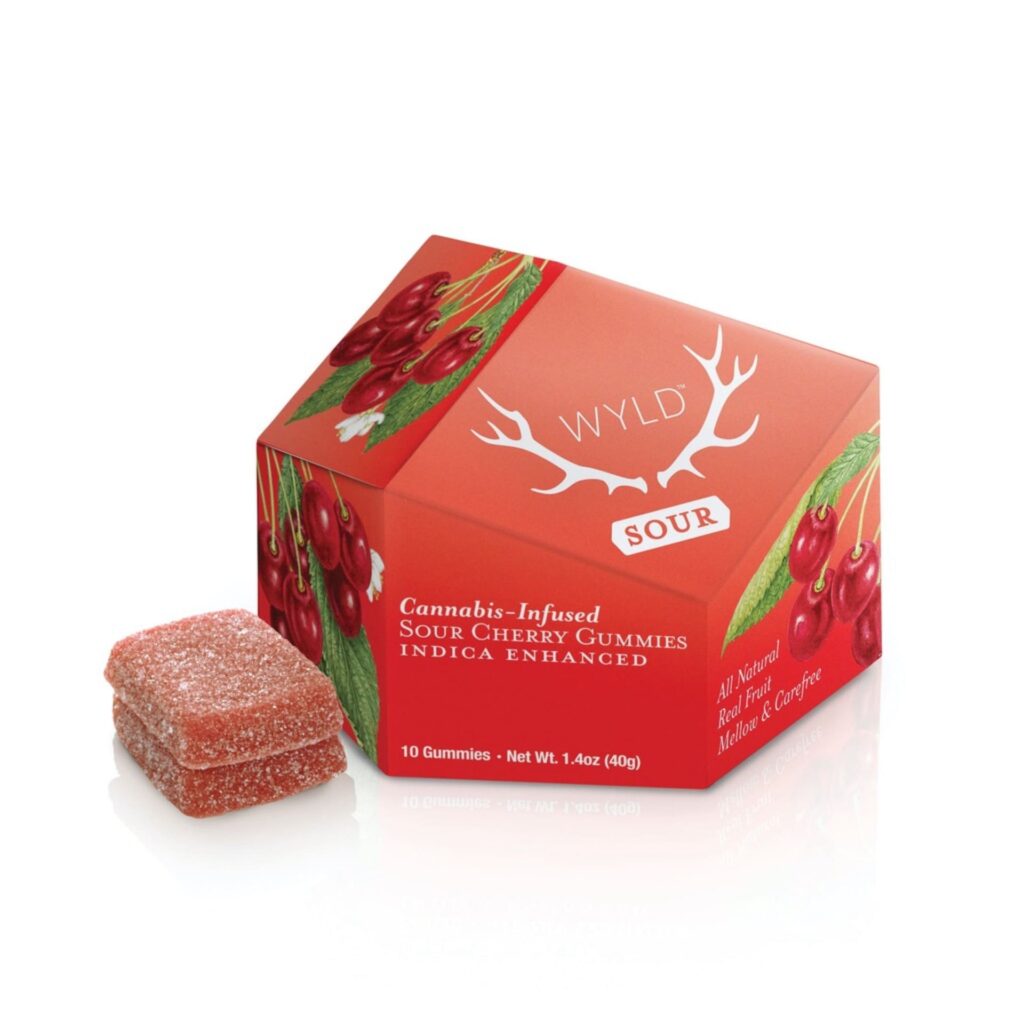 Our Bolingbrook location carries a full line of Wyld's super popular chewable cannabis edibles. Our staff and our neighborhood alike can't get enough of awesome Wyld flavors like Sour Cherry and Marionberry. Those looking for therapeutic benefits without the heavy, heady THC high will be interested in Wyld's 20:1 ratio Strawberry Gummies, with each unit pairing 20 mg of CBD with only a single milligram of THC to balance the effects. 2:1 and 1:1 formulations featuring other cannabinoids are also available. Wyld gummies are made with the highest-quality cannabis extracts so that you know you're getting the purest dose every time you take a walk on the Wyld side.
Boost Tablets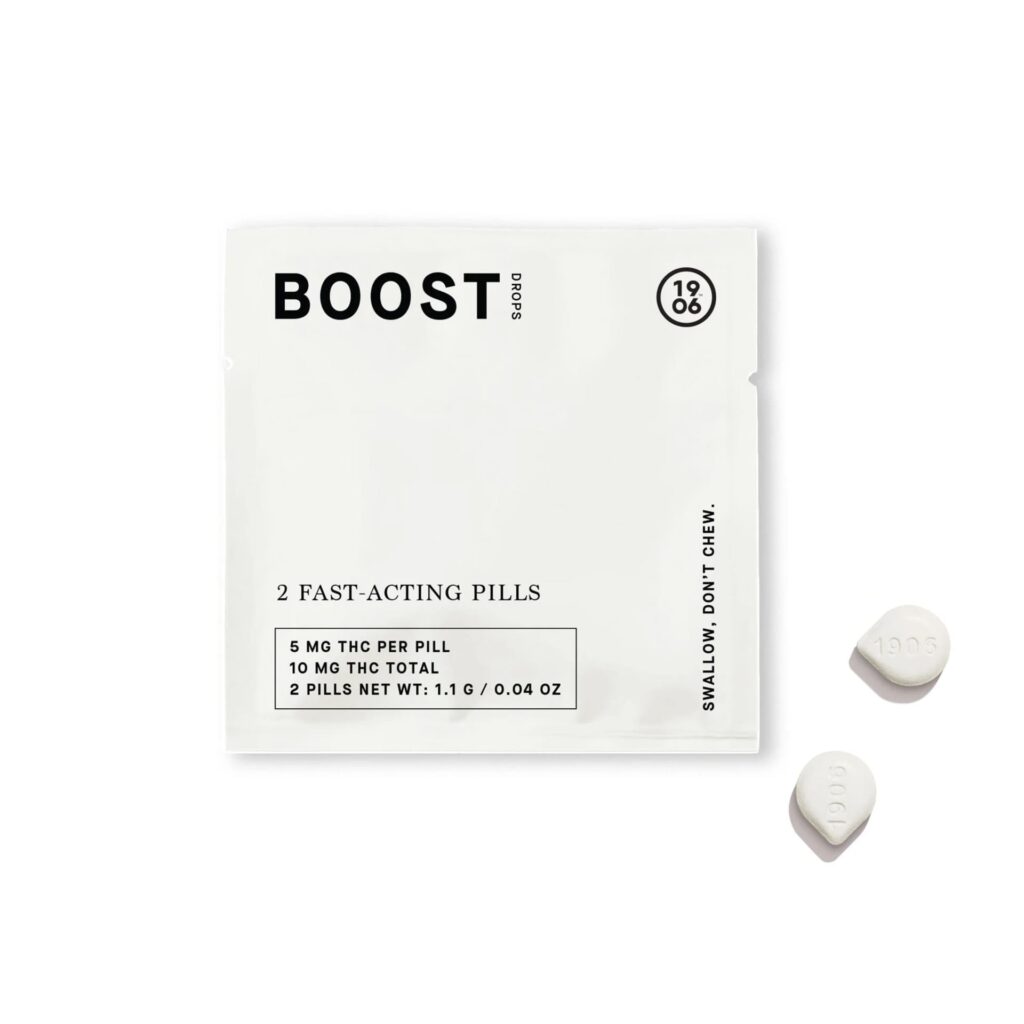 For those who need a quick, convenient dose of high-quality, high-purity THC, it doesn't get much better than Boost's sativa-leaning "drops." Each convenient packet contains two 5 mg tablets for a dose of THC and nothing else. We find them fast-acting compared to other edibles and perfect for those who want to experience the pure therapeutic and psychoactive effects of orally dosed THC without the full-spectrum entourage effect of other cannabinoids and terpenes. In simplest terms, you'll get the THC without that earthy "weed" flavor.
Señorita "Margaritas"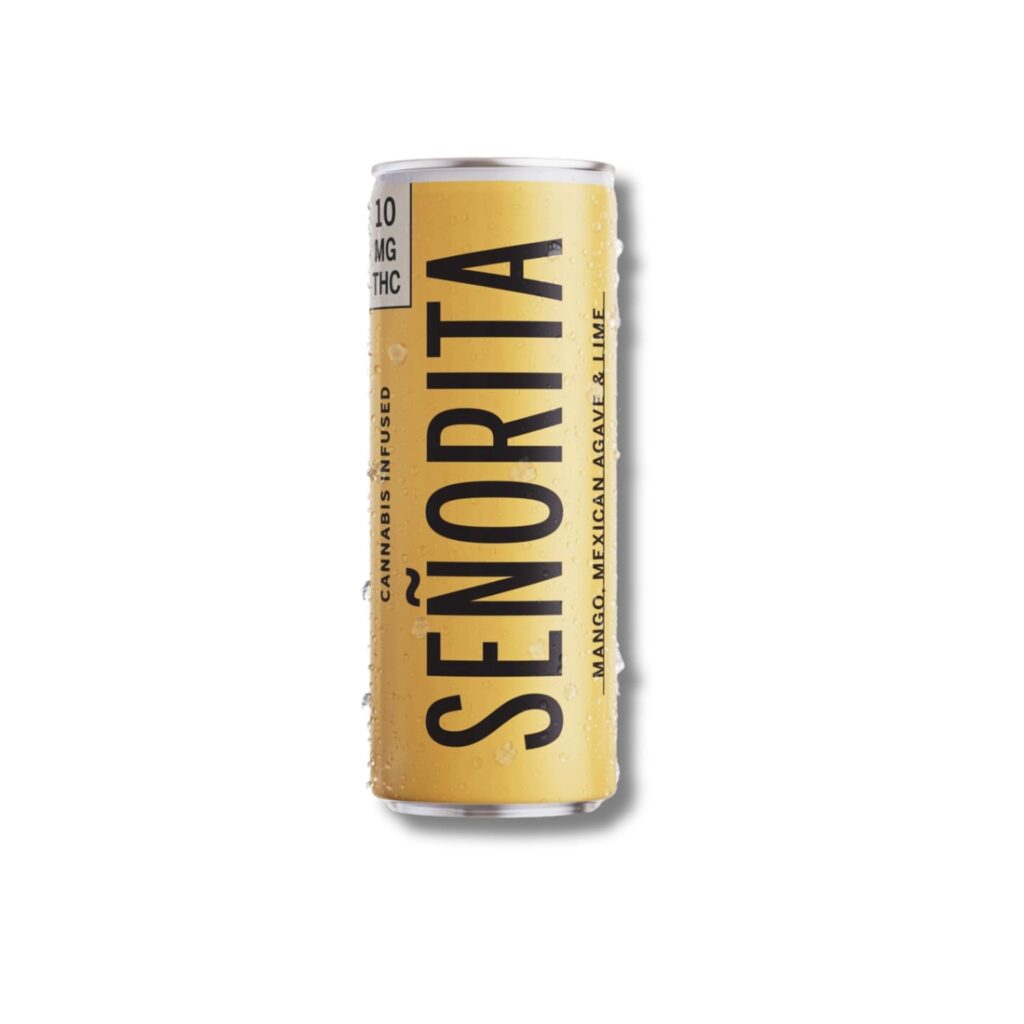 Señorita's delicious "margarita" beverages pack 10 mg of THC into a standard 12 oz can. These alcohol-free drinks are a great alternative to bring to a party when you're looking to vibe without the risk of a hangover. With flavors like mango and jalapeño lime, Señorita's canned THC drink line has you covered whether you're looking to indulge your sweet tooth or your spicy side.
Encore RSO Gummies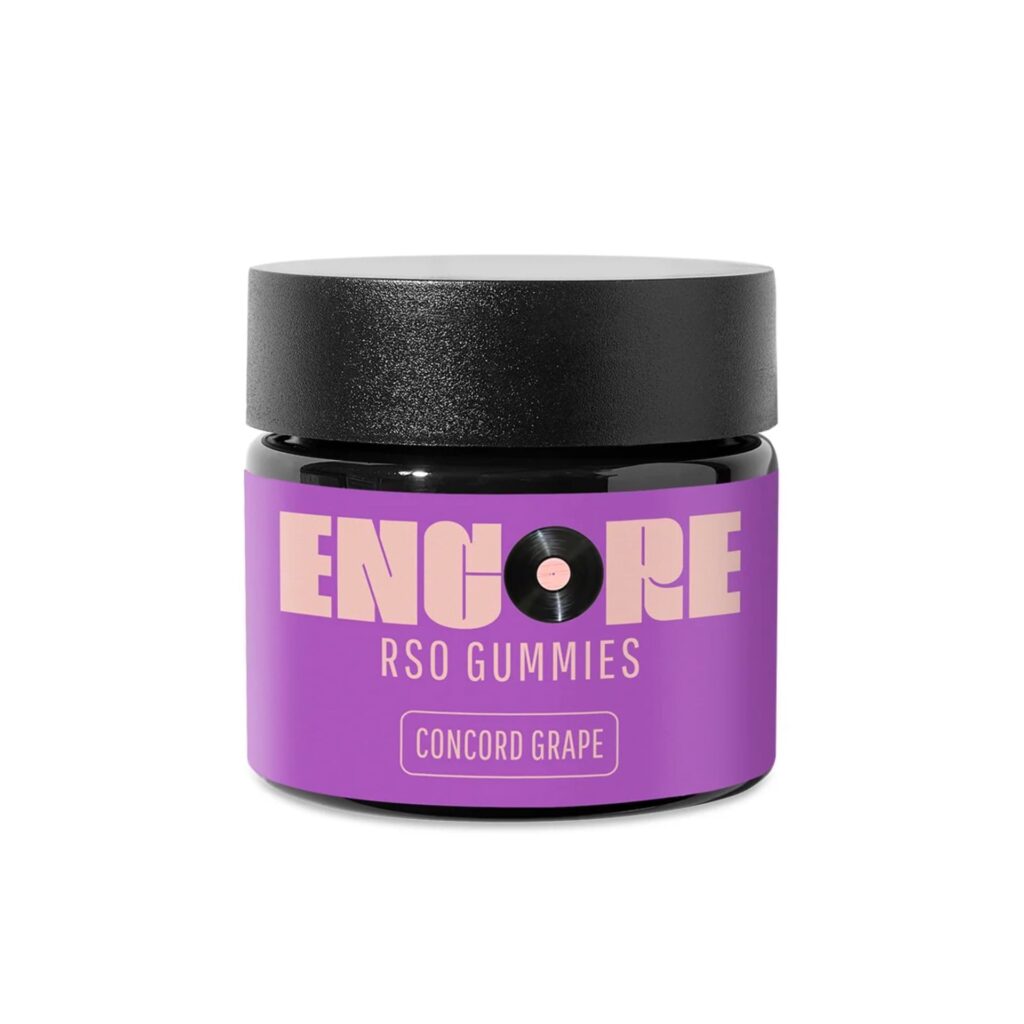 Rick Simpson Oil (or RSO) is taking cannabis markets by storm. This high-potency, easy-to-use extract is loved by therapeutic and recreational users alike because it is created from the whole cannabis plant, resulting in a unique, terpene and flavonoid experience. You can closely control your dose with a quick sublingual dropper application, but RSO can also be added to edibles.
This, in fact, brings us to Encore's incredible RSO gummies. Try the luscious concord grape flavor, infused with top quality Rick Simpson Oil to the tune of 100 mg per package (10 mg per unit).
Tales and Travels Quantum Runtz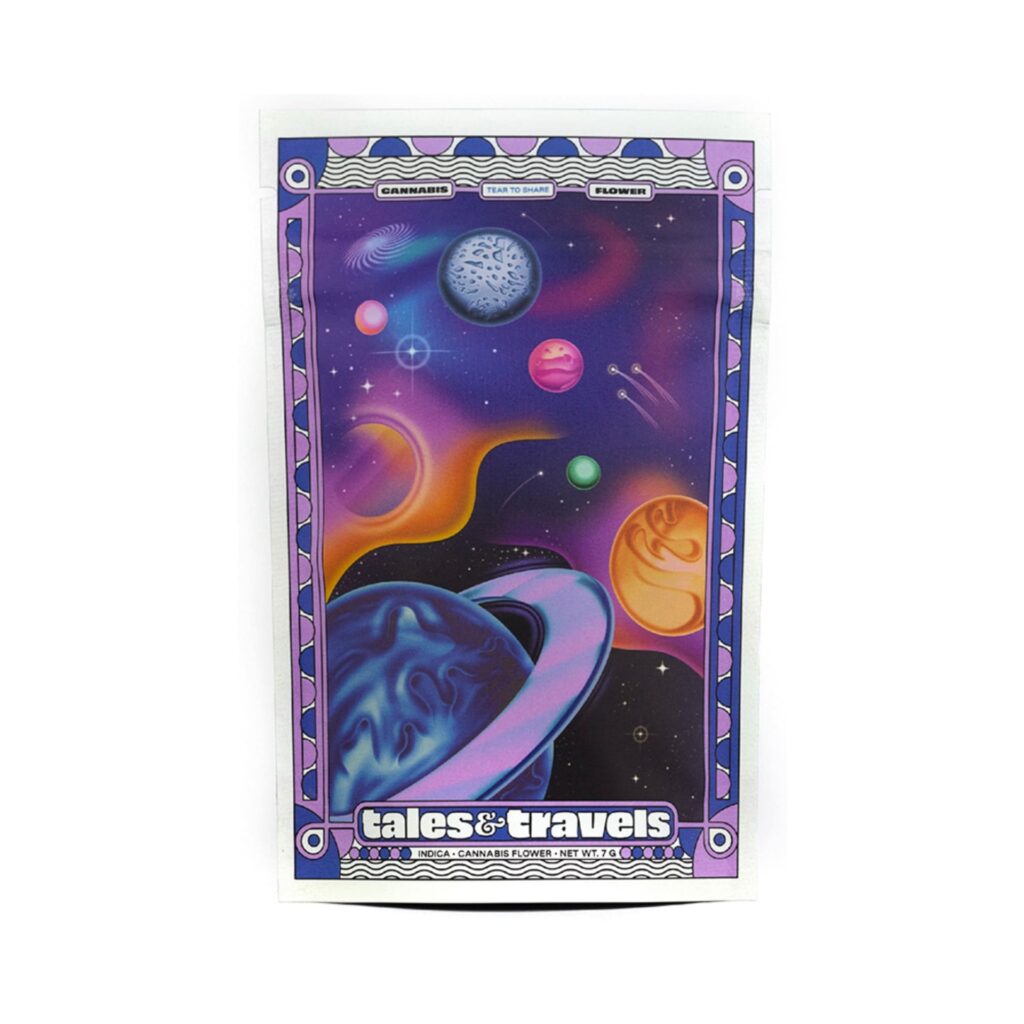 For a top-shelf flower experience, we are proud to recommend Quantum Runtz from Tales and Travels, a Revolution Cannabis brand. From the delightful packaging to the rich terpene profile featuring linalool and terpineol, this earthy, refreshing strain tests at over 14% THC with essentially no CBD to temper it. This boutique cultivar is a cross between Animal Cookies #9 and White Runtz.
Marley Natural Smoking Accessories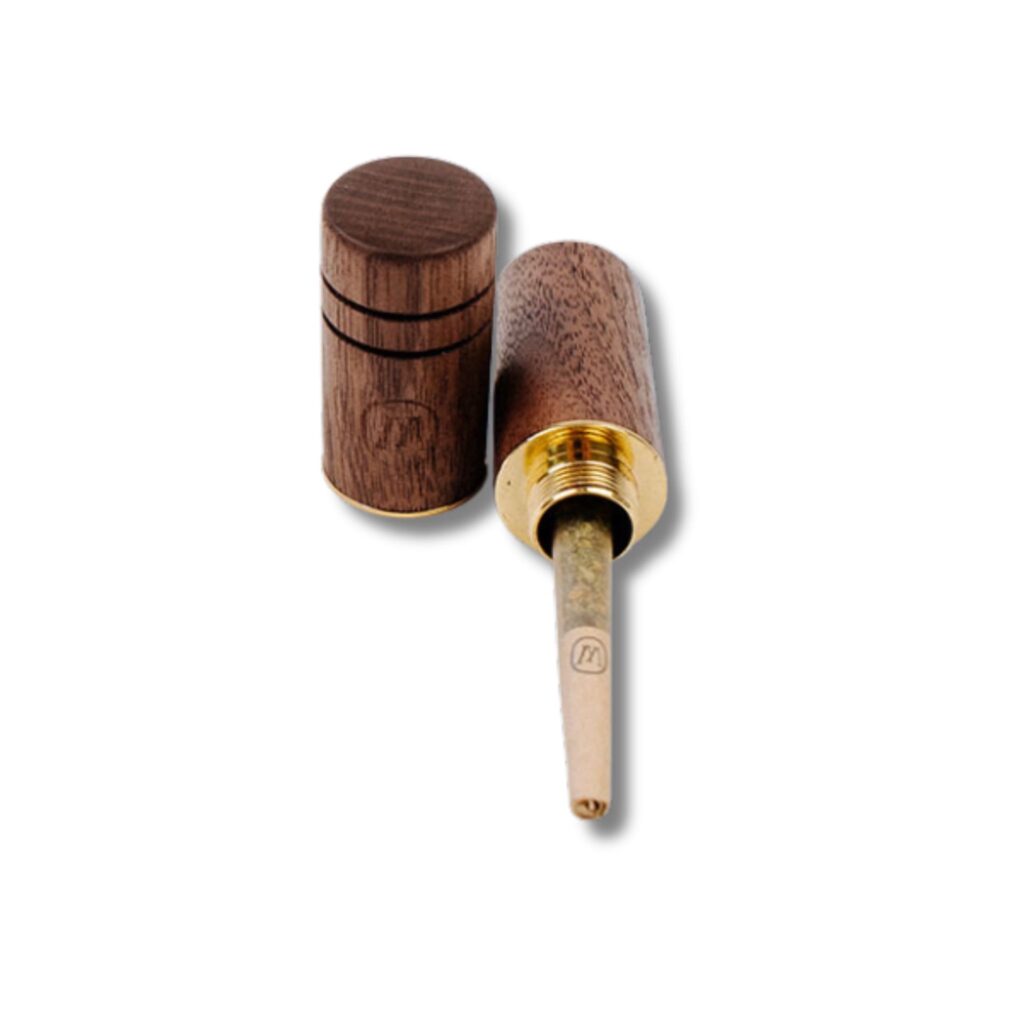 Marley Natural's peerless line of products is all about authenticity. The company is committed to showing respect to the materials and processes used to make their products: in other words, doing it right. Marley Natural offers tasteful, high-end clear glass and smoked glass pieces with walnut accents, as well as walnut trays and other accessories.
Ozone 0.5g Pre-Roll 3 Packs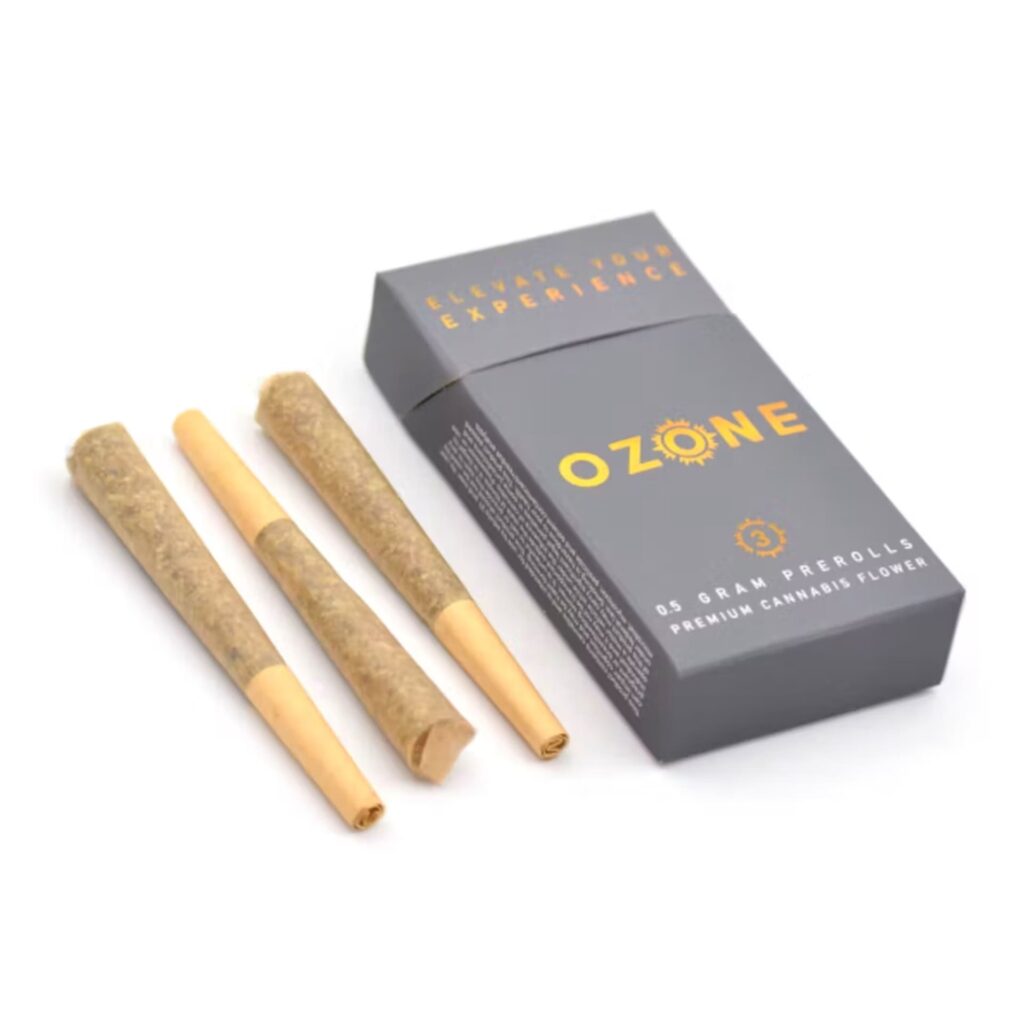 Ozone's 1.5-gram three packs (three pre-rolled joints of a half gram each) are perfect for cannabis smokers on the go. With peerless quality rolls and beloved strains like Mandarin Zkittles, these short pre-rolls are ideal for short sessions or solo adventures. Other pre-rolled multi-packs at the Bolingbrook location include high-testing strains from Verano and other top growers.
STIIIZY OG Pods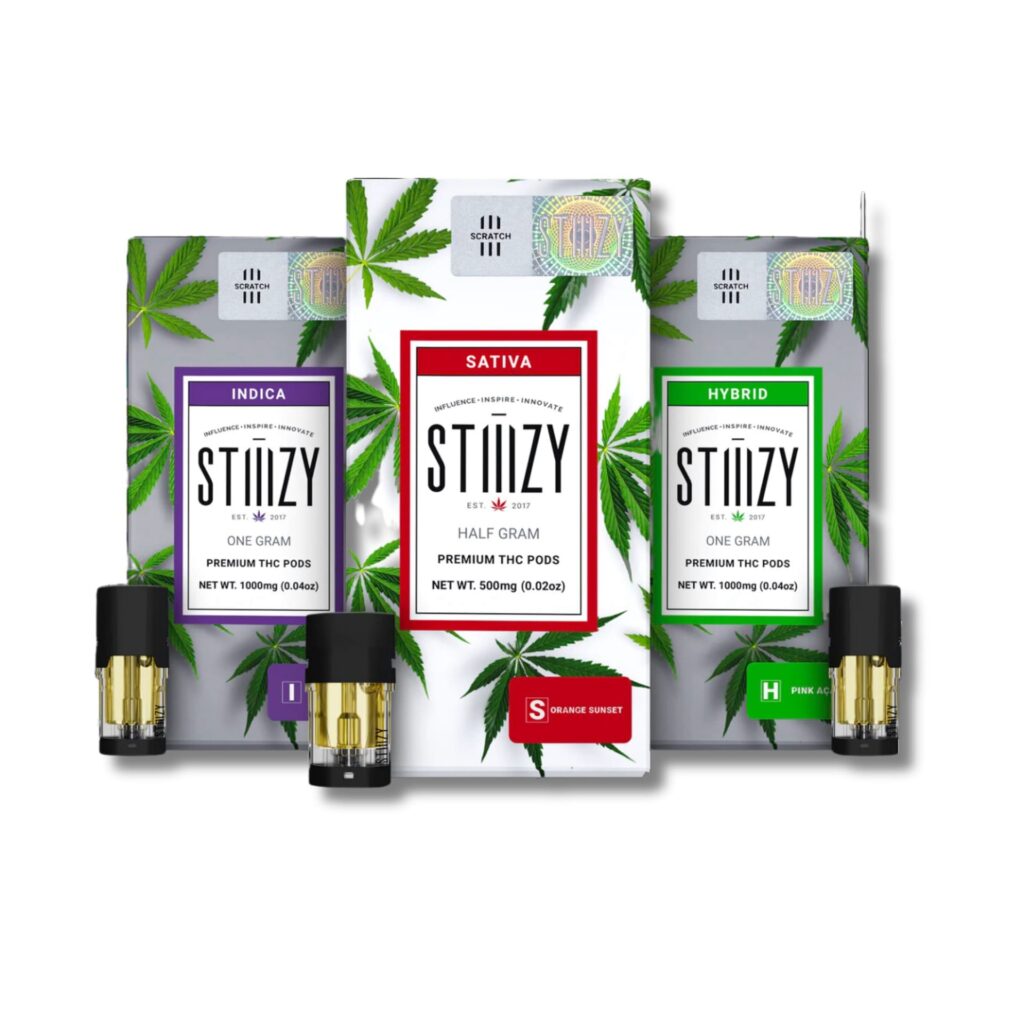 They aren't exactly an industry secret, but STIIIZY's half-gram OG vape pods are one of the most convenient and consistent ways to vape cannabis. If you want a strain recommendation, try the Strawnana pod. Strawnana is a hybrid cross between Banana Kush and Strawberry/Bubble Gum, and it carries just the sort of bold terpene profile you would expect out of that lineage (fruity, pungent, sweet, and heavy on the myrcene and limonene). White Raspberry, Limoncello, and Pineapple Runtz are some of our other favorite strains also available in these iconic STIIIZY half-gram vape pods.
Durban Poison (UpNorth)
If you're looking for a flower recommendation, look no further than Durban Poison flower, grown by our friends at California-based UpNorth. Durban Poison is a legendary sativa strain and is prototypical of those energetic, uplifting effects that smokers associate with good sativas. If you want a more even-keeled, full-spectrum experience with those same epic THC levels, try UpNorth's NF-1 hybrid flower instead.
Some of our other favorite flower options currently on hand include Cresco's Slurricrasher, an aptly named Slurricane/Wedding Crasher hybrid. Or try High Supply's always-awesome Pineapple Express, now available in 7g packages of popcorn buds.
Kiva Lost Farm Gummies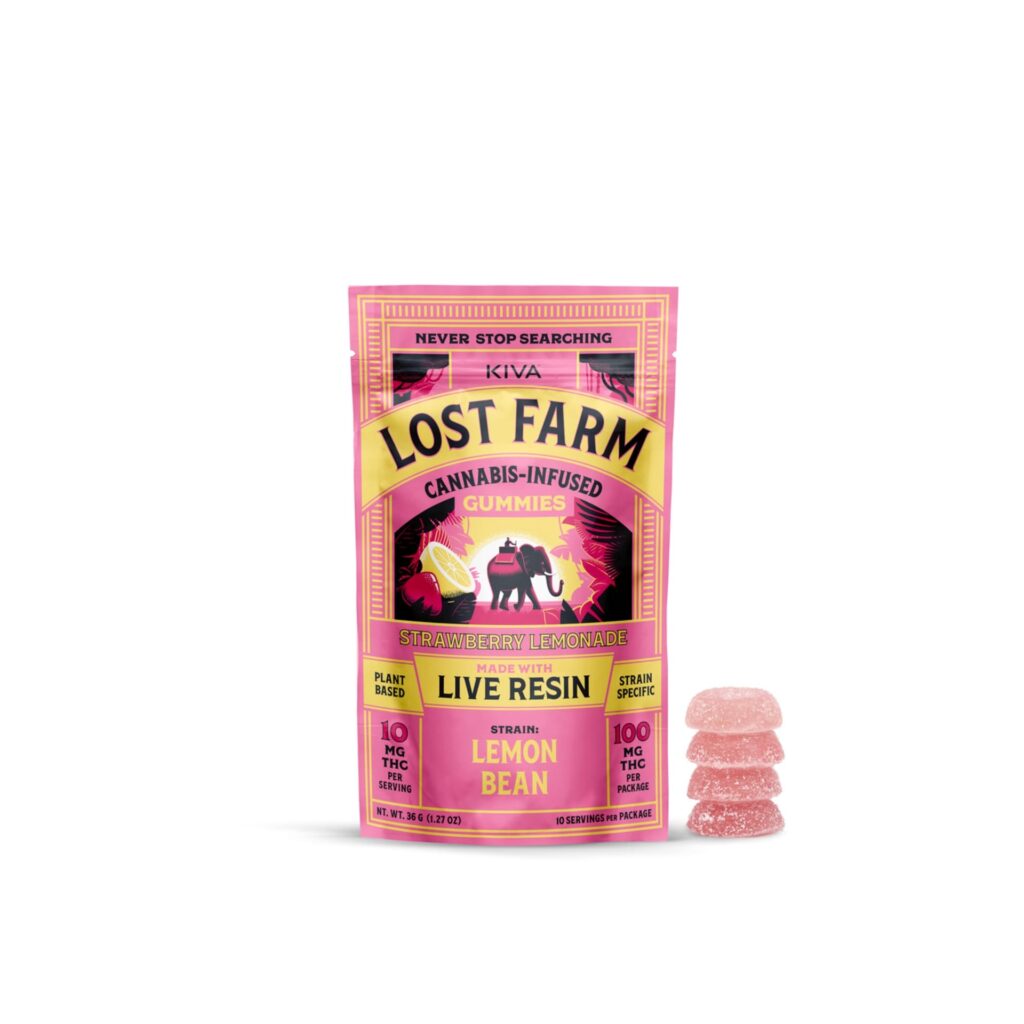 The wonderful powers-that-be at Kiva just can't miss when it comes to producing quality cannabis products, and their boutique "Lost Farm" line of live resin gummies is definitely not the exception to this rule. Our staff recommends the citrus spritz flavor based on the legendary Pineapple Express cannabis strain. Kiva's Lost Farm cannabis-infused gummies come in the industry standard size of 10 mg per serving and 100 mg per package.
BUY WEED FROM WOMEN Merch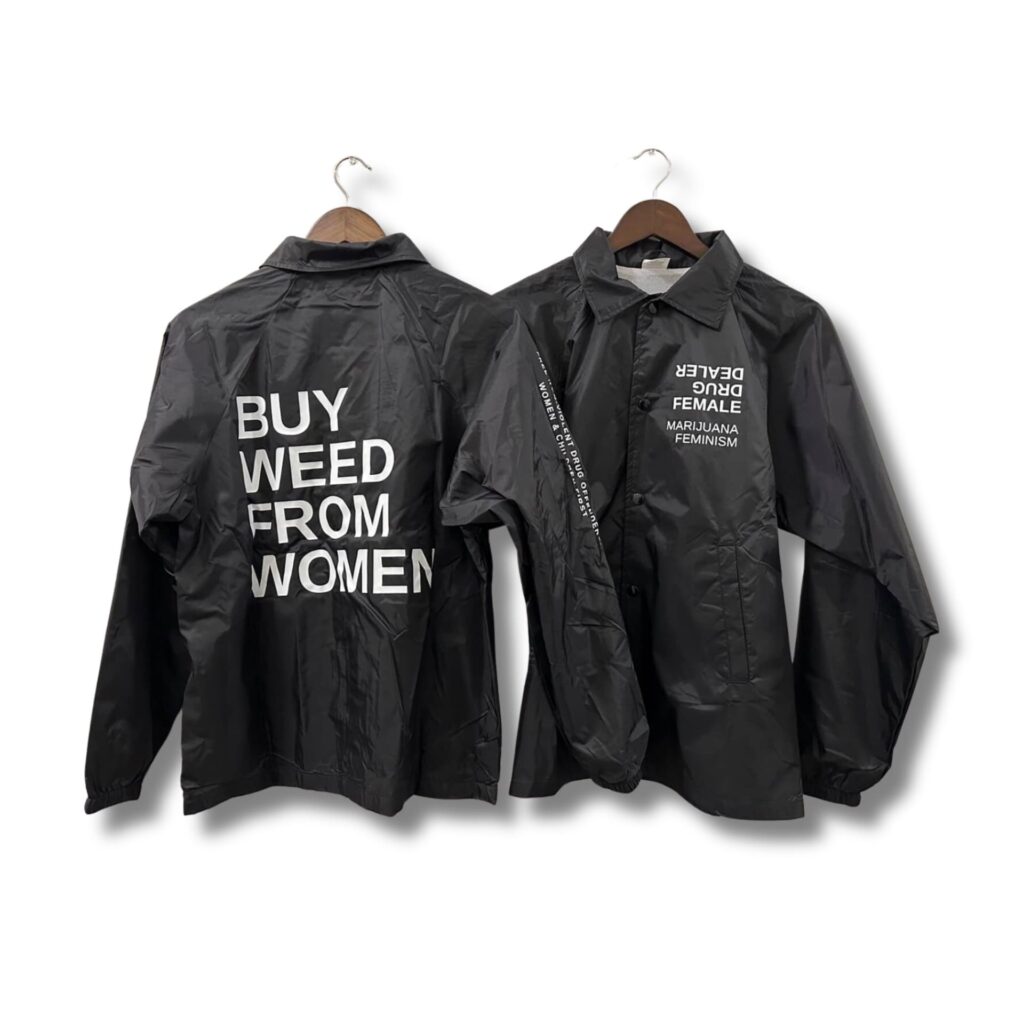 We encourage leaving some extra room in your budget when you visit Ivy Hall so that you can also walk away with some awesome BUY WEED FROM WOMEN apparel. BUY WEED FROM WOMEN is a women-owned, cannabis-positive apparel company supporting women entrepreneurs and the spread of cannabis legalization. Sleek shirts and jackets emblazoned with edgy, eye-catching slogans like "female drug dealer" and "marijuana feminism" put the focus on empowering black women and other minorities through the emergent US retail cannabis market.
We have other great merch available as well, including our Ivy Hall totes and other in-house branded gear to show your support and commemorate your sensory dispensary experience.
Shine Disposable All-in-One Distillate Pen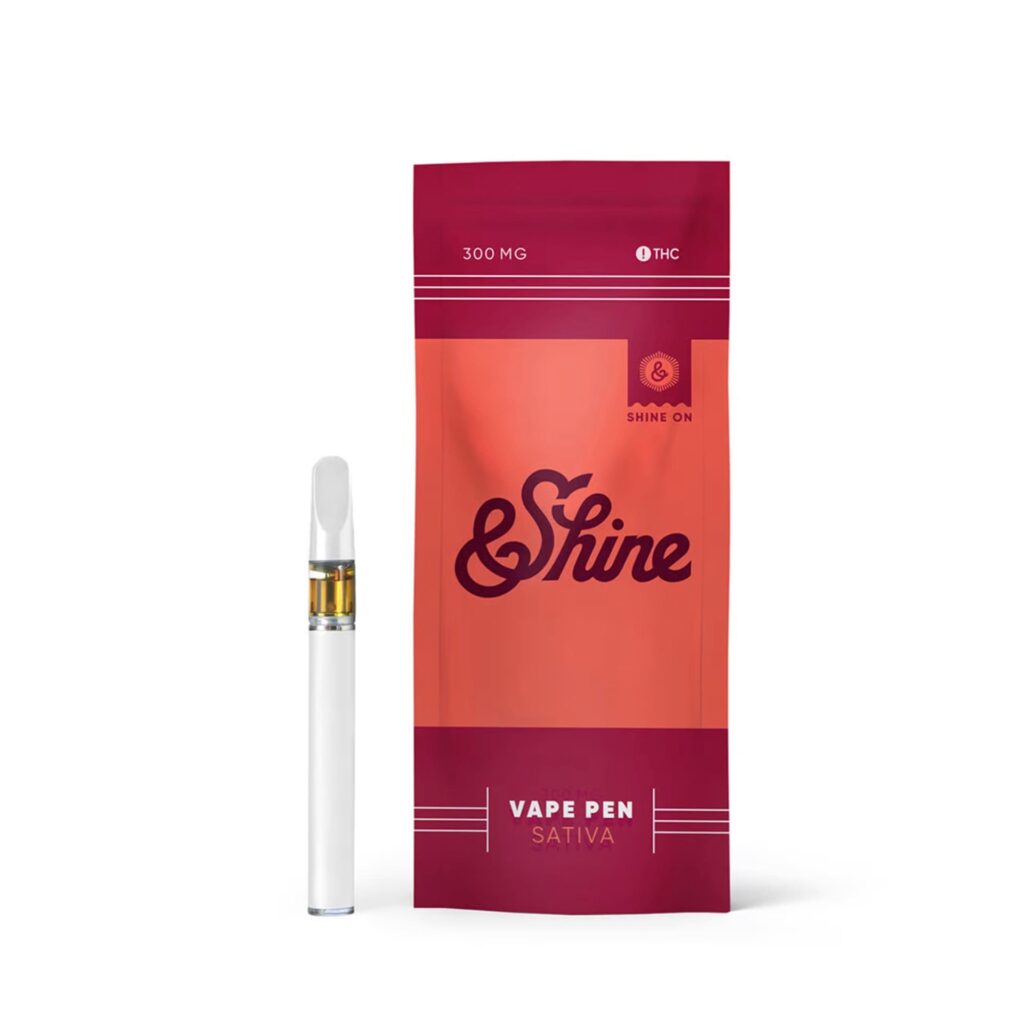 Whether you're only in Chi-town for a short visit or are a light cannabis user who only needs a puff or two before bed, Shine's 1/3 gram disposable all-in-one vapes are a great solution. A 300-milligram vape is smaller than your standard interchangeable 510 vape cartridge. Still, with forward-thinking strains like XJ-13 testing at a whopping 92.15% THC and other iconic strains like Chemdawg also available, you won't need much to get your Shine on.
Not looking for disposables? No worries: Shine's high-test vaping distillates are also available in standard half-gram and full-gram 510 carts for use with your vape pen battery. Look for Orange Soda and Strawberry Cheesecake, two of our favorite Shine carts currently in stock at the Bolingbrook store.
Cannadevices Glassware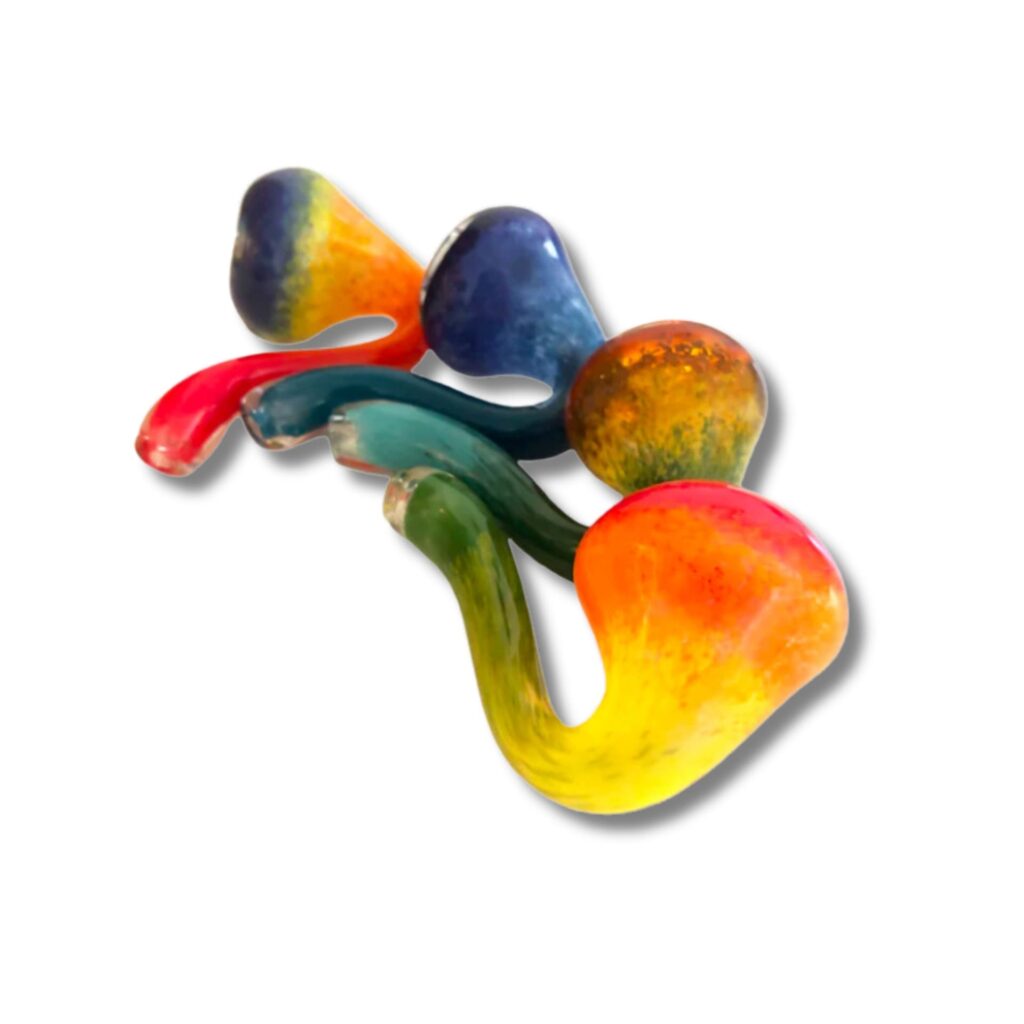 Cannadevices is truly one of our preferred partners for pipes and glassware. This unique company produces beautiful pieces that truly sit at the intersection of beauty and function. Cannadevices' American-made glass products include glass hand pipes of various shapes and sizes, as well as an innovative glass nectar straw for convenient, on-the-go dabbing.
Simply Herb Bubba's Gift Popcorn Buds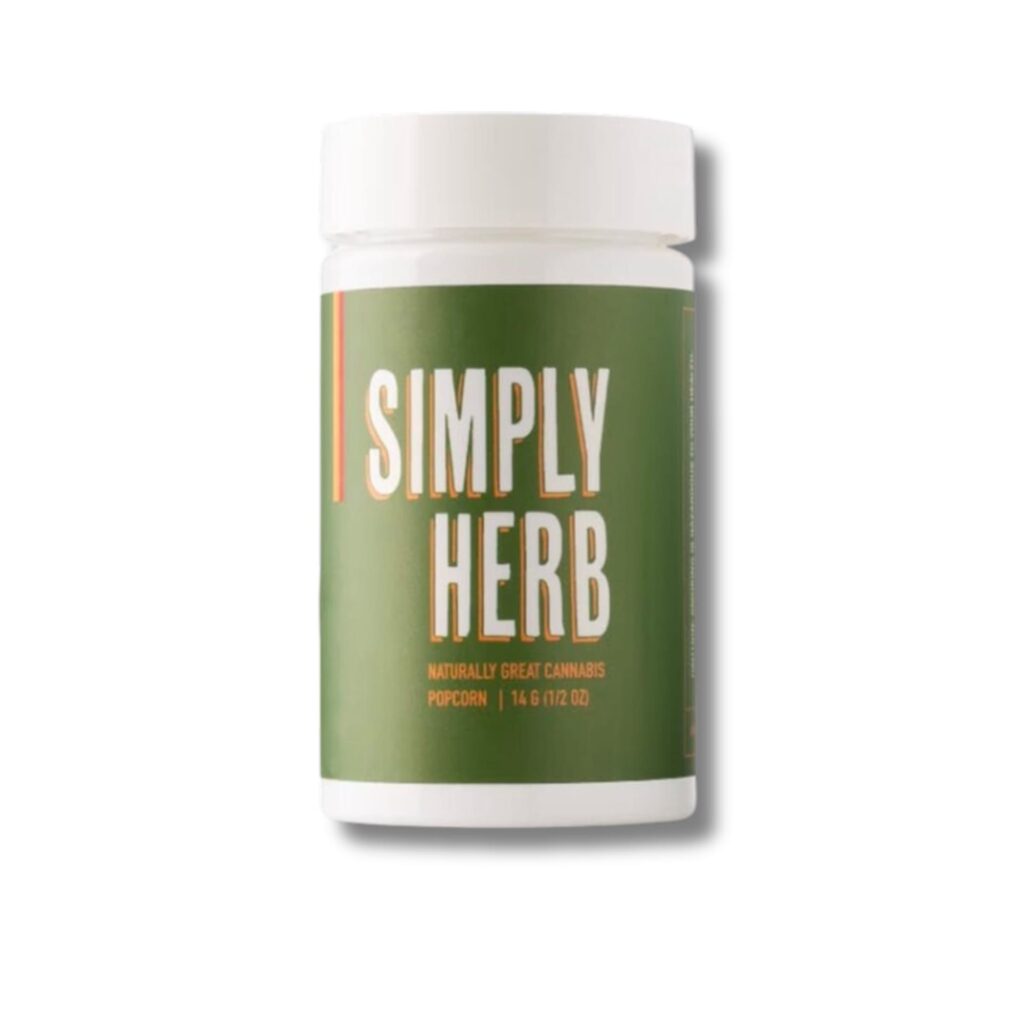 Among the most interesting flower recommendations from our staff are these unique popcorn buds. Popcorn buds can be wonderful for harnessing a full terpene profile into a sleek, easily transportable package. Better yet, there's no cleaning necessary with smaller buds you can simply grind up and use without picking through stems.
Bubba's Gift is a sweet and fruity strain almost reminiscent of a tropical cocktail, according to some fans. As keen-eyed cannabis aficionados may have already guessed by the name, this top-tier strain is a cross of Bubba Kush and God's Gift, two iconic strains in their own right. With generous 28-gram pillow packages now on sale at Ivy Hall Bolingbrook, you can stock up on this gift at a great price.
93 Boyz Vape Carts and Pre-Rolls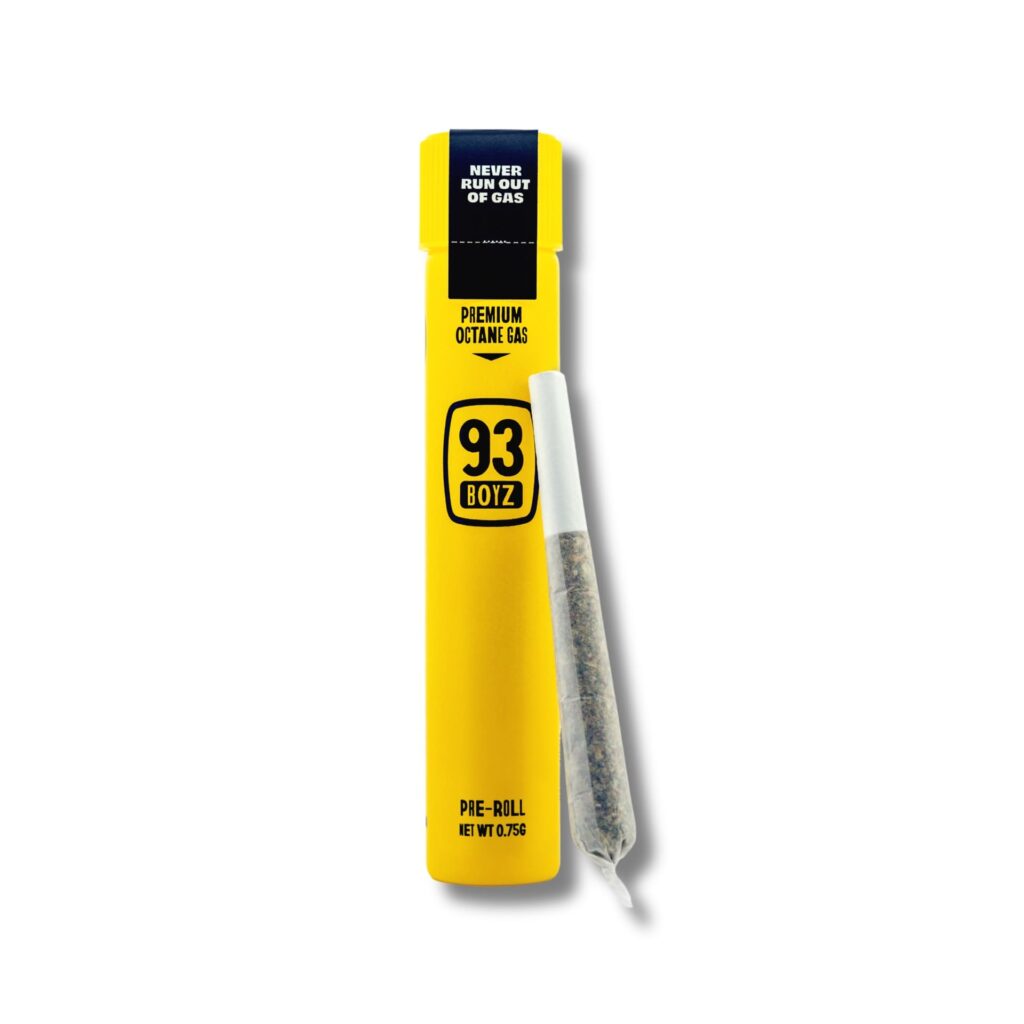 If you're looking for convenient cannabis options like pre-rolls and 510 vape carts, check out 93 Boyz. This brand stands out as Illinois' first black-owned cannabis brand, and its operators are focused on increasing opportunities and representation for minorities working within the cannabis field. The quality of 93 Boyz products lives up to the fun "premium octane gas" branding. Whether you choose a 3-pack of Super Donutz pre-rolls or fill up your pen's "gas tank" with a new full-gram vape cart, you'll adore these unique cannabis products.
Real Ivy Hall, Bolingbrook Reviews
Still unsure about paying Ivy Hall Bolingbrook a visit after reviewing these staff favorites? Perhaps the firsthand opinions of some of our favorite Bolingbrook neighbors are in order.
Top Notch Cannabis Experience
"I just had the pleasure of visiting Ivy Hall Bolingbrook, and I can confidently say that it exceeded all my expectations! From the moment I stepped inside, I was greeted by a warm and knowledgeable staff who made me feel right at home. They patiently answered all my questions, provided insightful recommendations, and took the time to understand my preferences.
Their knowledge of the products, strains, and effects was truly impressive, making it a breeze to find the perfect cannabis solution for my needs. Their vast selection, knowledgeable staff, pristine environment, competitive pricing, and exceptional customer service combine to create an outstanding dispensary. I highly recommend this establishment to anyone seeking a top-notch cannabis experience."
Best Dispensary Brand in Illinois
"Amazing dispensary with a large variety of selections and great promotions! Amazing staff! Best dispensary brand in Illinois!"
Such Good Vibes
"I waited in line for their grand opening and was in awe of how aesthetically pleasing the whole place was. Such good vibes in here, and all of the staff are super friendly and helpful. I've been here 3 times since the grand opening and was well taken care of. Thank you guys for being so kind!"
AMAZING
"Beautiful aesthetic and upbeat environment! And, can I say, AMAZING crew they have! Will definitely be a regular here!"
One of the Best Dispensaries
"Amazing atmosphere with very friendly staff. The quality and prices they have to offer are undefeated. One of the best dispensaries I've seen yet."
Wonderful
"This new place is beautiful. The staff and atmosphere is wonderful. [The staff] was knowledgeable and friendly! Great service and friendly workers!"
Visit Ivy Hall Bolingbrook to Access Your Next Sensory Experience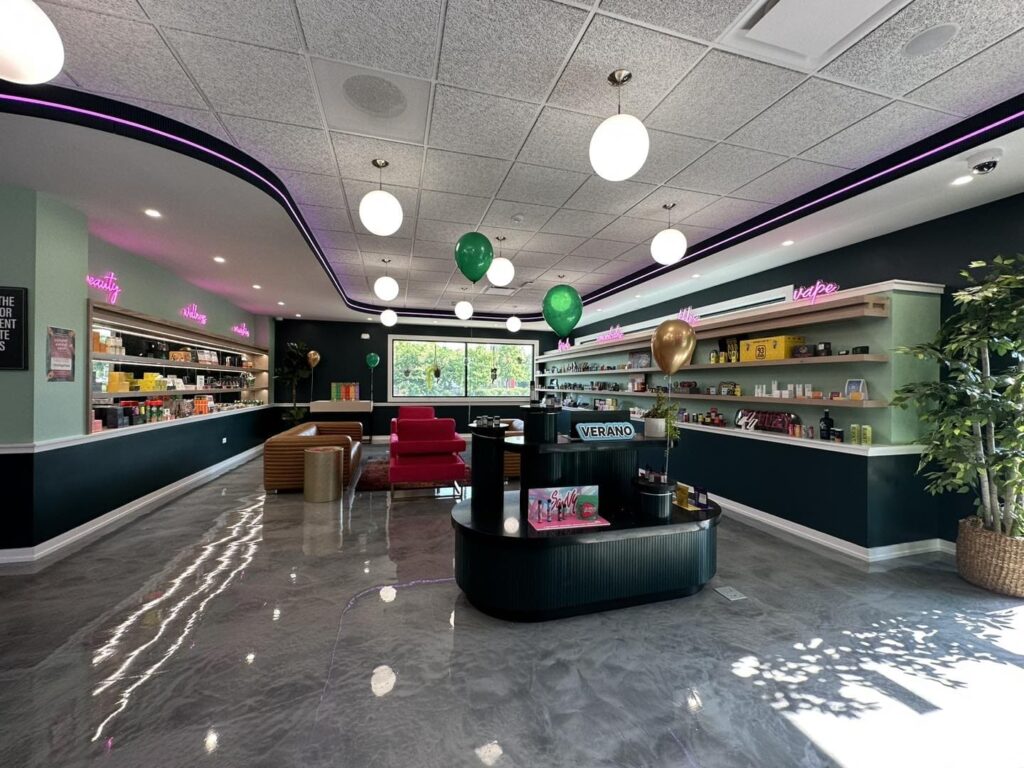 We hope our staff's carefully curated selection of sense-enhancing products has inspired you to pay us a visit. See our frequently asked questions for a quick reference. Rest assured that there are plenty more where that came from. Whether you're searching for smoking accessories, top-shelf flower, vape cart deals, or just want to stop in and have the staff help you pick something divine, our friendly neighborhood dispensary is ready for you at 351 S. Bolingbrook Drive. Check-out all Ivy Hall cannabis dispensary locations or start shopping at our Bolingbrook online dispensary menu and order for pickup!