Ivy Hall carries only the highest quality cannabis products for our client's discerning tastes and sensory expectations. We've chosen to include the Verano-owned Encore Edibles line in our offerings because they are crafted with exceedingly high standards, boast a variety of delectable flavors, and provide cannabis connoisseurs with an experience that fulfills their sensory desires. Whether you need to relax and restore your spiritual and physical self, elevate an outdoor trek, or amp up a night out on the town, look no further than these next-level cannabis edibles.
Encore has developed a range of delectable cannabis edible products perfect for satisfying your sweet tooth. With candy-inspired flavors and delightful textures such as caramel, chocolate, and mint, as well as more traditional chewy gummies in mouth-watering fruit essences, you can't go wrong with Encore. Not only will these delightful edibles enchant your taste buds, but they also guarantee top-shelf cannabis strains that will excite your senses and lead you on a pleasurable journey of body and mind.
Encore Edibles: The Performance of a Lifetime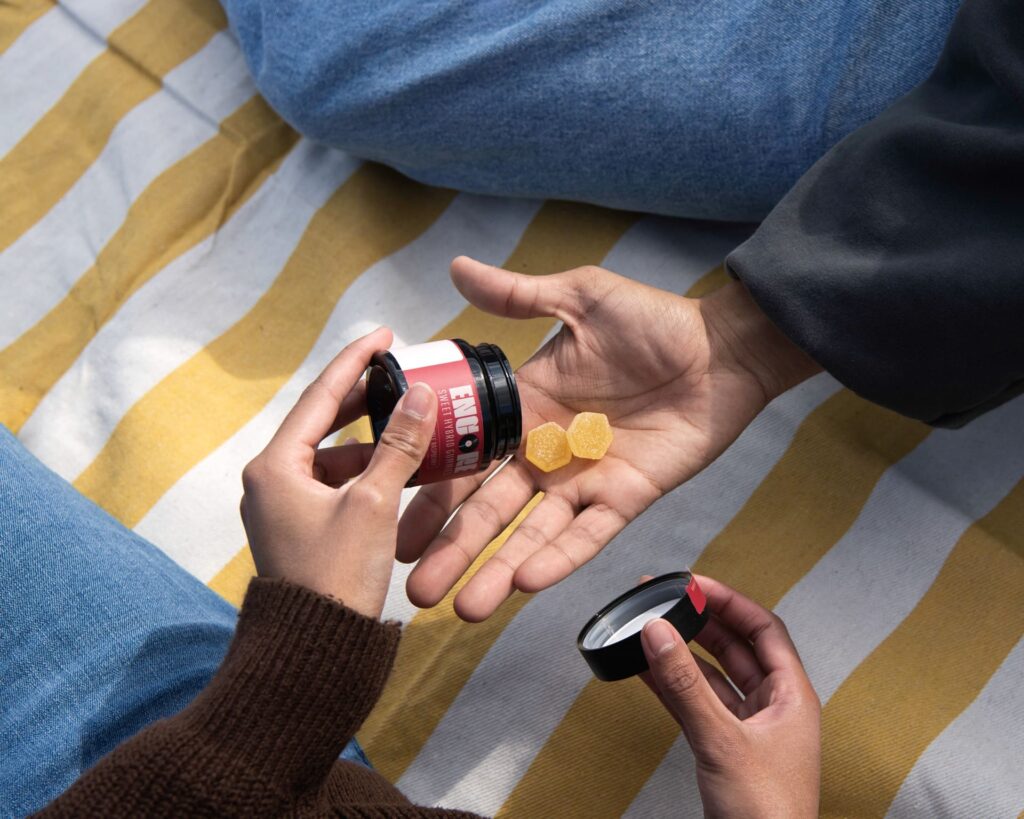 With so many intriguing cannabis edibles on the market, you may be wondering what sets Encore apart. As with any high-quality edible, cannabis edible enthusiasts can expect superior taste and top-shelf cannabis strains, but the differences will exist in areas like structure, available flavors, dosage options, packaging, and enhancing ingredients. Here are just some of the many features that help Encore stand out from the other innovative sensory products offered at Ivy Hall Dispensaries.
A Consistently Quality Experience
You can rest assured that with Encore Edibles products, the quality you expect to partake in is held to the highest possible standards. Rigorous testing during production ensures consistent dosage so clients can relax fully into their sensory experience. Edibles themselves, after all, are one of the best and most accessible methods to specify and control the amount of cannabinoids you consume.
As Encore formulates and tests its products, it also abides by the strict standards of the commercial edible industry. As such, the brand showcases its goods with clear and informative labeling so you can determine the exact amount of THC, CBD, and other cannabinoids you're taking. The information Encore provides on its packaging can also ensure you cultivate an understanding of the other cannabis-derived compounds that may be present to enhance your experience.
Effects That Go the Extra Mile
Edibles are also known to have a longer-lasting effect than some other cannabis products, so they offer you the opportunity to partake, relax in your surroundings, and meditate in the moment as you await the ensuing sensory escapade. Unlike smoking or vaping, you must wait as your body digests and metabolizes edibles before you can experience their effects. Just as your body takes its time to break down the elements of the edible, it also converts each cannabinoid into cannabinoid byproducts with varying effects, allowing you to experience each dose for a more intense and expanded length of time. Clients who indulge in Encore can expect to experience these sensory influences for several hours after the first taste.
An Opportunity to Indulge Discreetly
Nothing compares to the convenience and accessibility of edibles: they score top marks in quick, clean, and inconspicuous consumption. There is no need to fret about pipe packing, finicky lighters, uneven, smoky joints, or the stress of sneakily sipping on a vape pen. In addition, edibles do not require you to have any accessories at the ready, such as batteries, rolling papers, dab rigs, or other gear.
Enchant Your Senses with the Encore Edibles Product Line
Sure to satisfy the most particular sweet tooth, these delectable edibles are delightful without being cloying. Encore has developed a vast array of flavors with signature strains and dosages to excite your senses without overwhelming your sensibilities. You can be sure you will find at least one variety that satisfies your specific needs.
Visit an Ivy Hall sensory dispensary near you to procure these favorite Encore edible products.
Encore Gummies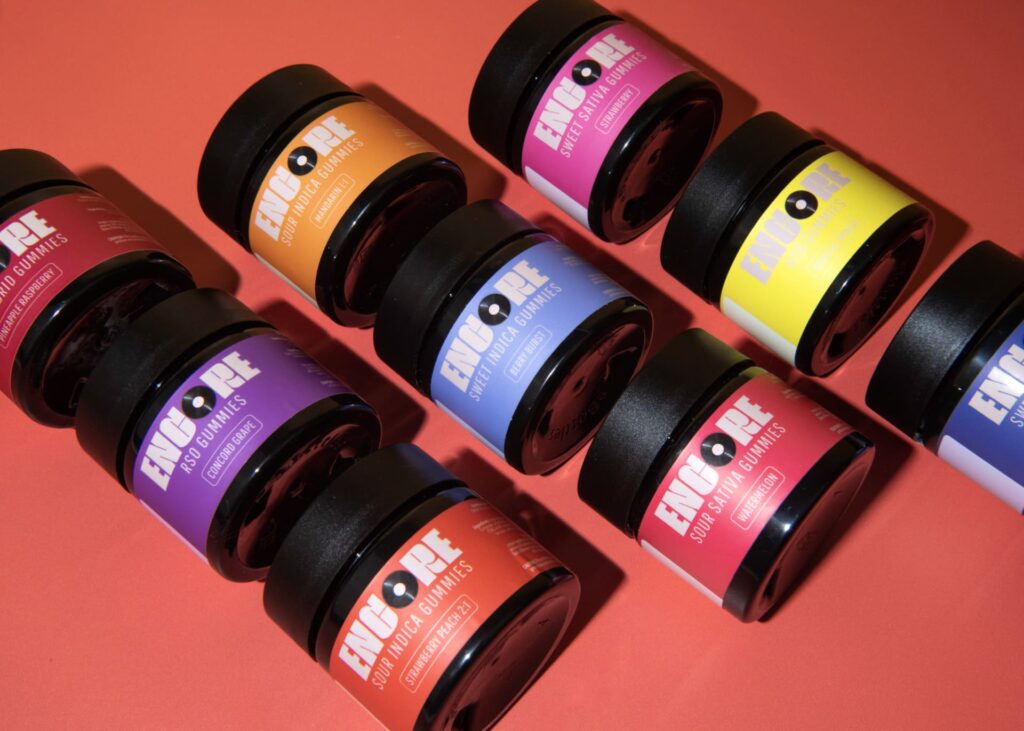 Fruit-flavored, chewable gummies are a ubiquitous part of cannabis culture. These easily transported and instantly enjoyable bites are attractive to cannabis clients from all walks of life. From the wide range of mouth-watering flavors to the carefully chosen strains and formulations, Encore keeps your personal goals, preferences, and potential tastes in mind as it crafts its world-class products. Even if it is your first foray into the world of gummies, take comfort in the incredible attention to detail apparent in every aspect of Encore's line as you search for the perfect sensory interlude.
Encore gummy products include these sweet options.
Encore Sativa Gummies
This line of gummies serves up the ultimate experience in edible cannabis. Sativa-forward strains often contain higher levels of THC when compared to their indica and hybrid counterparts and are typically chosen by people who wish to elevate their energy levels and increase mental and physical motivation. Encore's line of sativa gummies takes pride in their carefully measured ratios of THC, other cannabinoids, and various cannabis compounds to ensure a positive experience after you partake.
There are a multitude of benefits you can acquire with sativa cannabis strains infused into edibles and gummies. These benefits include:
Uplifting Effects – Sativa strains are often associated with an elevated mood, a burst of clean, happy energy, enhanced clarity and focus, and greater levels of alertness.
Ease in Social Situations – Some cannabis purists have become enamored of sativa's ability to ease their anxiety in social settings. Sativa strains can offer sensory lubrication to facilitate conversation and good vibes, minus the morning-after headaches, delayed physical responses, and clumsiness that accompany alcoholic intoxication.
Supercharge Creativity – For artistic endeavors or to spur a creative breakthrough, sativa strains can kickstart your cerebral tendencies and illuminate the spark that ignites your ideas.
Ditch the Blues – The energizing, uplifting effects of sativa strains will chase off any malingering bad vibes that cast a cloud over your mood.
Seize the Day – If you require cannabis-based relaxation and inspiration during any of your everyday tasks, sativa will provide you with a sensory lift without the drowsiness that can accompany some indica and hybrid blends.
Encore Indica Gummies
Indica-forward gummies are a staple for cannabis aficionados because they provide restful relaxation, relief from bodily and mental stress, and the ultimate indulgence for a chill session. A gentle sense of sedation without lethargy may be just what the doctor ordered if you feel as though your fast-paced existence has overwhelmed your natural sense of calm.
If you are pondering whether to choose indica gummies from Encore over their sativa option, here are some compelling reasons to contemplate:
Restorative Relaxation – Indicas are treasured by many for their power to unwind tense muscles and calm a racing, overburdened mind. Encore gummies' long-lasting effects will enable your body and spirit to sink into deep relaxation and achieve a sense of tranquility as you feel tightness and stress melt away.
As Simple as Sleep – Indica strains have the potential to whisk you off to sleep, but their sedative effects can be revealed even if you simply crave a mild sedative to take the edge off a stressful day or process the present with your whole body and mind.
Experience Real Euphoria – Mood boosting reaches its pinnacle with indica strains, which have a psychoactive sensory effect that affords the consumer an experience replete with mirth and healing laughter.
Encore Hybrid Gummies
If you're a more adroit cannabis shopper, you have probably become increasingly aware of hybrid strains that contain characteristics of both cannabis plant types. Hybrid gummies are painstakingly cultivated to create a unique, blended sensory journey. Encore has eagerly embraced this post- "sativa vs. indica" market and offers carefully crafted gummies infused with top hybrid strains that provide you with the best of both worlds.
Encore 1:1 Ratio Gummies
Don't feel compelled to place your trust in the unknown if you prefer the utmost control over your dosage. You will find Encore has created formulations that go beyond the typical two-strain option or hybrid blend and carefully modulate the ratios of THC, CBD, and other cannabinoids to pinpoint the ultimate experience.
Encore's 1:1 Ratio Gummies boast equal amounts of THC and CBD and offer a sensory thrill without excessive psychoactive effects. This unique gummy attracts clientele who are searching for the following:
Balanced Bliss – The equal doses of THC and CBD in Encore 1:1 gummies will envelop you in relaxation and relief from daily stress while keeping your focus intact.
Encourage the Entourage Effect– This term simply refers to the stacked impact of the cannabinoids, terpenes, and other medicinal compounds naturally found in cannabis. Encore ensures the THC does not overpower any other compounds. Thus, a 1:1 ratio is advisable for clients who wish to delve into this effect first-hand.
Encore 1:2 Ratio Gummies
These Encore gummies are not simply a higher dose than their 1:1 counterpart. Rather, they feature completely different cannabinoids for an alternate sensory departure. Instead of CBD, these bespoke gummies are infused with the emergent cannabinoid called CBN, or cannabinol. Double the dosage of THC, and voila! A unique formulation arises for discerning cannabis edible enthusiasts.
CBN is truly unique in its potential to impact the frontiers of cannabis use, both recreationally and medicinally. Research is ongoing, but CBN appears to have antibacterial properties and anti-inflammatory effects, as well as a soothing, stress-relieving effect on the body and mind.
Encore RSO Gummies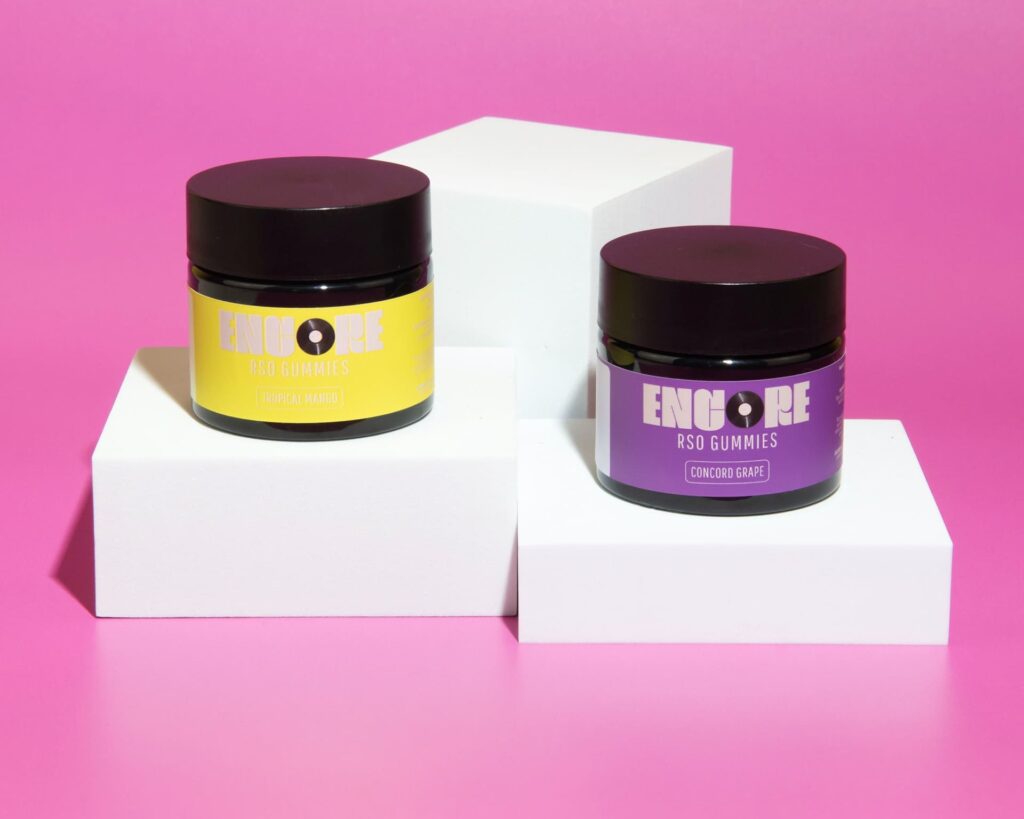 Rick Simpson Oil is the main attraction in this Encore cannabis gummy. This outstanding and crowd-pleasing cannabis extract has amassed such a following because of its unique composition. Created by extracting cannabinoids like THC and CBD as well as as much of the actual cannabis plant as possible, it maintains the integrity of the plant's full terpene and flavonoid profiles. As a result, RSO proffers a powerfully consistent effect that sensory explorers adore.
Entrance Your Tastebuds with Encore Gummy Edibles
If the incomparable formulations are not convincing enough, Encore is sure to tempt you with mouth-watering flavors that outshine some of their competitors by a mile. Some of the irresistible types that will tempt your tastebuds include:
Mango
Strawberry
Sour Strawberry Peach
Sour Watermelon
Grape
Berry Burst
Depending on your needs, Encore gummies are available in packs of 5 and 10. You can choose between 50 total milligrams or 100 total milligrams of THC, as well as the other cannabinoids mentioned above.
Encore Cannabis Mints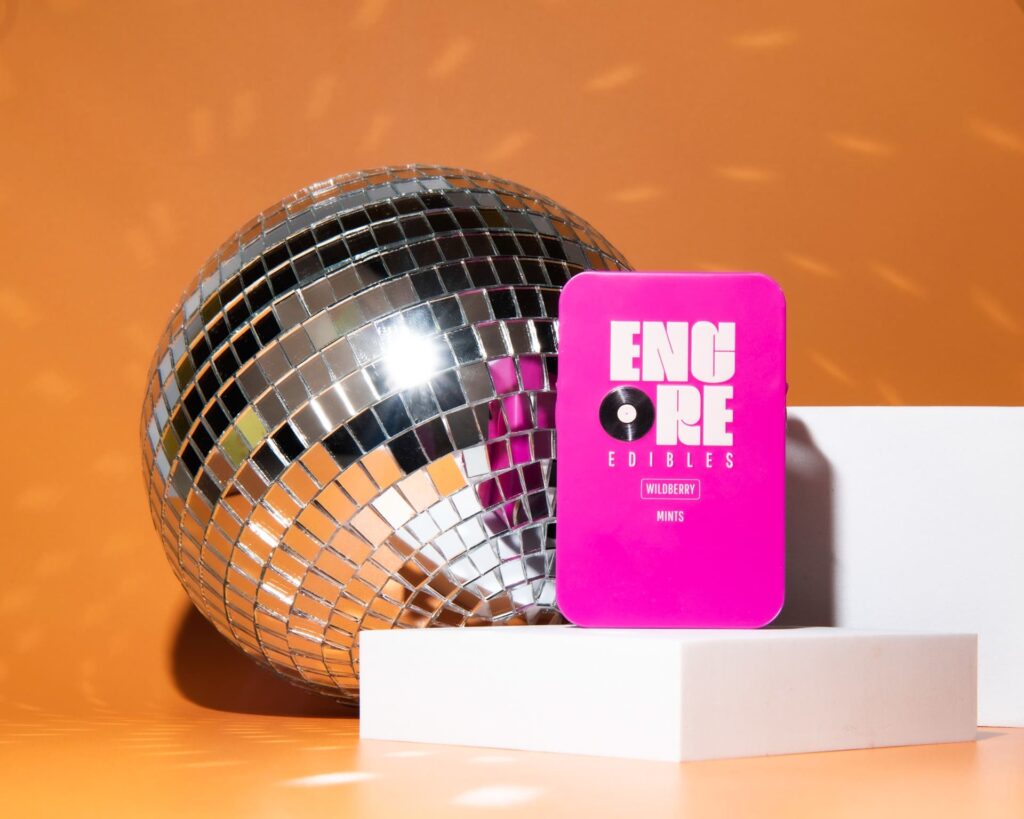 Mints are an outstanding breakthrough in discreet, convenient dosing. Your breath will experience a burst of freshness while your mind and body can relax, knowing your mouth will do the legwork as the edible dissolves in a method of your choice, either under the tongue or anywhere else within the mouth. Effects are quicker when the mint is dissolved sublingually (under the tongue) as the cannabinoids can be absorbed directly into the network of capillaries there. These edibles are a fan favorite due to their portability, relatively low calorie count, and near-immediate impact.
Encore Chocolates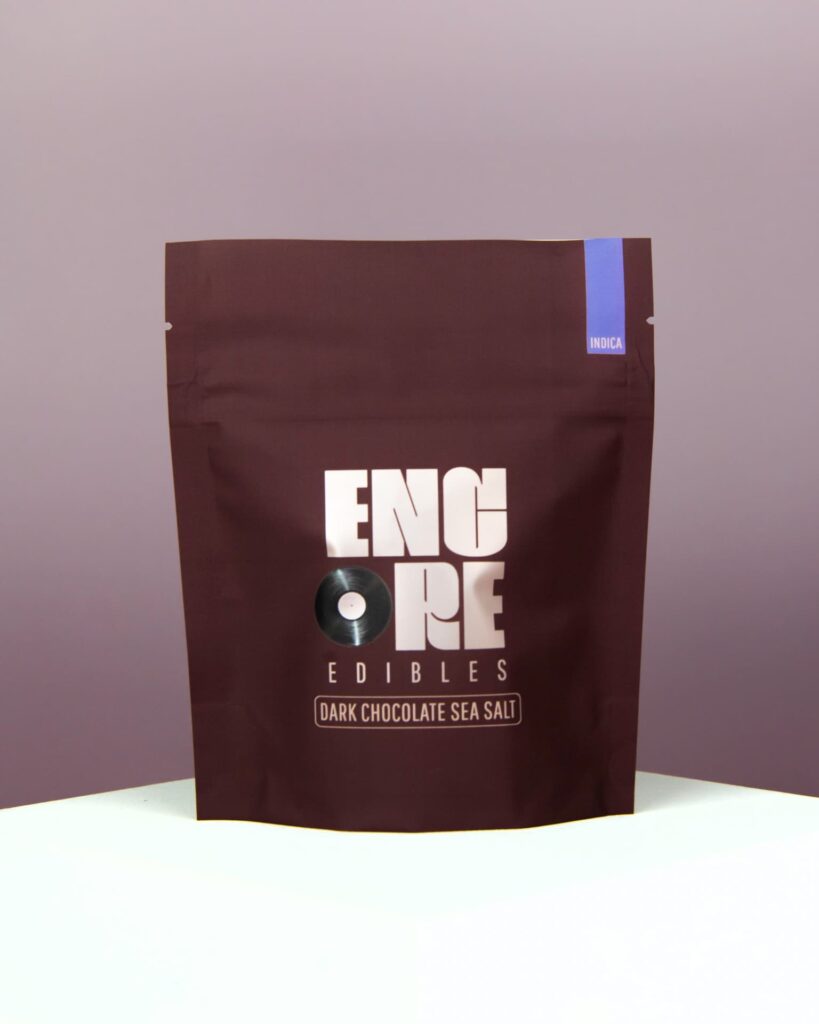 Chocolate lovers will delight in Encore's line of cannabis-infused edibles. These offer the melt-in-your-mouth decadence of top-shelf chocolate combined with an unforgettable sensory experience. Like Encore's gummies, these confections come in a plethora of doses and flavors to tickle your fancy. The Encore chocolate line includes the irresistible following edibles:
Indica- and sativa-dominant chocolate options
1:1 Ratio chocolates
Milk Chocolate
Dark Chocolate
Dark Chocolate Sea Salt
Chocolate infused with cannabis has its own unique benefits in that it can have its own special "entourage effect" due to the captivating qualities of the chocolate itself. Chocolate, in particular the dark variety, can afford you benefits like antioxidants, improved blood flow, and mood-elevating serotonin precursors.
Encore Caramels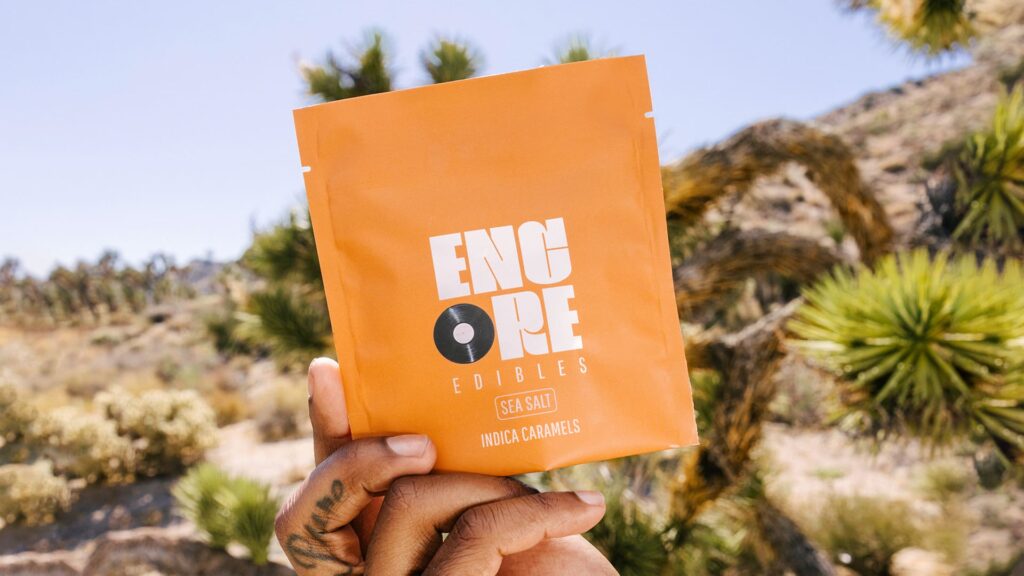 Encore's caramels are rich, smooth, and everything you want in a confection. On top of their decadent and meltable sweetness, they offer an infusion of top-shelf cannabis with the power to carry you away on a journey to blissful, other-worldly sensations.
Popular varieties include:
Espresso caramels
Sea salt caramels
Chocolate caramels
Encore Sweet Stones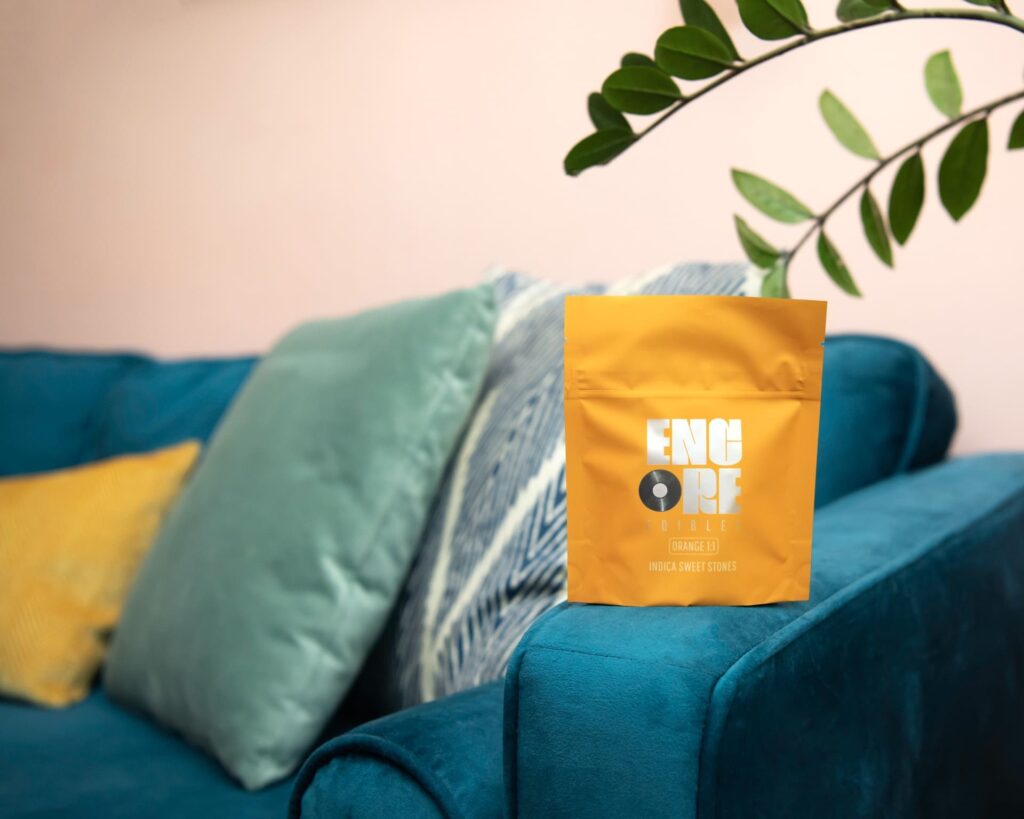 Hard candy is meant to be savored, and Encore's Sweet Stones are an epiphany in nostalgia and experiential cannabis endeavors. You will find numerous delightful flavors in their product line which dissolve in your mouth easily and discreetly. Not only are there a myriad of flavors to try, but Encore also offers Sweet Stones infused with various cannabinoids to ensure your experience is to your satisfaction.
You can explore Sweet Stones in the following combinations:
Lemonade
Orange
Wild Berry
1:1 Ratio
Sativa
Indica
Hybrid
Ivy Hall Dispensaries – Your Source for Encore Edibles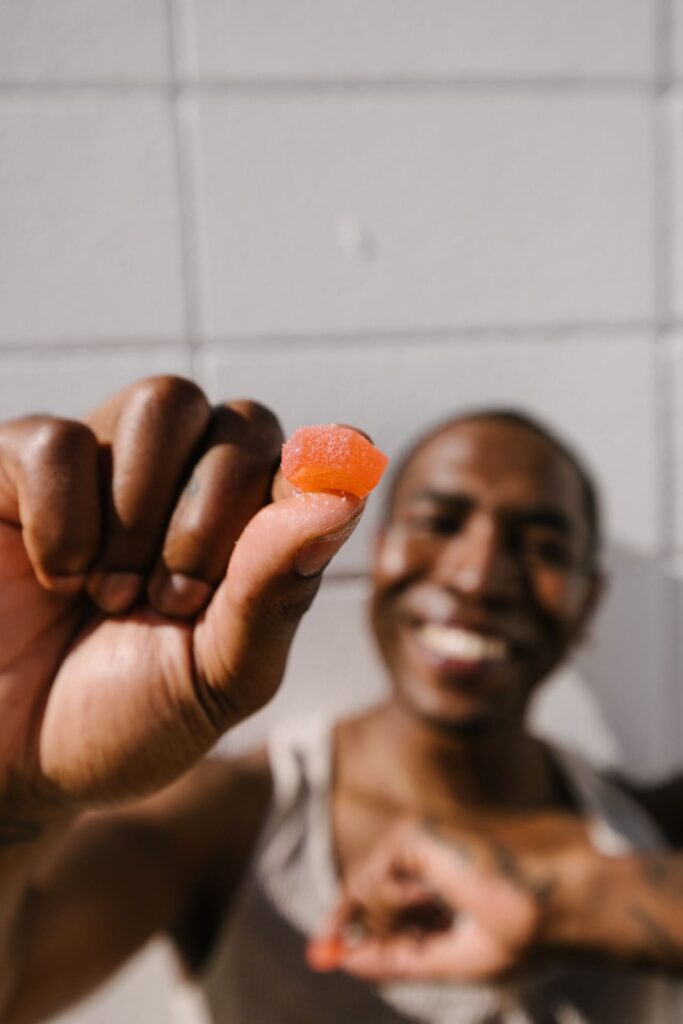 Once you are ready to shop for Encore Edibles, be sure to visit an Ivy Hall dispensary near you to immerse yourself in high-end surroundings as you indulge in an unparalleled sensory experience. If you need assistance making the best choice for your personal cannabis goals, do not hesitate to contact us. Our staff can help you narrow your options to find the perfect fit.
We think you'll find that you cannot order just one package of these mouth-watering edibles. Just like its name, Encore Edibles will have you coming back for more!